As your business grows, work can pile up. One way to manage this is by outsourcing business services to a trusted partner.
Outsourced services let you access quality results and expertise at a low cost. Concurrently, a common misconception is that only big companies that outsource benefit from it. But that's far from the truth!
Virtual assistants have emerged as pivotal players within this realm, transforming the dynamics of modern businesses. They provide a wide array of administrative and specialized services, helping businesses manage various operational aspects more effectively.
Whether you're using a remote team to fill a work gap or support your current staff, there's a wide range of tasks and functions you can outsource. Kickstart your outsourcing journey with the most in-demand virtual assistant services from Magic!
Key Takeaways:
Outsourcing lets you focus on core competencies while delegating non-core activities to a trusted partner.
Outsourced services can easily fill a work gap or support your team, boosting efficiency and cost savings, and giving you access to specialized expertise.
When choosing from the best outsourcing companies, consider the quality of customer support, expertise, reputation, and pricing that best suits your needs.
Why Outsource Tasks to Virtual Assistants
Outsourcing is the practice of hiring a third party to perform a business function or tasks rather than doing them in-house. The decision to outsource tasks to virtual assistants is a strategic move to use resources more effectively.
By leveraging virtual assistants, you can reap many benefits that help you adapt to growing business needs.
Access to Specialized Expertise
Virtual assistants have crucial skills across various domains, such as administrative support, customer service, and data management. Leveraging their expertise ensures high-quality outputs in delegated tasks.
Need a higher level of support? An executive assistant can bridge the gap between the executive team and the rest of the company.
Focus on Core Business Functions
When you outsource virtual assistants, you can concentrate on your primary objectives. Delegating routine and time-consuming tasks to VAs, from calendar management to email management. This way, you can allocate more time and resources toward activities that directly impact growth and profitability.
Cheaper than Hiring Full-Time Worker
Virtual assistant rates can vary depending on the type of tasks they handle and their expertise, but on average, they can be between $10 and $25 per hour.
So, hiring a virtual assistant offers a more budget-friendly alternative to a full-time staff. You can save on recruitment costs, office space, benefits, training, and even the digital tools made available at the enterprise level.
Scalability and Flexibility
Outsourcing business services allows you to easily scale operations. You can adjust the volume and nature of tasks assigned to your virtual assistant, ensuring flexibility in meeting fluctuating demands.
What's more, if you hire from reputable virtual assistant companies, you can get more perks and options for scaling your remote workforce. For instance, Magic provides dedicated account leads when you hire at least three VAs for better daily oversight and support at no extra cost.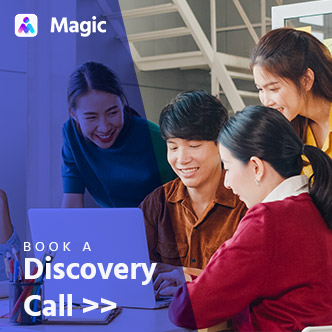 Customize Your Virtual Team Based on Your Needs
Get a team of qualified virtual assistants through a customized hiring funnel to easily fill in work gaps.
What to Outsource to a Virtual Assistant
When exploring the scope of tasks you can outsource to virtual assistants, the options are diverse and tailored to streamline various facets of operations.
Magic offers a roster of in-demand outsourced services to drive business performance. Whether you're outsourcing to accelerate business growth or minimize administrative tasks, Magic virtual assistants can help!
Email Management

Managing an overflowing inbox can be time-consuming. A virtual assistant can efficiently handle sorting, responding to emails, flagging important messages, and organizing your inbox, ensuring that nothing important gets overlooked.

Data Entry and Transcription

Data entry and transcription may be huge productivity blockers, but you can't just drop these tasks. They're crucial for keeping and organizing data and files, especially in an online database.

A virtual assistant can join your meetings and take minutes, as well as transcribe audio and video files. They can also help prepare documents and presentations. This makes information sharing among your team members easier and faster, making business processes more streamlined.

Travel Planning and Coordination

From booking flights and accommodations to arranging itineraries, a virtual assistant can handle all aspects of travel planning, ensuring a seamless and stress-free experience.

Research

Relevant and accurate information is fuel for growing your business. Whether it's market research, competitive analysis, or customer surveys, a remote assistant can help you with research work. This way, you can take a more data-driven approach to scaling up.

Calendar Management

As a busy business owner, setting up a meeting and finding a time that works for everyone can take up a lot of your time.

Let a VA do the scheduling for you! Other VA outsourced services include managing your calendar, setting appointments, and keeping track of the progress of your projects.

Email Support

Happy customers mean more business, so providing an amazing customer experience is non-negotiable. Outsourcing email support to a virtual assistant ensures prompt and professional communication with clients.

Phone Support

Customers' needs should be met even after their purchase, which can be taxing for small businesses. Outsource tasks to virtual assistants, like handling incoming calls and addressing customer queries. VAs provide a dedicated point of contact for clients while freeing up your time.

Live Chat Support

In the age of instant communication, having live chat support on your website is essential.

Resolve issues and provide tailored assistance with Magic's 24/7 AI-powered virtual customer service. Our VAs can manage live chat services efficiently, catering to customer inquiries in real time.

Recruiting Sourcing

As you scale operations, you'll need people to fill in the work gaps. That said, recruitment can be hard, and small businesses face unique hiring challenges.

You'll need all the help you can get. A VA can speed up the hiring process without compromising the quality of your hires. They can also ensure that the onboarding and offboarding processes for employees go smoothly.

Tax Preparation

As a business owner, you need to be smart with your finances—and that includes ensuring compliance with tax regulations. Delegating tasks like preparing documents, corresponding with tax authorities to a VA, and filing and submitting forms can ease this burden.

Payroll Processing

You wear many hats as a business owner, but you'll also need people with the right skills and expertise. Moreover, managing payroll demands attention to detail and adherence to deadlines. VAs proficient in payroll processing can help you with such tasks.

Record Keeping

To cut costs, most would take on bookkeeping tasks themselves, which takes up too much of their time. There's also the risk of overlooking data and information—and mistakes can be costly!

Virtual assistants can manage and organize data, ensuring that important information is readily accessible when needed. Not sure which bookkeeping task to outsource? Here's a bookkeeping services list that can help!

Data Scrubbing

When researching and pursuing potential customers, you accumulate a lot of data. This can make your sales process inefficient, which means unnecessary costs. Get help sifting through, sorting, and managing your CRM data and other online databases.

This way,  you can remove irrelevant data and keep your sales team focused on closing deals.

Lead Generation

Getting quality leads is key to filling in the top of your funnel, but it can be time-consuming and costly. A quick fix: outsource business lead generation services to streamline your sales cycle.

A virtual sales assistant can conduct lead generation activities, identifying potential clients or customers for your business. They can also take on cold calling, appointment setting, and building customer relationships while your internal sales team focuses on more value-adding activities.

Lead Qualification

Build a virtual sales team and start making the shift to remote work. You can still be involved in the day-to-day business activities, but you'll no longer have to be the one to handle everything.

Outsourcing business services, like connecting with leads, preparing reports, and pursuing new business, reduces the workload for your team. A VA can assist in the qualification process, ensuring a more targeted approach to potential prospects.
Choosing the Best Outsourcing Partner
Of course, it's important to find the right outsourcing service provider for your growing business. You have the best outsourcing companies in this market today, so it's just a matter of choosing the one most suitable for your needs.
Expertise and Reputation
When you're getting help, it's only logical to get it from the expert.
The first thing you need to look for in an outsourcing company is their background to see if they align with your goals and needs. For instance, if you need to outsource customer support, then it's best to look into customer service outsourcing firms.
From there, research outsourcing firms, such as the quality of results they provide to their clients. Check out reviews and testimonials from their clients on different platforms as well.
Pricing Plans and Rates
One of the main reasons you're outsourcing business services is to save time and money. So, it's only right to look for a company that'll give you great results at a lower cost.
It's important to look for a firm that suits your budget and preferences. There are many outsourcing firms that offer flexible plans to match your needs. This way, you can get more value out of your money.
Flexibility and Customization
For a growing business, there will be times when you need to scale up or down based on your unique needs.
Outsourcing can make scaling easier with tailored contracts and access to a global talent pool. Look into the flexible resources and specialized expertise that service providers offer and decide from there.
Ease of Communication and Collaboration
One more factor you should take into account is how you're going to work with your outsourcing partner. With remote work, setting up a good line of communication and working relationships ‌will make sure things are done the right way.
Look into outsourcing firms that already use the tools and software you use for business. This streamlines the workflow for easier communication and collaboration.
Customer support quality
No matter how much you prepare and make sure everything goes well, some issues may still arise. It's important to get an outsourcing company that provides good customer support for times like this—and even helps reduce such risks.
Great customer support is also a mark of an outsourcing company's positive reputation, which equals high-quality services.
Outsource Virtual Assistant Services with Magic
Outsourced services are a great option for growing businesses looking for an affordable but effective way to get work done. It lets you focus on core competencies while delegating non-core activities to a trusted partner.
In a competitive business climate, Magic's remote workforce can be a powerful tool for growth and success. Our virtual assistants are college-educated and trained remote workers who are within our top 3% of applicants.
Talk to us and learn how Magic can transform your business efficiency and drive growth!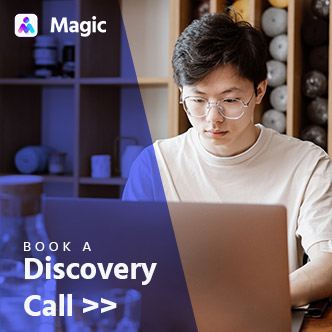 Match With a Vetted Virtual Assistant in 72 Hours!
Magic offers a frictionless way to source and qualify the right virtual assistant for your business so you can get things done fast and efficiently.