Amid the chaos of daily executive life, staying ahead of the curve demands more than just strategic thinking and innovation. Executives need a support system that understands their needs, anticipates challenges, and empowers them to focus on what truly matters.
An executive assistant can significantly help juggle tasks, responsibilities, and decisions. And, in this remote work revolution, virtual executive assistant services are reshaping how leaders receive support and navigate their demanding schedules.
Executive assistants are not glorified secretaries. Here, we'll explore everything under the topic "What is an executive assistant?" from the tasks you can offload, the immense value that they bring, the signs you need one, and more.
Key Takeaways:
An executive assistant is not just a secretary but a strategic partner who supports executives in various ways to foster efficiency, productivity, and innovation.
Virtual executive assistant services offer specialized support beyond routine tasks, including industry-specific expertise, event planning, and personal assistance.
Hiring a VEA brings benefits like cost efficiency, flexibility, access to global talent, and scalability. It also allows executives to focus on high-impact tasks and seamlessly adapt to changing needs.
What Is an Executive Assistant?
An executive assistant (EA) is a skilled professional who supports executives and leaders, but their scope goes beyond mere administration tasks. What makes EAs unique is their ability to adapt seamlessly to the ever-changing needs of their executive counterparts.
EAs are equipped with an array of skills and qualities that make them indispensable assets. Some of their core strengths are:
Organizational skills
Time management
Communication skills
Attention to detail
Adaptability
Resourcefulness
Ability to remain composed under pressure
Imagine having a dedicated worker who's not just your right hand but also a strategic partner who boosts efficiency, productivity, and innovation. By managing schedules, streamlining communications, and ensuring operational continuity, an EA frees up your time so you can focus on what matters most, even in the most challenging situations!
The Rise of Virtual Executive Assistant Services
The shift in the work landscape has given rise to remote teams and the subsequent demand for virtual executive assistant services. With different tools and platforms, a virtual executive assistant (VEA) can manage tasks, schedules, and communications remotely.
That said, a virtual assistant for executives offers more than just routine administrative support. They also provide specialized services tailored to meet unique business requirements:
Industry-Specific Expertise: EAs with expertise in your field can provide insights, recommendations, and strategies that align with your industry's nuances. An EA with industry-specific expertise can offer invaluable support, whether it's understanding compliance regulations, industry trends, or market dynamics.
Event Planning and Management: From organizing small team meetings to coordinating large-scale conferences, EAs can handle everything from venue selection, travel arrangements, agenda creation, and logistical coordination. Their meticulous attention to detail ensures that events run smoothly and leave a lasting impression.
Personal Assistance and Lifestyle Coordination: EAs can extend their support beyond the professional realm by assisting with personal tasks and lifestyle coordination. This could include managing personal appointments, coordinating family events, or even handling travel arrangements for personal vacations.
There are many benefits of hiring a virtual executive assistant over an in-person executive assistant, such as:
Cost Efficiency: In-person employees come with costs such as office space, equipment, and benefits, which you can eliminate by hiring a remote worker.
Flexibility: VEAs can work for you full-time or part-time. They are available around the clock, accommodating different time zones and ensuring timely support.
Access to Global Talent: You can tap into a diverse pool of talent from across the world, enabling you to select a VEA with the skills and expertise that match your needs.
Scalability: As your business grows or workloads fluctuate, a virtual assistant can quickly adapt to these changes without the constraints of office logistics. Easily scale up or down the number of hours they work based on your needs.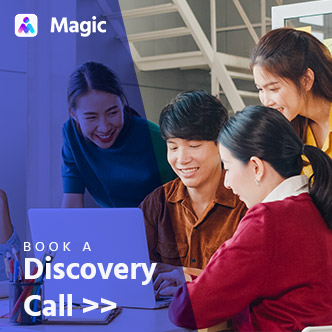 Customize Your Virtual Team Based on Your Needs
Get a team of qualified virtual assistants through a customized hiring funnel to easily fill in work gaps.
What Does An Executive Virtual Assistant Do?
As an executive navigating the dynamic landscape of modern business, you can elevate your leadership by embracing the power of virtual executive assistant services. Here are the things a VEA can do for you:
Organizational Support
The executive assistant role is centered on maintaining order within the chaos of a busy executive's work and, sometimes, personal life.
From overseeing schedules and appointments to managing deadlines and priorities, an EA ensures everything runs smoothly. They can expertly streamline processes, optimize workflows, and establish systems that will improve your overall efficiency.
Calendar Management
An EA's mastery of time management is evident in their skillful coordination of calendars. They navigate intricate schedules, book appointments, and organize meetings and events while considering time zones and travel logistics.
Email Management
The modern business world revolves around email communication, where a VEA can serve as the filter, organizer, and responder. They sift through emails, prioritizing those that require immediate attention and crafting thoughtful responses on your behalf.
Meeting Preparation
Behind every successful meeting is meticulous planning. An EA can gather relevant materials, create agendas, and distribute documents to ensure all attendees are well-informed and aligned. They can also give you briefing notes so you can lead discussions effectively.
Travel Planning and Arrangements
From booking flights and accommodations to organizing ground transportation, travel planning is a critical aspect of an executive assistant to the CEO or any other business leader. They make sure that you have well-organized itineraries to maximize your trips.
Travel arrangements also include anticipating challenges and providing contingency plans to address any unexpected situations.
Data Research and Analysis
An executive assistant can research various topics and sift through data, reports, and market trends. This way, you are well-informed and have valuable insights when formulating strategies or making critical choices.
Project Coordination and Delegation
Since they work for executives and business leaders, a VEA can effectively conduct collaborative efforts. They can handle basic project management tasks such as assigning tasks, managing deadlines, and communicating with stakeholders. They also monitor progress, address bottlenecks, and ensure that projects are executed smoothly.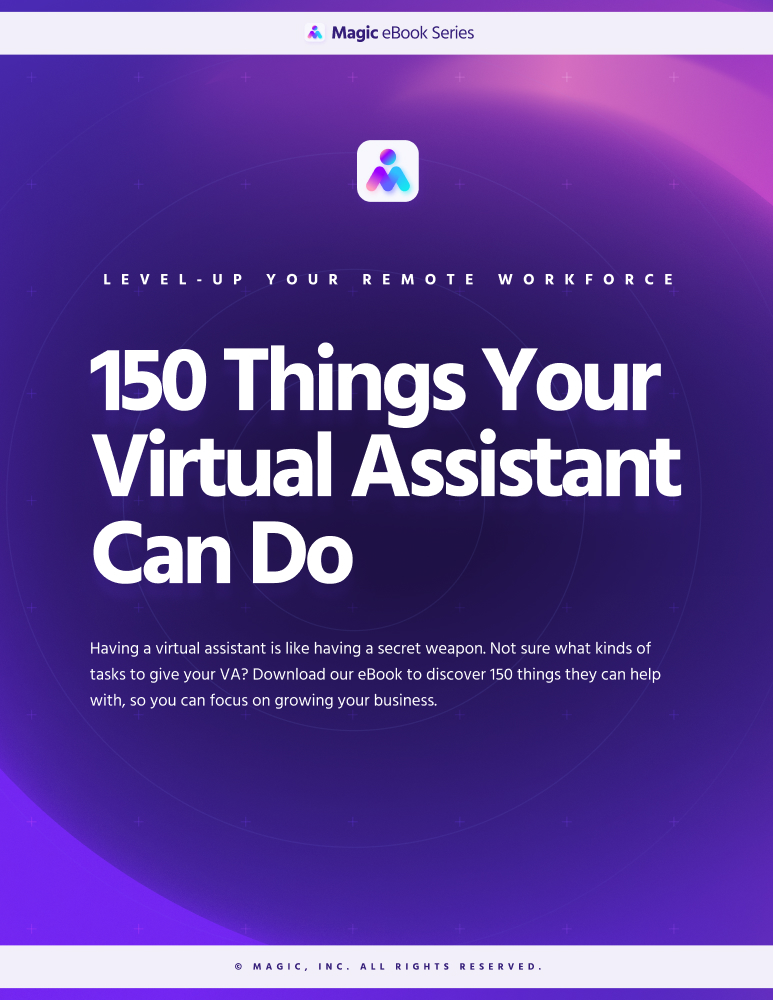 Grow Your Business With These 150 Virtual Assistant Tasks
Not sure what tasks to give your virtual assistant? In this eBook, we share 150 tasks they can do for you so you can save hours a day.
Learn More
6 Benefits of Virtual Executive Assistant Services
Time is an invaluable resource, and efficiency is paramount in business. As an executive, you need all the help you can get, and hiring an executive assistant can give you the support you need. They provide many advantages that not only boost your productivity but also contribute to your business growth and success.
1. Free Up Your Time
While the executive role has high-impact responsibilities, administrative tasks can still be time-consuming, such as checking email, answering phone calls, and more. By delegating these tasks, you can get more work done and have more time for strategic initiatives and decision-making. It also allows you to have an excellent work-life balance.
2. Hire Diverse Skill Sets and Expertise
Virtual executive assistant services open the door to a global talent pool with different skills and expertise. Whether you require industry-specific knowledge, multilingual proficiency, or specialized skills, you can find a VEA that matches your unique needs. This diversity improves your team's capabilities and lets you tap into broader competencies.
3. Let You Focus on What Matters Most
With routine tasks and operational details handled by your VEA, you're empowered to concentrate on your areas of expertise and drive growth. With unwavering focus, you can foster innovation and steer your business toward its long-term goals.
4. Save Money Compared to Hiring Full-Time
The financial advantage of hiring a virtual executive assistant is a lot more significant than traditional in-person hires.
Your in-house staff comes with costs beyond salaries, including benefits, office space, equipment, and training. Meanwhile, virtual executive assistant services provide a cost-efficient solution that offers the same level of support without the financial burden.
5. Maintain Confidentiality and Discretion
Confidentiality is vital in the business world, and VEAs excel in keeping the privacy and discretion of your sensitive information. Rest assured that they will make sure your business strategies, financial details, and other proprietary data remain secure as you handle strategic initiatives.
6. Seamlessly Scale and Adapt to Your Needs
Needs change rapidly in the dynamic business landscape. With different pricing models and rates, an executive assistant offers the flexibility to scale up or down based on your growing needs.
Whether you're facing a surge in workload, launching new projects, or entering new markets, your VEA can adapt to your changing demands without the logistical challenges associated with in-person hiring.
4 Signs It's Time to Hire an Executive Assistant
Recognizing when to bring in a virtual executive assistant is pivotal in maintaining your effectiveness and sanity as a business leader. Here are some clear indicators that signal the need for a dedicated support system:
1. You're Overwhelmed with Your Workload
As responsibilities pile up, it's easy for essential tasks to slip through the cracks. When the demands of your executive role start to feel like a relentless deluge, it's a clear signal that the time has come to consider dedicated administrative support.
An EA is adept at managing admin work, ensuring you regain the bandwidth to lead effectively. They can also act as a liaison, coordinating and delegating tasks to the right people to alleviate bottlenecks and empower you.
2. Your Workday Isn't Enough
With so many duties and meetings to attend to, the hours in your workday seem to go by faster than you can manage. If you find yourself wrestling with schedule conflicts and missed appointments, it's a definitive sign you need virtual executive assistant services.
A skilled EA can expertly navigate your calendar, ensuring that meetings and commitments align seamlessly. They restore order to your workday and ensure you can make the most of each interaction and engagement.
3. You Have Communication Bottlenecks
If you're grappling with an overloaded email inbox, this bottleneck can lead to ignored messages or disruptions in cross-departmental collaboration, which is a clear indication that your communication channels need a remedy.
An EA provides efficient email management services so you're always in the loop without being bogged down by the minutiae. Moreover, they can act as a conduit to facilitate communication between teams and/or stakeholders, mitigating any bottlenecks that hinder progress.
4. There's Stifled Growth and Innovation
As an executive, your vantage point offers unique insights into the future direction of your business. So, your growth potential can get stifled when the demands of day-to-day tasks eclipse your ability to focus on strategic thinking and innovation.
By hiring the best virtual executive assistant for your needs, you can free your mental bandwidth, allowing you to shift your attention to the bigger picture. This liberation also enables you to do more for your business.
Hire a Virtual Executive Assistant with Magic
In modern business where time is precious, hiring an executive assistant is like having a secret weapon for success. Their contributions extend beyond routine tasks, shaping an environment where productivity, efficiency, and growth flourish.
Now that we've extensively answered the question, "What is an executive assistant," we know you can't just overlook the immense value EAs will bring to you. With Magic, you can unlock your potential to elevate your leadership and make your mark on the business world.
Magic can match you with the best virtual executive assistant who suits your needs and preferences. They can manage your schedule and inbox, research, prepare and organize documents, and more so you can focus on growing your business.
Armed with comprehensive training and tools like Magic AI, our team of skilled virtual executive assistants is poised to empower you in your leadership role. Contact us today to embark on a journey that redefines how you lead, strategize, and achieve.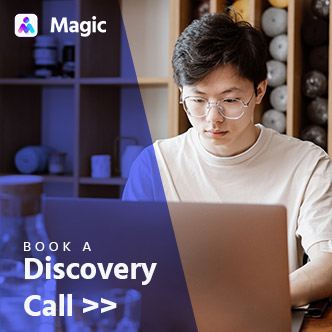 Match With a Vetted Virtual Assistant in 72 Hours!
Magic offers a frictionless way to source and qualify the right virtual assistant for your business so you can get things done fast and efficiently.