Today, consumers expect answers to their questions and concerns—and they want them fast! Whether over the phone, chat, email, or social media, customer service is more vital than ever.
Stellar customer service helps you keep your customers happy. Ensure great customer experience (CX) and responsive and relevant interactions by outsourcing customer service. It offers many benefits, such as cost savings, scalability, and access to specialized expertise.
Before anything else, it's crucial to understand the intricacies and key factors that can make or break your outsourcing endeavor. Read on to gain valuable insights to empower you in making the best decision for your company's growth and success.
Key Takeaways:
Customer service is vital for a business to meet customer expectations and provide responsive and relevant interactions across various communication channels.
Effective customer service can lead to customer satisfaction, brand reputation, and growth opportunities for a business.
Outsourcing customer service offers benefits such as cost savings, scalability, and access to specialized expertise so a business can focus on its core competencies.
What is Customer Service?
Customer service helps businesses build a more lasting relationship with customers before, during, and after a purchase. It involves all customer interactions, such as:
Addressing inquiries, concerns, and issues
Providing guidance, information, and solutions
Depending on the nature of a business and its customer base, customer service uses various communication channels like phone calls, emails, and live chat.
Customer service is a proactive approach that ensures customer satisfaction. It often focuses on helping customers before they feel the need to reach out. For example, you can inform your clients about a new product or service that they may like.
5 Types Of Customer Service Channels
Customer service agents help clients via different channels. Before outsourcing customer service, find out which channel is best for your business so users can easily reach you. Here are the most common types of customer service:
1. Phone
Phone customer service is the most used channel for customer queries across all age groups because it's usually the fastest way to resolve issues. It also provides a more natural human touch, which means a more meaningful customer experience.
Since people interact with actual humans, this service is also great for fostering customer care, whether for B2B or B2C communication.
2. Live Chat
Live chat services deliver real-time solutions without talking over the phone. You can offer it using an actual live chat platform or a chatbot.
With live chat, human customer service agents provide non-voice support during active business hours. It can be done through your business website or mobile messaging apps so agents can handle multiple queries at a time.
Meanwhile, chatbots are AI-powered tools to automate customer service and free up your agents. Chatbots can respond based on sentiment analysis, collect customer data, and transfer chats to human agents. They also let you provide customer service 24/7 and give way to asynchronous chat if consumers need further help.
3. Email
Email customer service is a great channel to initiate or maintain contact without the two parties having to be online at the same time. Due to this asynchronous communication, many users prefer this digital channel.
For many businesses, it's a low-cost method to implement automation and make the process more efficient.
4. Social Media
Social media customer service is another asynchronous channel where customer interactions can be public or private. It's convenient since many people already have social media accounts on Facebook, Instagram, Twitter, LinkedIn, and the like.
5. Self-Service
Sometimes, people don't want to speak to a customer service agent. They would prefer self-service alternatives to solve their problem on their own. You can provide self-service options using a knowledge base about your product or service, such as FAQs, eBooks, blog posts, videos, demos, and infographics.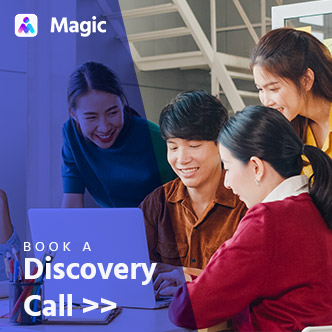 Customize Your Virtual Team Based on Your Needs
Get a team of qualified virtual assistants through a customized hiring funnel to easily fill in work gaps.
Why Customer Service Matters For Your Business
Customer service is a crucial factor in scaling up a business. It isn't just about giving quick solutions to customer queries. Customer service teams can also boost a business's reputation and find growth opportunities over time.
Moreover, customer service lets your clients feel valued and heard—be it with their concerns, issues, or feedback. Clients will feel cared for if you successfully solve their problems or give them a great customer experience. This will lead to happy and loyal customers who may also become ambassadors for your brand.
Implementing a customer service process is also a great chance to learn more about your customers. Your team can collect data or conduct short surveys at the end of customer interactions. Such data will give you insight into addressing customer pain points at an earlier stage and improving CX.
On top of that, meeting customer expectations can impact your ROI. According to recent customer service statistics, 89% of consumers are more likely to buy again when they get an excellent customer service experience. So, boosting customer retention rates by just 5% can raise profits by 25% to 95%!
How to Create a Great Customer Service Experience
A positive customer experience means you're meeting customer expectations every time. That's why you should build your customer service operation carefully and continue improving on it. Here are the five best tips to follow for a great customer support experience:
1. Use the Right Customer Service Tools
Aside from skills and expertise, what makes a customer service team quick and effective are tools like product knowledge, apps, and software.
The most helpful tool for customer service is customer relationship management software, where they can keep track of all customer interactions and use data to provide valuable support. Your customer service agents should also know about new updates and features of your products to provide factual answers to queries.
2. Add Self-Service Customer Service Options
Make things easier for your customers by providing quick solutions they can use on their own. Build self-service support options such as how-to blog posts or an FAQ page on your website.
With these options, users will be confident in their ability to solve issues before they reach out to you. It lessens the volume of support tickets you get, giving your team more time to help clients who need more assistance.
3. Be Empathetic to All Customers
Speed is crucial in solving customer queries, but customer service representatives should also be personable. Remember to treat customers as people and not as tickets.
Your customer service agents should have soft and technical skills to help win customers. Be empathic to ease users and solve pain points more quickly. A positive customer service script can help them deal with clients and de-escalate tense interactions.
Customers should also be connected to the right agent if they feel like the problem isn't being solved. Set up proper escalation management to avoid making the customer more upset or impatient.
4. Use Data to Improve
As with other business functions, a data-driven approach can improve customer service operations.
Start with your customer service team and find out what works for them and what doesn't. Use employee satisfaction surveys to find the best approach and tools for them. Look into KPIs as well to review their performance.
In customer interactions, have your agents do a quick survey or poll to know more about your customers. You can use customer satisfaction metrics like NPS, CSAT, and churn rates to measure and evaluate how good your customer service is.
Teams should also share data to find personalized and relevant solutions to pain points. A good CRM platform can ease data exchange between your customer service team and the sales and marketing teams.
5. Leverage Outsourced Customer Services
Finding ways to improve your CX is crucial, either by hiring the best customer service agents or automating some business processes (or both!). Outsourcing customer service is a great way to balance automation and human interactions and grow your business.
Outsourcing Customer Service FAQ
Make an educated decision about whether customer service outsourcing services are the right choice for your business. Here are some frequently asked questions about outsourcing customer service:
What is Customer Service Outsourcing?
Customer service outsourcing is the practice of offloading customer service and support functions to a third-party organization. It includes customer service tasks such as:
Handling phone calls
Responding to emails
Managing live chats
Resolving customer complaints
Utilizing customer service automation
Providing technical support
Setting up a support ticketing system
Outsourcing customer service companies employ their own team of trained customer service representatives. It allows companies to focus on their core competencies and strategic objectives and tap into the specialized knowledge and experience of outsourced CSRs.
Can All Types of Businesses Work with Outsourcing Customer Service Companies?
You can outsource customer service no matter your business size and industry to provide excellent customer experience. Many companies outsource their customer service, such as Google, Wells Fargo, and Procter & Gamble, so that they can focus on their core competencies.
Take the time to consider your business needs and other factors, such as customer volume, the complexity of inquiries, industry regulations, and specific requirements when evaluating customer service outsourcing companies.
How Much Does Outsourcing Customer Service Cost?
Outsourced customer services have an annual cost of $20,800. This all-inclusive pricing means you don't have to worry about payroll taxes, downtime, training, technology, or other overhead costs.
Compared to the annual cost per full-time employee, which is $54,716, you can save up to $33,916 yearly with customer service outsourcing!
Are There Any Risks Associated With Outsourcing Customer Service?
As with any other business decision, outsourcing customer service can come with risks and challenges. These include ensuring data security and privacy, managing cultural and language barriers, and effectively coordinating with the outsourcing partner.
However, you can manage these risks by finding the right outsourcing company based on your business needs and preferences.
What Are the Key Considerations for Successful Customer Service Outsourcing?
Many customer service outsourcing companies offer various features and services. Some of the key aspects you should focus on when you outsource customer service are:
Researching a reputable and experienced outsourcing partner
Clearly defining your expectations and goals
Setting up effective communication channels
Providing comprehensive documentation and feedback
Measuring customer satisfaction and monitoring performance.
Outsource Customer Service to Magic
It's a significant step for any business to outsource customer service. Ultimately, the success of outsourcing customer service hinges on finding the right balance between cost-effectiveness, operational efficiency, and keeping a customer-centric approach.
Get the customer service your business needs with Magic. We'll help you build a team of the best customer service representatives for your business within a week! Plus, unlock the secrets to successful customer service outsourcing with our in-depth eBook.
With Magic's outsourced customer services, you can accomplish a wide range of tasks without shifting your focus on growing your business. Outsource work however and whenever you need it. Book a call with us to get started today!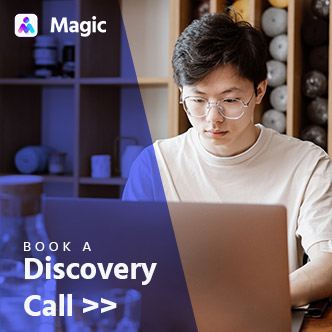 Match With a Vetted Virtual Assistant in 72 Hours!
Magic offers a frictionless way to source and qualify the right virtual assistant for your business so you can get things done fast and efficiently.