Customer service can be overwhelming. These days, people's expectations are high: they want personalized attention, availability over multiple channels, and seamless interactions that don't require them to repeat themselves. But fortunately, a support ticketing system can put that goal within reach.
Over 90 percent of businesses using a ticketing system see an increase in customer service productivity, yet only about half of businesses use such systems. This means that a lot of businesses are missing out on greater efficiency and customer satisfaction. If that sounds like you, keep reading to see how a ticketing system can help you provide better service.
Key Takeaways:
A support ticketing system helps keep track of customers' concerns and makes it easier for your workers⁠ to collaborate to resolve them.
A good ticketing system centralizes information and lets CSRs act upon it more effectively.
This improved efficiency reflects in other customer satisfaction indicators, such as response time and resolution rate.
What Is a Support Ticketing System?
At the basic level, a support ticket system provides a way to track customers' concerns as they reach your business and make their way through your support process. It stores information about the customer's concern, as well as steps taken to resolve it, and makes this⁠—along with basic info on the customer⁠—easily accessible to people taking the case. More advanced ticketing systems may include automated support functions, or be integrated into a wider help desk system.
A typical CS ticket system allows you to:
Create tickets containing a customer's account and contact information
List their initial concern, steps taken to resolve it, and other developments
Assign tickets to the appropriate people within your organization
Make tickets accessible to CSRs and customers alike
Monitor high-level data related to tickets and customer service
Most support ticket systems allow you to integrate with other platforms or programs (i.e. possibly through the broader CRM or help desk system they belong to). This makes it easier to communicate with customers and set up workflows.
What Should a Customer Support Ticketing System Do?
Search for support ticketing systems and you'll find a plethora of options. All the best ones, though, will have a few features in common. Here's what to look for:
Centralized Data
Consolidating information and making it more accessible is one of the primary functions of a customer service ticketing system.
A ticket system allows you to collect all information related to customer concerns in one database. You can organize or retrieve that information based on concerned parties, issues, chronology, ticket status, and more. In turn, it then becomes easier for both your customer support team and your customers to refer to that information.
This means it's easier for customer service reps to:
Forward information on a case when re-assigning or escalating a ticket
Document cases for future reference
Refer to similar cases in the past, to aid with issue resolution
Furthermore, many ticketing systems allow you to create custom tags or categories to make it even easier to organize data.
Advanced Features: Centralized Communication
Many ticket systems allow you to consolidate messages across different channels; in this way, your help desk also serves as a centralized customer support inbox. Typically, these help desks also have integrations for sending messages through different channels too.
These functions are limited by each given ticket system's available integrations (whether built-in or accessible through DIY or third-party modifications). Still, if your user base is spread across multiple channels⁠, it's worth choosing a system that lets you do this.
Status Tracking
Among the details a ticket system tracks, resolution status is one of the most important. A good system will let you view the status of open tickets at a glance, ensuring nothing slips through the cracks.
This also makes it easier to triage support cases, as it were. You can easily sort cases according to their urgency and forward them to the people on your team best equipped to resolve them.
Advanced Features: Guided/Automated Processes
Some help desk systems let you set up tickets within broader customer service processes or workflows. This sort of setup can improve efficiency by prompting CSRs on the next steps to take, for instance, or by automatically carrying out certain actions based on triggers.
Monitor and Review Metrics
Dashboards and archives allow you to zoom in or out on data as needed. You can observe high-level trends or, from there, retrieve details on specific tickets or cases. This is invaluable in determining points for improvement within your customer service processes or areas where agents may require more support or training.
Advanced Features: Reports and Prediction
By combining analytics with workflows or automation, you may be able to head off problems before they begin. For example, you could create a knowledge base to answer common questions and direct CSRs to link to relevant entries. Alternatively, you could create guides or tutorials that are sent out automatically as part of your onboarding workflow⁠—ideally answering questions before your customers have to ask them.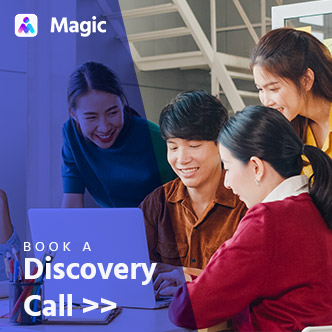 Customize Your Virtual Team Based on Your Needs
Get a team of qualified virtual assistants through a customized hiring funnel to easily fill in work gaps.
How Does a Ticketing System Improve Customer Service?
At the end of the day, the goal of customer service is to encourage repeat business through customer loyalty. One way to assess its utility in this respect is by looking at other customer service indicators.
We list here a few ways you can observe and assess your ticketing system's influence on your service quality, as well as simple tips for making the most of its potential benefits.
Automation and Templates: Quicker Responses
Response time is one of the primary ways by which customers judge the quality of your service. First response time⁠—how long it takes for someone to reach a human on your team⁠—is especially important, but people will judge the time it takes for each follow-up, too.
A ticketing system cuts down response time mainly by making it easier and quicker for CSRs to gain access to the resources they need, especially after a case is reassigned or escalated. These resources include case information, product/solution details, and response guides.
Here are some ways you can further ensure short response times:
Use forms or chatbots to automatically collect relevant information
Message templates help CSRs respond faster
Use event triggers and workflows to guide CSRs to the next steps
Save time on switching between platforms by using a centralized inbox
Prioritization and Escalation: Reducing Handling Time
Average handling time reflects the overall time it takes for you to resolve a customer's issue. There are two main ways a ticketing system can keep this down: first, by helping you spot high-priority issues or cases that might otherwise be left unattended; and second, by providing the details needed to get cases to people qualified or authorized to resolve them.
To make the most of this, you should ensure your workflows and data tags are set up to help CSRs identify when to contact subject matter experts on your team or escalate issues to someone with more authority.
Data Analysis and Archiving
A ticket system makes it easy to analyze both high-level and more specific case data. Make the most of this by consolidating this information into self-help guides for customers, and reference material for support agents.
Analyzing where cases pile up or slow down can help you identify weaknesses in your support systems (or in your products/services themselves). And when you've identified an issue, you can take meaningful action to solve it.
Many customers these days value self-help options. An effective customer knowledge base could, therefore, free up your team to work on more complex problems. With more time and energy to spend on cases, and past cases to guide them, your CSRs should be able to raise their overall resolution rate.
Transparency
The ability to retrieve and track their own ticket logs gives customers more insight into the customer service process. This added transparency can help earn their trust⁠ and esteem⁠—provided your response doesn't fall too far short of their expectations.
Ease of Use
A properly implemented ticket system makes it much easier to onboard new team members (or involve employees from other teams in providing support). Organized archives, clear workflows, and helpful automations allow CSRs to focus on providing the human touch that ensures customer satisfaction.
Outsourcing Customer Service for Efficient Ticket Resolution
While a robust ticketing system can improve efficiency, it still needs people to run it⁠—and to ultimately provide the response people are looking for.
An outsourced customer support team can be an effective solution. Running a ticketing system requires minimal onboarding and can be done entirely remotely. Meanwhile, outsourcing lets you keep costs down, while maintaining an agile, flexible support team.
Magic customer service outsourcing can assemble a remote team to manage⁠ or set up your customer support ticketing system. Our process is designed to be quick, flexible and accessible: tell us what skills you need and we'll find the workers you need. There are no long-term contracts: you can adjust schedules and team composition as needed.
Schedule a call with us to get started⁠—and get your team started in a week or less.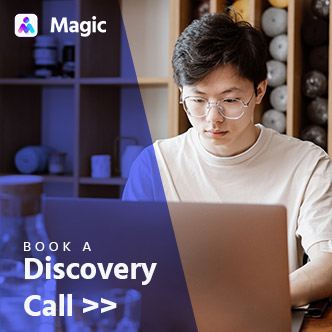 Match With a Vetted Virtual Assistant in 72 Hours!
Magic offers a frictionless way to source and qualify the right virtual assistant for your business so you can get things done fast and efficiently.