Ever needed some help with a product but didn't want to be on the phone with a customer support representative? There's email support, but that could take hours or days to get a response.
These long wait times are one of the reasons why live chat support is the most preferred channel by consumers! With less effort, people can get personal and instant help when needed.
Recent statistics show that 51% of consumers will buy again from a business if they can chat with customer service. Live chat support is especially crucial in eCommerce, which influences 64% of online shoppers.
Key Takeaways:
Live chat support provides real-time help to customers. It can positively impact customer experience, making it the most preferred support channel by consumers.
You can implement chat customer service in many ways, such as by using chat software, implementing chat-to-text, responding on social media, and hiring an outsourcing team.
Outsourced customer support allows you to implement and maintain chat live support and other functions effectively. This way, you can focus on creating a positive customer experience.
5 Benefits of Live Chat Customer Service
Before we look at the advantages this customer service approach provides, let's quickly answer the question "What is live chat?" first. Live chat customer support is a personal and easy way to assist clients in real time. Communication is done via text-based messages using live chat software or apps. Providing this support channel to your customers can positively impact your business.
1. It Boosts Customer Satisfaction and Loyalty
Since live chat is immediate, the issue resolution is faster without taking away the human touch most consumers prefer. Customers can interact with a CSR and quickly ask follow-up questions for more precise solutions.
When customers feel heard and cared for, it increases customer satisfaction. This positive experience will also make them want to do business with you again.
2. It Delivers Higher Conversion Rates and ROI
Customers who chat with customer service get personalized support to help build trusting relationships. Live chat drives 3-5x more conversions than other support channels and can deliver up to 6000% ROI!
3. It's a Cost-Effective Support Channel
Online chat customer service is cheaper to implement and use. For instance, there are no toll charges or hourly fees. Most live chat tools start at $20/month and don't require technical expertise to set up.
Also, remote CSRs can multitask and handle several tickets at the same time. This allows your business to respond to as many customers as possible.
4. You Can Hold a Competitive Market Edge
Live online chat is easily accessible and timely. It reduces disruptions in the customer experience, be it buying a product, renewing an account, or asking for a refund. This makes customers less likely to go to your competitors or find alternatives.
Online support chat allows you to find and solve customer pain points more efficiently than email and phone support. For example, you can easily access chat histories that can be sorted and searched.
5. You Can Explore Innovative Technology
Live chat tools and apps provide many opportunities for your business to explore.
Get data and insights into your customer support service using analytics, chat histories, visitor metrics, and CSR performance reports. Or, identify pain points and adjust the customer experience to address them early.
You can also explore automation tools like chatbots and support ticketing systems to improve customer experience. Integrations with help desks and CRM platforms can streamline processes and live chat outsourcing is another cost-effective solution.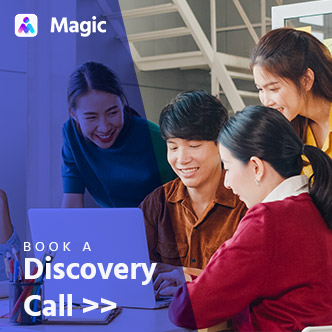 Customize Your Virtual Team Based on Your Needs
Get a team of qualified virtual assistants through a customized hiring funnel to easily fill in work gaps.
Options for Implementing Chat Support for Your Business
Many chat customer service options exist to help you win customers for life. With fierce competition and a wide range of customer chat support options, your business must stand out to succeed.
Here are a few of the most popular options when implementing chat live support for your business:
1. Live Chat Software
Live chat apps and tools allow website visitors to talk with your business in real-time via chat windows. Such software is easy to set up and customize according to your needs.
Customers can click on a widget (usually at the bottom of the website) to ask questions about website navigation and products. CSRs can also prompt interactions using pop-up chat boxes.
Most software options have features you can maximize, such as interactive notifications, chat archiving and management, canned responses, and automation. Other advanced features include reporting and analytics, support ticketing systems, chatbots, and app integration.
2. Chat-to-Text Support
Chat-to-text is a newer form of customer support that combines web chat and text messaging as an omnichannel approach.
With SMS support, users can use a browser to chat with customer service on your website or send a text message. Some chat-to-text software ‌also allows users to switch channels at any point in the conversation.
3. Social Media Support
Live chat support is broader than just a website feature. Social media support is quick and easy to access for many users. For example, you can use Facebook, Instagram, or Twitter to meet customers where they are and connect with your brand. Live chat support via social media can be through direct messages or tagged posts.
4. Live Chat Outsourcing
Live online chat can take up a lot of resources if not done correctly. Tap into expert support teams through live chat outsourcing for a more efficient customer support process at a low cost.
Outsourced live chat services can take on different tasks, such as:
Answering queries
Handling support tickets and help desks
Managing chatbots and other automation
Creating data reports and analysis
With outsourced customer support, you can ‌focus on providing a positive customer experience!
Live Chat Support with Magic
A positive customer experience from start to finish is paramount for business success. Improve your customer support services and pay as you go with Magic's customer support outsourcing services.
With Magic, you can hire a skilled CSR or build a live chat support team for your business in less than a week. Our remote workforce is equipped with custom AI to help them complete tasks more efficiently for your business.
You can also get other outsourced customer support services such as email and phone support, order fulfillment, and escalation management. Book a call now to learn how to get overnight results in customer support and more!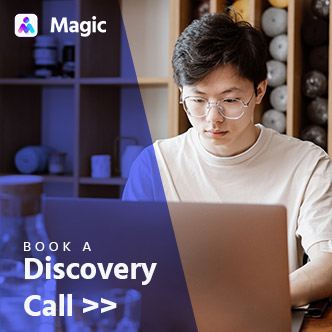 Match With a Vetted Virtual Assistant in 72 Hours!
Magic offers a frictionless way to source and qualify the right virtual assistant for your business so you can get things done fast and efficiently.