If you ask what business development is, you'll get different responses. Some say it's sales, a portion says strategic partnerships, and others say business planning. All of them are valid — business development does extend to several aspects of a business.
With many departments influenced by business development, it's crucial to foster collaborative communication and action to align and meet goals. There should be someone to fulfill the role of business development manager to align and meet business goals.
With a business development role, a virtual assistant will oversee the ideas, plans, and actions to accelerate business growth. This includes boosting profits, lowering costs, scaling the business, building a network, and making strategic decisions.
What is a Business Development Manager?
A business development manager (BDM) plays a vital role in the success of a company. They are involved in both internal and external business processes. From this, your team will know exactly what to do to meet short-term or long-term goals.
To be exact, a BDM develops business development strategies to get long-term value for a business. This can come from growth areas, trends, new markets, customers, products or services, and partnerships.
Knowledge in sales, business studies, finance, and negotiation is crucial to be a good BDM. On top of that, they should have strong leadership, communication, and organizational skills. Technical skill in software and websites, such as Salesforce, Hubspot, and LinkedIn, also boosts efficiency in the business development role.
A virtual assistant has all of the skills and traits needed in the role of a business development manager. They are a low-cost alternative to hiring a full-time employee without sacrificing the quality of work done. A VA will help you in planning and executing your business development ideas to drive growth.
What Does A Business Development Manager Do?
A business development manager has a wide range of duties since they essentially help the business function better. This means their tasks vary for each department within the company. Here are business development manager responsibilities for different business areas that a virtual assistant can do:
Business Planning
In planning, the business development role of a virtual assistant involves fleshing out the objectives and methods of the business. This drives the work of departments and teams in reaching certain goals.
Some of the business planning tasks that a BDM has are:
Collaborate with key stakeholders to set business goals
Create strategies to meet goals and finalize decisions with the team
Stay informed with industry trends, updates, and the market position of competitors
Assess and enact cost-cutting measures in operations and recruitment
Prepare status reports on business goals
Sales
Since the business development manager aims to help the business to earn more, they are also involved in sales. Their sales related duties include:
Build lists of sales leads
Pursue sales leads to urge them through the sales cycle
Make detailed records of sales activities such as calls, orders, sales, lost business, and client or vendor complaints
Assess and allot budgets for sales strategies
Create periodic sales forecasts that estimate future revenues
Market Development
Market development targets buyers in new target segments and non-buying customers in existing segments. In the role of business development manager, a VA takes on these responsibilities:
Research, develop, and undertake new target market initiatives for a product or service
Look for prospective accounts in target markets
Explain the functions and benefits of a product or service to prospects and buyers based on their needs
Boost customer satisfaction through continuous communication and customer relationship management
Assist in the resolution of customer issues that may arise post-sale
Partnerships and Networking
Growing your network and building strategic partnerships provide prospects for cost-saving, vendor management, and even market penetration. That's why a business development manager has tasks such as:
Attend different conferences and industry events on behalf of the company
Research relevant people and organizations to find business opportunities
Liaise with different third parties (e.g. vendors, agencies, government authorities, and regulators) to build rapport and arrange meetings
Negotiate with people, businesses, or groups to increase the market share of a product or service
Look into outsourcing tasks such as administrative, sales, and customer support work to cut down costs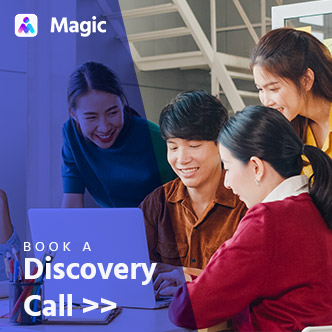 Customize Your Virtual Team Based on Your Needs
Get a team of qualified virtual assistants through a customized hiring funnel to easily fill in work gaps.
Building A Business Development Strategy: 4 Tactics to Grow Your Business
A business development strategy lays out your goals for expansion and growth, as well as how to achieve them. Without it, you may find it challenging to get qualified leads. You could even waste time and money building relationships with people who won't yield value in the long run.
Here are four strategies in business development that can drive business growth:
1. Networking
Business networking aims to establish new business connections. These can benefit the business by exchanging for their services, advice, knowledge, or contacts. A business network can include other business owners, potential suppliers, other professionals, and even potential clients.
It's a great way to reach business leaders, which can be harder to do with ads and other campaigns. You can get in touch with them through:
Business seminars – Meet new peers in your niche and keep in touch with them to know about trends and news
Networking groups – Online groups and communities on social media such as Linkedin bring professionals together to share business ideas and information
Professional associations – Organizations that typically have entry fees or other selection requirements bring together like-minded people
Networking provides the support of people who can help hit your business goals. This is great for marketing and business development, which can broaden your network of business contacts and target market.
A VA with a business development role will help you build your business network by organizing and streamlining contacts. Related tasks include:
Calendar management – keep track of the seminars, events, meetings, and other appointments you should attend as a business owner
External communications – manage your contact list and keep in touch with the business connections you've gained
Lead generation – be in charge of tapping prospects acquired from your business contacts (e.g. cold calling)
2. Referrals
Another way to grow your business is through referrals, which is closely related to networking. While referrals create new business opportunities for you, they are passive in the sense.
Customers who have a positive experience with your business can suggest you to their own network. If they don't fully know your brand, they aren't likely to do so or be less persuasive.
To better inform your clients about your business, make sure to boost your online presence in line with all your expertise. Create specific service pages and send them to your customers. This way, they get to know all your offers and can make better and more successful recommendations to their own network.
Some tasks a virtual assistant will do to get referrals are:
Market research – gather information and prepare reports to better know your target market and their needs
Customer support – man phone, chat, or email support to deal with customer complaints and concerns to nurture a more positive experience
3. Advertising and Partnerships
Sponsored partnerships and paid ads are compelling business development strategies. They focus on your target market to bring in new customers and increase sales.
Design a business development framework that includes ads and partnerships that are appealing to your prospects. Create your blogs and infographics to build your authority in your niche. This way, your prospects and referral sources trust your business and are more likely to close a sale with you.
Explore several platforms and compare which ones are more effective for your goals. Also, ads should conform to the policies and rules of each platform. Well-targeted ads bring your brand in front of the right people to effectively employ your time and money.
To fulfill the role of a business development manager in this aspect, a VA will handle tasks such as:
Online advertising – develop and implement ads campaigns on Google and social media platforms like Facebook and LinkedIn
Social media management – create a strong online presence for your brand and interact with your audience to build strong relationships
4. Business Process Management
Business process management provides a structured workflow to help reduce complexity and expenses. This not only lets you get work done efficiently but also renders business value from internal and external people.
A virtual assistant can handle your administrative work to streamline processes and offload tasks for your team. This lets them focus on their core business functions so they can yield better results in hitting your goals.
The business development tasks a VA will do in this regard include:
Project Documentation – transcribe, enter data, and manage business records
Email Management – keep internal and external communications organized to avoid errors and missed deadlines
Bookkeeping – record daily business transactions for financial reporting
Outsource The Role Of Business Development Manager To Magic
Outsourcing is a cost-efficient way to boost the productivity of your team to profit more and drive growth. Magic provides skilled virtual assistants who can help you from planning to implementing your business development ideas.
Starting at $10, a Magic Virtual Assistant will fulfill the business development role your company needs. They will oversee your scope of strategies to create long-term value from your customers, markets, and relationships.
There's always room for improvement. Get started with your business development strategies with Magic by booking a call. Fill in the role of business development manager or other business functions. In 72 hours, we'll match you with the right virtual assistant based on your needs.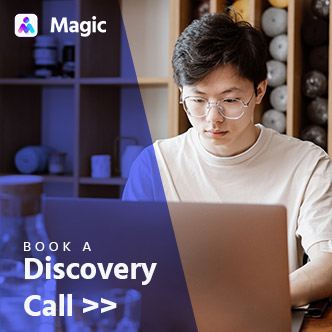 Match With a Vetted Virtual Assistant in 72 Hours!
Magic offers a frictionless way to source and qualify the right virtual assistant for your business so you can get things done fast and efficiently.