What does it take for a business to thrive? When it comes to entrepreneurship, you can't rely on ceteris paribus.
Business development is, therefore, a complex and multifaceted pursuit. It means looking for new opportunities, observing your competitors, and seeing which way the market's wind blows.
So while a lean team with ambition and diligence might get a startup off the ground, many such teams turn to a business development service to keep things going.
A business development service improves an enterprise's performance, its ability to compete, its access to or positioning within relevant markets, or otherwise improves its prospects for growth. These services might help a company identify opportunities, or act on them, or avert foreseeable risks.
As business development is a broad field, it entails a wide range of services. Some are strategic, focusing on medium- or long-term growth; while others are operational, dealing with short-term activities. Here's how you can use outsourcing to hit business development targets.
Key Takeaways:
Business development services improve an enterprise's performance, its ability to compete and its positioning in relevant markets.
Business development services can offer strategic or operational support. The former often focuses on planning and mentorship. The latter tends to involve sales, marketing and building networks.
Outsourcing tasks related to business development can reduce costs and help businesses launch projects or products faster⁠—which in turn can help them hit their development targets.
What is a Business Development Service?
A business development service provides non-financial services and assistance to a company. They offer information, expertise, networks and operational support, among other things. In practice, they tend to fall into two broad categories: strategic and operational services.
Strategic services include high-level, often mid- or long-term assistance. This can include mentorship and training, access or introduction to networks, and analysis of a company's prospects.
Strengths, weaknesses, opportunities and threats (SWOT) analysis is a common first step in business development and consultants can help a business either refine their analysis or identify ways in which they can act on it.
Operational business development services may supplement or take over specific processes. Usually, these focus on areas with direct impacts on company growth, such as sales, marketing, and project management. In effect, such services are provided through outsourcing, as a means to reach specific goals including product development, expanding to new markets, or acquiring certifications, among others.
While nearly any activity may support business development, these are what people usually refer to when using the term.
Why Use a Business Development Service?
Identifying and acting on a company's opportunities can, at first glance, seem to be something that should be handled internally. Ceding strategy to an external party, especially, may seem contrary to an entrepreneurial spirit.
But it's precisely by tapping external partners for business development processes that companies can eliminate obstacles to pursuing plans of their own choosing.
Reduce Costs
Outsourcing business development operations can significantly reduce costs. Dedicated outsourcing services allow you to forgo overhead costs and pay lower hourly rates. Furthermore, outsourcing gives you the option to scale gradually, so that you only pay for what you need at any given time.
Get Skills and Resources
As with other cases of business process outsourcing, you can gain access to skilled workers more quickly than you would by recruiting conventionally. Business development companies may also have technology, databases, or professional networks that you might not otherwise have access to.
Get There Faster
The flexibility and agility of outsourced services allow you to reduce onboarding time, launch new projects faster, and improve operational efficiency. As timeliness can be pivotal when it comes to seizing opportunities, this speed can open up opportunities that would otherwise be closed off.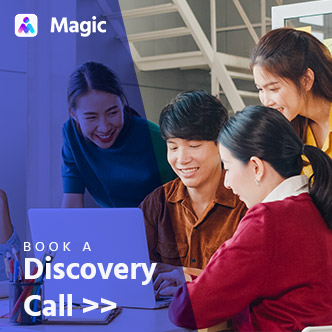 Customize Your Virtual Team Based on Your Needs
Get a team of qualified virtual assistants through a customized hiring funnel to easily fill in work gaps.
Business Development Tasks to Outsource
Business development operations tend to focus on sales, marketing and expanding networks or partnerships. As such, service providers in this field usually assist in these aspects.
Outsourcing with the goal of development is largely about combining different services to pursue appropriate goals. Listed here are some tasks you can outsource to hit those targets more efficiently.
Sales
Sales outsourcing can be an effective way to directly increase your customer count. Outsourced SDRs can get you an influx of monthly leads or, in the longer B2B sales cycle, can get you appointments with decision-makers from enterprise clients.
External sales staff can handle a variety of roles. This could involve directly interacting with leads or prospects, such as cold calls, lead nurturing by email or chat, or setting appointments. It could also involve more backend tasks such as ecommerce assistance, order management, cross-selling and upselling.
Operational support for sales can be especially helpful with time-intensive tasks. Modular services mean that you'll likely find helpful options, no matter your existing sales team or current strategy.
Marketing
Marketing services can be useful for breaking into new markets, especially virtual ones. A handpicked virtual team can get you a foothold in a new social network or platform, or help you establish and maintain a more active online community.
In addition to technical knowledge of digital platforms, an outsourced marketing team can help with graphic design and branding implementation. Social media assets, lead magnet design, and web page design (such as through CSS) are all commonly outsourced tasks.
Looking offshore for staff augmentation can also be helpful in terms of gaining cultural purchase in a new market or demographic. Content creators or designers familiar with a community can bring their expertise to bear in capturing that market.
Project management
In cases of project-based outsourcing, project management is often bundled into an agreed upon service. That said, outsourcing project management on its own has been growing more popular.
External project managers can be brought on to oversee other contractors, your employees, or a mix of both. Third-party project managers may lend a project their expertise, tools, and even authority, such as through certifications. They usually handle planning, budgeting, cost estimation, task tracking, and communication. Project management may also involve outsourced admin work.
Outsourcing project management can keep your tasks on schedule, better organized, and carefully recorded. Furthermore, an independent project manager can offer more impartiality and a broader perspective than an in-house hire might. This level of management can spell the difference between hitting strategic targets on time or not.
Vendor management
Business development often requires dealing with multiple suppliers and service providers. Vendor management ensures each one is supplying what it promised and fulfilling its role in the business' plans.
Vendor management is more often a strategic service, with a consultant analyzing the enterprise, recommending vendors and service providers, and offering advice on contracts and agreements.
As an operational service, vendor management may involve contracting out weekly inspections, vendor coordination, bookkeeping, and related administrative work.
Product management
Outsourced product management has become popular as a means of getting proprietary software into the market as quickly as possible. Mobile or web app development can be contracted wholesale or outsourced in modular fashion; it can start from scratch or with white label software solutions.
Strategically, a consultant may offer insights on features, user experience, or even software deployment. Operationally, a remote team can develop, update or maintain any digital products you use.
Bolster Your Business Development with Magic
With Magic, you can hire remote workers to fill the roles you need in your business development plans. Whether you need just one remote staff or a dozen, we can get you remote staff to get the job done.
Our system is designed to be as quick and flexible as possible. Tell us what you need and we'll have your candidates ready within a week. We regularly recruit for roles in sales, marketing, and admin work⁠—and our recruits are rigorously screened for ability and attitude. And if your needs change at any time, you can add or replace team members as needed.
Get all the benefits of outsourcing in an agile and low-cost service. Schedule a call with us today.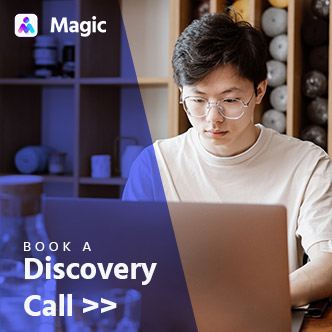 Match With a Vetted Virtual Assistant in 72 Hours!
Magic offers a frictionless way to source and qualify the right virtual assistant for your business so you can get things done fast and efficiently.