There's a long list of things to do in growing your business. Even if you throw yourself into it (and you shouldn't!) you won't have the time to do everything by yourself. There are only so many hours in a day and you should spend them on things that matter the most.
A virtual assistant (VA) can help you cross off tasks in your to-do list allowing more free time for yourself. They are highly-trained, educated, and multi-disciplined experts who can take on a wide range of virtual assistant tasks.
From administrative support to core business responsibilities like sales, outsourcing to a virtual assistant will boost your performance. With a vast scope of tasks you can assign to a VA, getting started can be a big hurdle.
We're here to give you an idea of what to put in your virtual assistant job description post. Find out what tasks you can delegate to a VA as well as what you need to know to find the best match for your business.
What Can a Magic Virtual Assistant Do for Your Business?
Magic offers the most in-demand virtual assistant services at a low cost to accelerate your business growth. Hire a Magic Virtual Assistant to fill in any work gaps without going through the hassle of sourcing and screening.
Just tell us what you need and we'll handle the rest! Within 72 hours, we'll match you with the best virtual assistant for your business. Here are 11 tasks to delegate to a virtual assistant to start getting more things done:
1. Business Development
According to Small Business Trends, 69% of US entrepreneurs start their business at home. This usually means business owners do most of the work or just have a small team to help them in the beginning.
Business development involves seeking new opportunities and prospects, as well as converting more leads into customers. While closely related to sales, it puts more focus on customer relationships by learning about your buyer's personas and boosting brand awareness.
A Magic Virtual Assistant will help plan and apply strategies to raise your profits and promote business growth. Outsource business development tasks to a VA such as:
Research new market trends and competition
It's crucial to always be up-to-date with the latest market and industry trends, as well as your competitors' products, target audience, and strategies. This will help you better understand your target market and ideal prospects so you can plan accordingly.
A data research virtual assistant can conduct competitive research, check online reviews, and track your findings. With these, you can find market gaps and areas of improvement in your value proposition to make you stand out in the market.
While getting more sales leads is good, you must qualify leads to pinpoint who you can sell to. Your sales virtual assistant can assess their needs and whether or not your product can be a solution for them. Sales leads are commonly qualified through phone calls, emails, web forms, and social media.
Connect with ideal prospects
To increase the chances of closing sales, you need to find people who fit your buyer personas and learn more about their pain points and behaviors. This way, you can better decide if a prospect will benefit from your product which, over time, will boost customer loyalty and retention.
With this, a Magic VA can handle your inbound and outbound calls and set appointments including product pitches. They can also pass leads to a sales rep or sales manager to nurture them into making a deal.
Pursue new business opportunities
There's always an opportunity in business. Your virtual assistant can proactively seek new opportunities—be it new prospects, markets, or products. This includes virtual assistant tasks such as building your network, conducting market research, and doing surveys.
Prepare reports and presentations
Recording and organizing findings is just as important as gathering data. A sales virtual assistant can prepare reports to relay information among the sales team and develop suitable strategies. They can also help in making pitch deck presentations and other materials needed for client meetings.
2. Lead Generation
Without leads, you won't have sales. It kickstarts the sales funnel which turns into profit you can use to scale up. Let your sales team focus on closing deals by delegating routine tasks to a lead generation virtual assistant.
Leave the administrative tasks in sales to your Magic Virtual Assistant:
One of the most effective ways to generate sales leads is cold calling, especially for B2B sales. A cold calling virtual assistant can make contact with potential clients to increase brand awareness and possibly start their customer journey. They can also set appointments with someone from your sales team to further nurture leads into customers.
Another foolproof way to get more leads is by asking for referrals from current customers. Your Magic Virtual Assistant can choose your top clients from your customer base to contact. In a phone call, they will ask clients to share their experience with their friends and family who also might benefit from your product.
Whether a call, email, or a physical card, your VA can also send thank you notes to your referral sources to show your appreciation. On top of that, they can keep in touch with past referrals by sending helpful information, setting up reminders, and checking in with them.
Get to know your target customers such as what they want, what they care about, and how to interact with them. This will give you insightful data you can use to improve lead generation strategies.
To do so, a lead generation virtual assistant can run surveys or polls to ask your target audience how you can better serve them. It can also be about a certain pain point or any other relevant topic.
Build and maintain customer relationships
Don't just drop your customers just because you're done doing business with them. If you keep them happy and satisfied even after a sale, they are likely to buy again or refer you to people. Your Magic VA can do regular customer care calls to follow up on their purchase. This adds value to your product or service and builds a long-lasting relationship.
3. Data Scrubbing
Sales isn't guesswork. There's a lot of data you need to sift through and organize which can be time-consuming for your sales team. A Magic Virtual Assistant can keep your customer data up to date and organized. They are knowledgeable in sales tools and software such as:
Salesforce
Hubspot
ClickFunnels
LinkedIn Sales Navigator
Oracle E-Business Suite
Your VA will fix incorrect and incomplete records as well as remove duplicates and irrelevant parts of the data on your preferred customer relationship management (CRM) platform. They will also ensure that all data are consistent and contain no typos.
With a Magic VA managing your database, you can have more accurate data for better decision-making. It also boosts the efficiency of your teams in using such data.
4. Data Entry
While it isn't exactly technical work, Zapier found that data entry takes up more time in a person's workday. In fact, a whopping 76% of their survey respondents said that they spend 1-3 hours just moving data from one place to another. Meanwhile, 73% spend 1-3 hours trying to find certain files and documents.
As it's one of the biggest productivity blockers, delegating data entry to your virtual assistant lets you focus on core job functions. In fact, it's one of the earliest and most in-demand virtual assistant services in the market.
A Magic Virtual Assistant will manage files and documents for easier and more organized access across teams. Other virtual assistant tasks under data entry include managing your calendar, booking appointments, and tracking projects.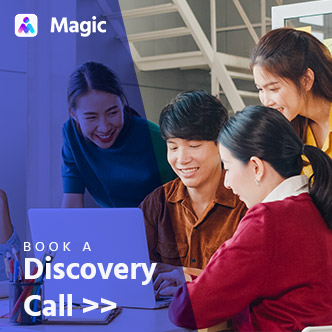 Customize Your Virtual Team Based on Your Needs
Get a team of qualified virtual assistants through a customized hiring funnel to easily fill in work gaps.
5. Transcription
For the most part, running a business means a lot of meetings, be it with your team or clients.
Business transcription is a good way to record important details discussed so you can have access to it later. This allows better information sharing among your team, especially those not present in the meeting. Transcripts can also also be shared with clients or new employees.
Invite a Magic Virtual Assistant to your meetings, boardrooms, and interviews to take minutes. This also extends to properly documenting business projects. They can also transcribe audio or video files into text which can be used for future reference.
6. Research
For your business to grow, you need to have a deep understanding of your niche, competition, and target market. Research will always be a part of your process since you want to be up to date with news, trends, and relevant topics in the industry you're in.
Since it can take up a good chunk of time, research is one of the top tasks to delegate to a virtual assistant. A research virtual assistant can use different kinds of research methods for your business such as:
Surveys – well-thought-out questionnaires ideal for customer support and marketing.
Interviews – one-on-one conversations with prospects to gain more insights into their buying habits, wants, and needs.
Observation – a process of studying and analyzing cases such as market movements, industry trends, competitors, and target audience.
Focus groups – detailed interviews of a small sample of a target group about their perceptions, attitudes, beliefs, and experiences with a business, product, or idea.
Outsourcing research work to a virtual assistant allows you to make data-driven decisions at a given time. Your Magic VA will do all the legwork so you can have more time for big-picture ideas.
7. Recruiting Sourcing
It's important to have the right people on your team to run your business; however, the hiring process can take up most of your time. With a virtual assistant, you can speed up the process without having to sacrifice the quality of candidates.
A Magic VA will proactively source qualified applicants from different platforms such as LinkedIn, Upwork, and the like. They will act as your point person for candidates so you don't have to waste time sifting through resumes.
Other administrative tasks you can assign include:
Align with hiring manager about the job description, requirements, etc.
Publish a virtual assistant job postings on platforms such as LinkedIn and Upwork
Ask current employees for referrals
Gather needed information such as CVs and contact details
Set interviews with candidates
Assist you in the interviews such as take minutes
Arrange for the next action required after the interview
8. Email + Chat Support
The top reason why customer support is crucial in business is that it can boost your earnings. It makes for happy customers who are more likely to buy again and/or refer your business to others. That said, you should always work to improve it.
Reinforce your customer support with an omnichannel service such as email and chat support. A Magic Virtual Assistant can handle support tickets across a variety of platforms. They will help field customer queries and take over email management for you and your team.
Some of the customer support tools they can use to do these virtual assistant tasks are:
AMZ CRM
Freshdesk
Gorgias
Keap Max Classic (formerly Infusionsoft)
9. Phone Support
Phone support is one of the oldest forms of customer service. With more than 50% of customers across all age groups using it, it's also the most utilized channel for customer support.
It can be overwhelming for your customer support team to handle the volume of calls your business receives on top of other channels. Meanwhile, people are spread too thin in small businesses handling different core business functions.
Get the support you need with a Magic Virtual Assistant. They will man your phone support channel and manage customer queries. This can include escalation management wherein they can connect callers to the CS reps or set appointments with the proper team for their queries.
A virtual phone support assistant can also help in maintaining customer relationships. This can be through follow-up calls to check on customers after their queries.
Your Magic VA can expertly use your preferred customer support tools like:
Zendesk
Airtable
Omega CRM
Oracle CRM
Sugar CRM
10. Accounting
Accounting allows you to keep track of your operations as a whole so you can make better decisions as a business owner. It lets you know about your cash flow, the current value of your assets and liabilities, if you're making a profit, and which parts of your business make money.
Get rid of this burden on your office by outsourcing to a virtual assistant. A Magic Virtual Assistant will handle administrative tasks in accounting such as:
Manage accounting systems
Tend to statements of cash flows
Process your accounts receivable and accounts payable ledgers
Prepare basic financial analysis statements and reports
Reconcile accounts to the balance reported in bank statements
By hiring a virtual assistant, you can ensure that your finances are kept on track and your accounting data is accurate. This way, you can focus on your business more.
11. Bookkeeping
While bookkeeping also concerns your business' finances, it focuses on keeping track of financial transactions. This mainly records the day-to-day dealings of your business. Some bookkeeping tasks to delegate to a virtual assistant include:
Send and process invoices, receipts, and other dealings
Manage returns payment processing and refund fulfillment
Prepare bank deposits and track accounts
Make purchases and verify receipts
With your accounting books managed by a Magic Virtual Assistant, rest assured that accounting will be a breeze, especially if you're also outsourcing to a CPA. This ensures that the data you send for reports, analysis, and tax filing are less likely to have inconsistencies that cost more time and money.
Things to Know if You're Hiring a Virtual Assistant
Another hurdle that business owners and leaders face that's stopping them from hiring a virtual assistant is not knowing what they're getting into. We've compiled a list of frequently asked questions to guide you before outsourcing virtual assistant tasks:
Where Can You Find a Virtual Assistant?
The first question people ask is where to find a virtual assistant. There are many ways to find a VA. For one, you can ask your personal network for referrals. Another way to do this is through virtual assistant job postings on hiring platforms like Fiverr and Upwork.
Arguably, the best way to find a virtual assistant is through a virtual assistant company like Magic Virtual Assistant. Just tell us what you need and we'll match you with the right VA for your business within 72 hours.
How Much Is a Personal Assistant?
The cost of a virtual assistant differs depending on their skills, experience, and location. In most cases, the hourly rate for a personal assistant is between $15 and $25. If put in a monthly perspective, it can be between $2,000 and $4,000 per month.
With Magic, outsource the most in-demand virtual assistant services starting at $10 per hour. You can also choose a Magic Pricing Plan that best fits your business.
What Are the Benefits of a Virtual Assistant?
You can gain a lot from outsourcing to a virtual assistant but the main benefits of hiring a virtual assistant are an increase in productivity and cost savings.
Since you're offloading routine tasks to a VA, you and your team have more time to focus on core business functions. Also, VAs don't need office space and equipment. They are paid on an hourly or project basis and don't require salary packages and other benefits full-time employees need.
With Magic, you can enjoy more perks such as:
Fast virtual assistant matching
72-hour assistant replacement
Improved tools (e.g. virtual debit cards, to do lists, etc)
Account management
Daily quality control
Integrated software
24/7 client support
Flexible pricing (no hidden charges or contracts!)
How to Hire a Virtual Assistant from Magic?
Get started with Magic to help grow your business! Our Magic Virtual Assistant hiring process ensures you get the best fit for your business. Here's how we do it:
1. Discovery Call
We take note of your business needs and requirements in hiring a virtual assistant.
2. Matching
We select candidates that fit your requirements from our talent pool.
3. Candidate Selection
We provide you with a list of candidates to choose from.
4. Intro Call
We set you up with a call with your chosen candidate to meet and assess them.
5. If Candidate Is A Good Match
We will proceed to onboard so that your chosen candidate can quickly start with your virtual assistant tasks!
6. If Candidate Is Not A Good Match
We will find more options based on your feedback until we match you with the perfect virtual assistant!
Spend more time on what you do best and delegate the rest. Build your virtual assistant team with Magic!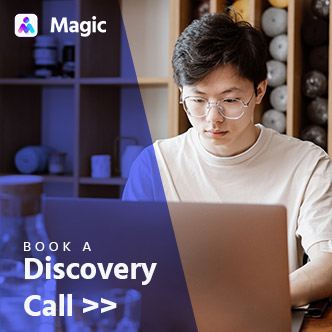 Match With a Vetted Virtual Assistant in 72 Hours!
Magic offers a frictionless way to source and qualify the right virtual assistant for your business so you can get things done fast and efficiently.