Magic is not only what David Blaine does for a living or the name of Orlando's NBA team. It's also (and more importantly) a top-notch virtual assistant service you can use to boost productivity and scale your business without breaking the bank.
Whenever you need something done and don't have the time to do it, send it to a Magic virtual assistant! Tell us exactly what you want to accomplish, and we'll match you with a dedicated virtual assistant to get work done.
Magic virtual assistants offer a scalable solution that adapts to the ever-evolving demands of modern enterprises. In this article, we'll give you a comprehensive overview of what a Magic VA can do for your business.
Key Takeaways:
Magic virtual assistants are versatile and can handle a diverse range of tasks, from administrative support to more complex responsibilities.
Tailored outsourcing solutions like Magic virtual assistant services save you time and money. They do so by streamlining hiring, boosting productivity, offering a skilled talent pool, and scaling cost-effectively.
What makes Magic VAs different from others are their strict screening process, comprehensive training, and advanced technology and tools. Magic also provides dedicated account leads and assistant replacements.
What Is a Magic Virtual Assistant?
A Magic virtual assistant is a highly skilled professional who provides remote administrative support to individuals and businesses. They handle various tasks such as scheduling, research, data entry, email management, and more.
Working remotely, Magic VAs use their expertise and technology to communicate and collaborate effectively. With their help, you can streamline workflows, enhance productivity, and achieve your goals efficiently.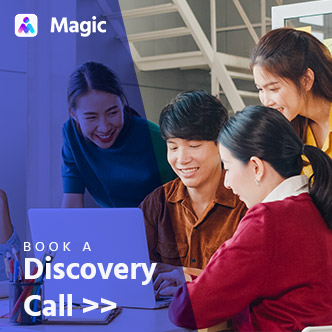 Customize Your Virtual Team Based on Your Needs
Get a team of qualified virtual assistants through a customized hiring funnel to easily fill in work gaps.
What Can Magic Virtual Assistants Do?
What Magic can do is far beyond what any app or piece of software can do because we have real people doing real work whenever you need it. So what tasks can Magic virtual assistants do for you? Just about anything, really!
Trained as generalists, Magic virtual assistants can do all of the administrative and logistic work to complete a task. We provide the most in-demand virtual assistant services, such as:
Scheduling appointments and managing calendars
Conducting research and gathering information
Managing emails and responding to inquiries
Managing files and documents
Social media management and content creation
Travel arrangements and booking
Personal shopping and gift assistance
Event planning and coordination
Magic assistants can also help you grow and manage your business. Busy businesses can delegate tasks to our dedicated virtual assistants, such as:
Lead generation
Lead qualification
Data entry and organization
Data scrubbing
Answering customer queries
Handling support ticketing system
Basic bookkeeping tasks
Basic financial reporting and tax preparation
Tracking and following up on project progress
Need a higher level of support instead? A Magic executive assistant can expertly handle the ever-changing needs of the executive team.
Executive Assistants vs VAs: Which One is Right for You?
Hire an EA or VA to delegate more, stress less, and grow your business.
Learn More
The hardest part about hiring a Magic assistant can actually be figuring out what tasks to offload. That's why we suggest starting with your current to-do list or thinking about aspects of your life you'd like to improve.
You don't need to have a specific idea of how to get it done. Chat with us to figure out what you need and how exactly we can help.
How to Hire a Magic VA
Using Magic is like hiring a team of employees, only without the costs of hiring, training, or management. We provide a remote virtual workforce so you can do more for your business and even your personal life.
The Magic hiring process involves the following key steps:
Discovery

Clients provide information about their needs and requirements, helping Magic understand the scope of assistance required.

Matching

Magic matches clients with the most suitable virtual assistant based on their specific needs and preferences. This ensures a perfect fit for both parties.

Candidate Selection

Our team provides you with a list of candidates to choose from.

Intro Call

We set you up with a call with your chosen candidate to meet and assess them. If the candidate is a good match, we will proceed. If not, based on your feedback, we'll find more options until we match you with the perfect candidate!

Onboarding

After the match is made, the client and VA go through an onboarding process to ensure a smooth transition. This includes setting expectations, establishing communication channels, and providing necessary access to tools and systems.
Get matched with a dedicated assistant within a week! Magic virtual assistants are college-educated and trained remote workers who can assist you with any task. Maximize their skills to get work done and end the service whenever you want.
What's Different About Magic Assistants?
Magic gives you more time each day and lets you focus on what's important. It's one of the few "life upgrades" you can get that actually works and substantially improves your life.
Check out why a Magic virtual assistant stands out in the growing VA market.
Comprehensive Training
Magic virtual assistants undergo thorough training to enhance their skills and stay up-to-date with the latest tools and technologies. Our training program ensures they can provide top-notch assistance using three main components:
Fundamental virtual assistant skills and tools: It includes basic training on how to work as a VA and an introduction to the digital tools that can improve their efficiency.
Virtual assistant courses: We provide a library of self-paced courses to help them learn or shore up various VA-related skills.
Hands-on training: In some cases, we provide remote training so they are well-prepared for whatever jobs they take on.
Technology and Tools Magic VAs Use
Magic utilizes a wide range of technology and tools to help our remote workers streamline their work and provide efficient assistance. From project management platforms to communication tools, they leverage technology to stay organized and collaborate effectively.
What's more, we've also integrated AI technology into Magic virtual assistant services. Magic AI uses OpenAI, GPT-4, and the latest in open-source projects (Pinecone, MemoryGPT, and LangChain). It allows our remote workers to learn, adapt, and perform tasks more intelligently and efficiently.
Dedicated Account Leads
For better remote team management, our clients with three or more full-time VAs are assigned a dedicated account lead who serves as a point of contact throughout the collaboration.
These account leads ensure smooth communication, coordination, and a personalized experience. They are available for meetings, can create coaching plans and SOPs for your assistants, and help with onboarding new VAs as needed.
Magic Assistant Replacement
Companies operate differently and have unique requirements in a fast-paced business environment. That's why our matching team carefully selects the VA that best suits your business goals and needs.
If a client is not satisfied with their initial match, we offer instant replacement service for a perfect fit. This flexibility ensures our clients get the right assistance for their unique needs.
Custom Virtual Assistant Outsourcing
Whether it's a one-time project or ongoing support, we can tailor our services to meet your specific needs. As such, Magic has helped countless startups and small businesses grow their team and expand operations, as well as obtain millions of dollars of funding.
Plus, the more you hire Magic virtual assistants, the more benefits you can receive. It includes a full-time account lead, custom reports and metrics, and hands-on support for VA training and onboarding.
Benefits of Hiring a Magic Assistant
Are virtual assistants worth it? Everyone has this question on their mind. We're extremely proud of the excellence in our teams, and you'll notice the difference when you get Magic.
Here's why you should hire a virtual assistant through Magic:
Streamlined Hiring Process
Magic takes care of the screening, matching, and onboarding process, saving you valuable time, effort, and money. Our matching team ensures you're connected with the right VA and get work done right away.
Save More Time
By delegating tasks to a Magic virtual assistant, you can focus on more important aspects of your business or personal life. Let a Magic VA handle the time-consuming administrative tasks while you concentrate on strategic planning and growth.
Low-Cost Scalability
Hiring a Magic remote worker is a cost-effective solution compared to hiring a full-time employee. It's because you only pay for the assistance you need, so you can scale your support as required without the overhead expenses.
Boost in Productivity
Magic virtual assistants free up time for busy executives and entrepreneurs. In fact, studies show that VAs can make you 13% more productive.
Magic VAs handle challenging tasks and big projects by breaking them down into smaller, actionable steps. At every step, they will set the next action and give you a clear deadline for when it will get done, allowing you to know what's going on and what to expect.
Access to Expertise and Skills
Our virtual assistants come with a diverse skill set, offering you access to expertise and skills you may not have in-house. Magic has a strict screening process that ensures only the top 3% of talent gets selected as VAs (and the top 1% for Magic EAs).
Magic Virtual Assistant Services FAQs
Our on-demand assistant service is totally flexible! The more you're able to delegate, the more you'll be able to get done. Got some more questions? We answer some FAQs for better decision-making.
When is the right time to hire a virtual assistant?
It really varies depending on your needs and circumstances! Generally, it's a good idea to hire a VA when you find yourself overwhelmed with administrative tasks, struggling to meet deadlines, or needing more time to focus on core business activities.
How much does a Magic VA cost?
Virtual assistant rates can vary based on factors such as expertise, tasks, work hours needed, and the location of the VA. Magic offers flexible pricing that starts at $10/hour. All in all, this can give you a total annual savings of $33,323!
What are the other types of assistants Magic offers?
Magic also offers various types of assistants to meet different needs. These include:
Where are your assistants based?
Magic virtual assistants are based in select countries in Southeast Asia and Latin America. They work remotely, allowing them to provide assistance to clients from various locations.
How many assistants can I hire?
There's no limit to the number of assistants you can hire (other than the limits of your own resources). We can find you as many VAs as you need! Depending on the size of the team you're assembling and/or the types of virtual assistants, processing may take more time.
Get Things Done, Get Magic
Offload work to Magic, so you can focus better on growing your business. Send over your to-do list, or delegate tasks as needed. We'll handle the rest and match you with the right Magic virtual assistant to do the job.
The potential of Magic virtual assistants is vast, offering a wide range of support and expertise. So, what's on your to-do list? Experience the benefits of hiring a Magic VA when you take the next step and book a call with us today!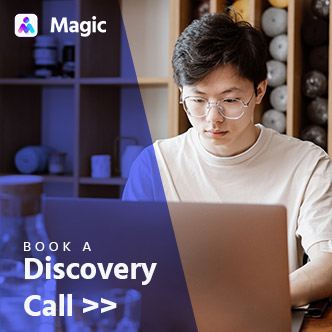 Match With a Vetted Virtual Assistant in 72 Hours!
Magic offers a frictionless way to source and qualify the right virtual assistant for your business so you can get things done fast and efficiently.