Magic is not only the name of Orlando's NBA team, a popular radio station, and what David Blaine does for a living. Magic is also (more importantly) an affordable virtual assistant service you can use every day to be even more productive and live a better and more fulfilling life.
Tell us exactly what you want to accomplish and we'll match you with a dedicated virtual assistant to get work done. Whenever you need something done and don't have the time to do it, send it to a Magic Virtual Assistant instead.
Magic gives you more time each day and lets you focus on what's important. It's one of the few "life upgrades" you can buy that actually works and will substantially improve your life.
What Is Magic: Your Personal Assistant On Demand Service
What Magic can do is far beyond what any app or piece of software can do because we have real people doing real work, whenever you need it. Get Magic anywhere in the world, 24/7!
Magic provides a remote virtual workforce so you can do more for your business and even your personal life. Magic Virtual Assistants are college-educated and trained remote workers who can assist you with any task.
Using Magic is like hiring a team of employees, only without the costs of hiring, training, or management. Get matched with a dedicated virtual assistant within 72 hours. Maximize their skills to get work done and end the service whenever you want.
Magic will help you handle both personal and business-related tasks. Our virtual assistants can plan travel, do research, perform data entry, collect sales leads for you, or help manage any other project you have at work. Let's dive a little more into what a Magic Assistant can do.
What Can A Magic Virtual Assistant Do?
Just about anything! Just ask Magic.
OK, sure, we're not going to rob a bank for you. But as long as it's legal and possible, we'll do it.
A Magic Virtual Assistant is trained to be a generalist and do all of the administrative and logistic work to complete a task at hand. If Magic can do the task itself, your dedicated virtual assistant will simply complete the task for you such as doing online research.
If the task is more complicated and/or requires a specialist, your Magic Personal Assistant becomes an extremely organized project manager. They will find, coordinate with, and handle the payment for third-party vendors and experts until the task is finished.
We love complicated requests, like building custom movie props and one-of-a-kind costumes like these fully operational robotic arms!
Magic has helped startups and small businesses grow their team and expand operations, as well as obtain millions of dollars of funding. We also helped clients create custom robotic movie props (see image above), completely remodel homes, plan an entire wedding, and much, much more!
Personal tasks outsourced to Magic include:
Data entry
Performing online research
Calendaring and scheduling meetings
Creating travel itineraries
Coordinating your travel arrangements
Booking appointments
Coordinating deliveries (even if there is no delivery services offered in that location)
Anything else that needs to be done!
Magic Virtual Assistants can also help you grow and manage your business. Businesses delegate tasks to our dedicated virtual assistants:
Data scrubbing
Lead generation
Lead qualification
Managing files and documents
Handling customer support tickets
Answering customer queries
Basic bookkeeping
Basic financial reporting
Market research
Automating your online store
Shipping and delivery tracking
The hardest part about using Magic can actually be figuring out what to use it for. Because we can do everything, it's hard to pinpoint exactly what you could use it for.
We suggest starting with your current to-do list or thinking about aspects of your life you'd like to improve. You don't need to have a specific idea of how to get it done. Chat with Magic to figure out what you need and how exactly we can help.
Check out more of what a Magic Virtual Assistant can do for you.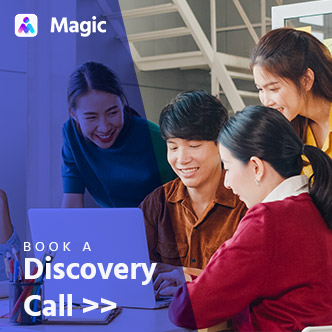 Customize Your Virtual Team Based on Your Needs
Get a team of qualified virtual assistants through a customized hiring funnel to easily fill in work gaps.
Why Magic: Your Dedicated Virtual Assistant Can Work On Anything
Are virtual assistants worth it? Everyone has this question on their mind. We're extremely proud of the excellence in our teams, and you'll notice the difference when you get Magic.
We hold ourselves to a high standard. The average assistant at Magic is a college graduate from a top school. Less than 5% of dedicated VAs who apply to work at Magic are accepted into training and only a fraction of those accepted pass training to become a Magic Assistant.
The other reason Magic is so reliable is because of our task management software. All virtual assistants at Magic use proprietary software we've developed to track and fulfill every task.
The software makes sure each task has a promised update and makes sure that the update happens on time. This means, Magic will never drop your task or forget to update you on time, even if you have other simultaneous tasks going on.
A Magic Virtual Assistant handles hard requests and large projects by breaking them down into smaller, actionable steps. At every step, they will set the next action and give you a clear deadline for when it will get done allowing you to know what's going on and what to expect.
They will always let you know what they're working on and when they will get back to you. At any point, you can adjust your dedicated virtual assistant's strategy and tell them to work on something else. And if anything goes wrong or if they hit a roadblock, we'll let you know and adjust course.
What's more, Magic offers an affordable virtual assistant service to help you grow your business. Select a pricing plan for your Magic Dedicated Assistant that best fits your business needs. Starting at just $10/hour, a virtual assistant will help you with administrative tasks, customer support, and more.
Get Things Done, Get Magic
Delegate any task to Magic. Send over your to-do list, or delegate individual tasks as needed. We'll handle the rest and hire a Magic Virtual Assistant to do the job for you.
Here's how our Magic Assistant hiring process works:
Discovery Call – We take note of your business needs and requirements.
Matching – We select the candidates that fit your requirements.
Candidate Selection – We provide you with a list of candidates to choose from.
Intro Call – We set you up with a call with your chosen candidate to meet and assess them.
If The Candidate Is A Good Match – We will proceed to the onboarding so that your dedicated VA can start immediately!
If The Candidate Is Not A Good Match – We will find more options based on your feedback until we match you with the perfect candidate!
Find a dedicated virtual assistant starting at $10/hour. With Magic, you don't have to worry about contracts or obligations. There are also no set-up fees or hidden charges—instead, we have a weekly billing process that you can cancel at any time.
Magic's on-demand assistant service is totally flexible! The more you're able to delegate, the more you'll be able to get done.
So, what's on your to-do list? A Magic Virtual Assistant is ready to start checking items off for you. Or if you don't know what to send us quite yet, start chatting with us and we'll brainstorm and come up with some ideas.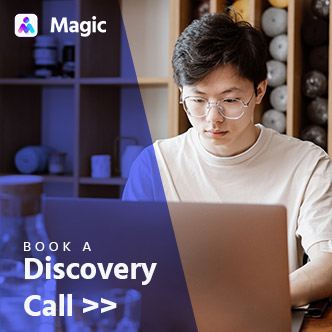 Match With a Vetted Virtual Assistant in 72 Hours!
Magic offers a frictionless way to source and qualify the right virtual assistant for your business so you can get things done fast and efficiently.