If you're reading this, you've likely heard a bit about working with remote assistants. Threads on Twitter and posts on LinkedIn extoll the benefits of virtual executive or administrative assistants: how they save you time and money, help you focus, and boost your productivity.
But before you start outsourcing, it's worth thinking about how you'll work with your remote assistants. To help with that, we've put together a list of ten of the best digital tools for working with remote assistants⁠. This is far from an exhaustive list, of course. We've focused on covering your bases as you get started.
You'll find this list sorted into a few categories: collaboration tools that lay the groundwork for more productivity, tools for communicating clearly, tools for marketing, and tools for managing data. This way, even if you're not sold on a specific piece of software here, you'll know what niche it fills and how to look for an alternative you prefer.
Productivity Tools
The tools in this first section are meant to allow easy collaboration among people distributed across different locations or schedules. They help you determine who's working on what, when and how they're doing so, and what else might need to be done in addition.
Task Management: Monday.com
Monday is a work management platform⁠, or "Work OS," and a central hub for online co-working. Its basic functions revolve around managing tasks or projects. It allows you to add collaborators to projects, assign tasks, and track their progress.
On top of that, Monday.com offers supplementary licenses with marketing, development, and project management features. The latter includes time tracking and additional timeline views.
Where Monday.com shines is in its user interface. Striking colors and clean layouts make each dashboard readable even at a glance, and its intuitive controls are perfect for getting new users onboard. It's also got a broad catalog of templates and excellent provider and community support.
Other Project Management Tools

Monday.com's entry subscription is somewhat on the pricey side, and its free version is quite limited. Try Trello if you're looking for a more robust free Kanban or task board. Asana is another good entry choice, though it has a bit of a learning curve.
Time Tracking: Toggl Track
Toggl Track is built on reliable, easy-to-use time-tracking features with some solid functions built on top of it. These include plugins for major browsers, integrations for a wide range of apps (including Trello and Asana), and auto-pause and idle detection and correction tools.
The software also has a fairly robust free user tier. Combined with the simplicity of its features and interface, it's a great pick especially for anyone just starting out with remote time tracking.
Other Time Tracking Tools

Timely is an automatic time tracker, which eases the process of generating detailed breakdowns. On the other hand, HourStack trades granularity for a focus on high-level planning calendar/schedule tracking that integrates with most work management tools.
Communication Tools
Effective communication is the make-or-break when it comes to remote work. These tools will help your remote assistants communicate with you or other people such as vendors, clients and counterparties.
Instant Messaging: Slack
Slack was developed as an alternative to email for internal communication⁠—a goal it's achieved in nearly every way. The messaging platform combines the immediacy of live chat with the organizational and archival features of email. Communication is grouped into channels and private conversations, with easy options for forwarding messages or attachments and looking up other users.
Slack has limited voice and video communication options, and integrates with a range of apps to further widen its functionalities.
Other Chat Tools

Discord is a popular communication tool with servers and channels similar to Slack's. It also has robust voice and video chat options⁠, all of which can be used for free. Unlike Slack, though, its design centers on personal users rather than organizations. Rocket.chat, meanwhile, is an open-source alternative. Its free tier requires self-hosting, but if you've got a knack for dev work, it's a worthwhile choice with a lot of customization.
Dialers
More than just a dialer, Aloware is a virtual contact center platform with several features that can aid in sales and customer management.
For starters, it allows you to use virtual numbers to make calls and use SMS. Data can be pulled from an integrated CRM, so your remote assistants can readily access lead or customer information.
More advanced features include automated drip campaigns and information gathering. Aloware also has analytic and reporting features to track things such as efficiency and handling time.
Other Dialer Options

Dialpad is lighter on features. It focuses on traditional operator functions like call routing while adding newer ones, like auto-transcription. For tight budgets, OpenPhone is a basic dialer. You can get a virtual number with it or route it to an existing one.
Sales and Marketing Tools
Sales and marketing are crucial to any business, but they can take up a lot of time⁠, making them common choices for tasks to delegate to remote assistants. Here are our picks for tools to further boost efficiency.
Lead gen: Apollo.io
Apollo.io is a sales engagement and marketing platform known for its extensive database of businesses and professionals. This database is made accessible with highly customizable search options, including targets for industry, size, and tech stack.
In addition to its database, the service also offers customizable sales workflows, including email campaigns, lead scoring, and follow-ups. These combine with analytics to provide a strong suite of features for data-driven sales.
Other Lead Qualification Tools

If access to a database is all you need, Rocketreach may be an alternative. You can use it to look up or verify lead information. Crunchbase is another option. It offers more features, including personalized insights on leads and opportunities, with a tradeoff in database size: it focuses on startups and venture capital, mostly US-based.
Design: Canva
Canva offers web-based graphic design software in an easy-to-use package. The service offers tools for creating layouts, marketing collaterals, and more. It's accessible even to people with no design training, thanks to its library of templates and assets, which can be used along with user-uploaded files.
The platform's free version is already quite extensive, but paid users get access to a wider catalog of templates and assets, and advanced photo/video manipulation tools.
Other Graphic Design Tools

If you're working with assistants with design experience, they may benefit from professional-level software suites, such as Affinity. On the other hand, if you don't need a full design library, you could try Venngage, which specializes in infographics and communication materials.
Social Media: Buffer
Buffer is one of the longest-running social media management hubs with good reason. It's a reliable tool for scheduling social media posts and offers affordable, modular pricing plans. They even have a free tier that's good for about a week's worth of posts on up to three social networks.
Paid plans give you access to analytics, and higher tiers provide added features such as microsites you can link to from your social bios.
Other Social Media Tools

If you're more interested in analytics and social listening, you may get better mileage out of Hootsuite. Its customizable views and streams make for easy monitoring of social activity, topics, and trends.
Editing Tools
Clear writing is effective writing, and Grammarly is an easy way to ensure writing standards. If your remote assistants will be writing a lot, whether for emails or web copy, Grammarly's a useful tool.
In addition to grammar and syntax, it can check for conventional best practices such as conciseness, active voice, and diction. The software can check entire documents at once or can offer suggestions in real-time through browser extensions.
Other Writing Tools

Yoast's editing tools are focused on SEO⁠—but as readability plays a part in that, they check for conciseness in sentence length and structure, as well as for keywords.
Data Management
Data is at the heart of remote assistants' work. These tools will help you provide them with the data they need to work effectively⁠—while keeping that data accessible, accurate and secure.
CRM: Hubspot
HubSpot is one of the most comprehensive customer relationship management platforms and is bolstered by a wide range of first- and third-party integrations. It also benefits from extensive customer support from the provider and an active community of users.
Other CRM Tools

Choosing an alternative depends largely on whether you want something as robust as HubSpot, or something more streamlined. Salesforce is an option for the former, with less focus on inbound marketing and more modular features⁠—which can lead to a less streamlined experience.

For the latter, it's best to consider which specific features you need and search for providers that deal specifically with those.
Password Management: LastPass
Data security can be a major concern when working with remote freelancers⁠—which LastPass can go a long way in solving. LastPass takes the trouble out of managing passwords by generating passwords for optimum strength, which can then be stored and shared securely through the platform. All you need to remember is the one master password that lets you access your password vault. Its ease of use, especially in team settings, is a standout strength.
Other Password Tools

NordPass offers password storing and added device sync and authentication features. Zoho Vault can store, in addition to passwords, notes, and other short bits of information; these can likewise be protected by 2FA.
Get a Remote Team with the Right Tools
Need a remote team that can get started ASAP? With Magic, you can recruit a team of remote assistants with the skills⁠—and tools⁠—you need. Our dashboard has built-in productivity tools, and our assistants have access to productivity-enhancing AI tools.
Give us a call and tell us what you need done. We'll find the right people for you within a week⁠—and help you set up the right digital tools for the job.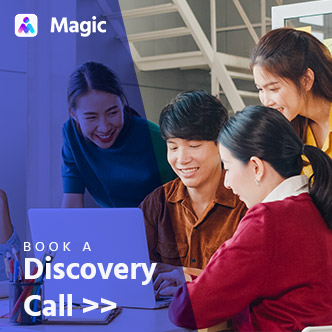 Customize Your Virtual Team Based on Your Needs
Get a team of qualified virtual assistants through a customized hiring funnel to easily fill in work gaps.