At Magic, our goal is to help businesses assemble the remote teams they need to accomplish their goals. But before we can do that, we need to find the people who'll go on those teams.
Our recruitment and matching processes are at the heart of what we do. They've been refined over time to prioritize speed and efficacy⁠—ensuring businesses get the right people as quickly as possible. And if you've been wondering how exactly we do that, this article will give you a look behind the screens.
What Does a Magic Assistant Do?
We choose remote assistants who have the training and experience to use their skills in an online environment. Our remote workers can communicate well whether synchronously or asynchronously, are good at managing time, and make good use of virtual collaboration tools.
Beyond that, each Magic assistant is chosen for the skills they can bring to their specific roles, such as:
Admin Work: Organizing schedules and inboxes, data entry and transcription
Sales: Prospecting, inbound/outbound sales calls, follow-ups, setting appointments
Bookkeeping: Managing and verifying various ledgers, using accounting software
Customer Support: CRM maintenance, ticket processing, basic troubleshooting
Social Media: Community engagement, content curation/captions, design (Canva)
Lead Generation: Sourcing, scoring and qualifying leads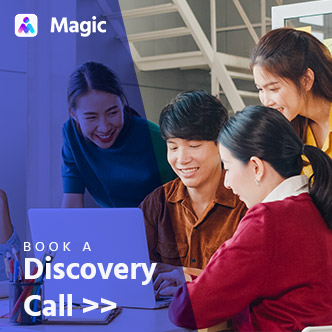 Customize Your Virtual Team Based on Your Needs
Get a team of qualified virtual assistants through a customized hiring funnel to easily fill in work gaps.
Sourcing: How We Secure the Top 5% of Talent
We use a multi-step sourcing and screening process to secure the best possible remote workers. Applicants come through open calls, employee referrals and job hunting sites in our target labor markets. From that broad list, only about 5% make it to the candidate pool for remote staffing matching.
Minimum Qualifications
The first round of screening filters out applicants who aren't suited for remote work with international clients. It's focused on basic requirements and the practicalities of work.
Applicants must:
Have relevant experience in remote work with an international client
Have sufficient availability during US business hours
Have the equipment necessary to work from home
Capability Test
The second part of our screening process is a monitored online test. It's meant to get a practical measure of their skills in a digital environment. The test measures:
Typing: We test for speed and accuracy.
English: Crucial for communication and processing information. Assessed at each point of the process and through relevant certifications or credentials.
Attention to Detail: Candidates should be able to follow instructions and identify important points of information. We judge this based on past experience and their performance throughout recruitment.
Problem-Solving Skills: We recruit people who demonstrate resourcefulness, lateral thinking, and initiative.
Verbal Communication: Recruits should be able to express themselves clearly across communication channels, including email, calls, and instant messaging. We assess this through a recorded video introduction.
Sales: Sales assistants go through a slightly different test, which focuses on communication by phone and other sales techniques.
This is where most of the applicants fall through. On average, only 12% of applicants meet our standards across all these criteria.
Behavior and Culture Fit
Applicants who pass the initial test are invited to a video interview. This step takes a closer look at their professional experience, their work habits and attitudes, and how well they've acclimated to US work culture. It's also another chance to further evaluate their communication skills and conduct in a remote setup.
Just under half of all applicants who reach this stage pass the interview, bringing the total success rate to about 5-6%.
Matching: How We Choose the Right Person for Each Job
Applicants who clear the interview are eligible for matching with businesses seeking talent. Each one is added to a particular matching pool based on their skills and work experience. By sorting candidates beforehand, we can drastically reduce the time it takes to find suitable assistants when businesses request them.
The Introductory Call
Once a candidate has been chosen whose profile matches a business' specifications, we arrange a call for them to discuss the prospective job. The client can provide further details or assess the candidate more, as needed. Similarly, the candidate gets the chance to see if it's a job they can take on.
If both sides are satisfied, a starting date is arranged so that the new Magic assistant can be properly onboarded.
Replacing Assistants
Even careful screening can't perfectly anticipate all possibilities⁠—so if your chosen remote worker turns out to be a poor fit for your company, you can switch them out. Simply send us a request and we'll begin processing a new match. As soon as you've given us feedback on what needs improvement, we'll find someone in no more than a week.
Hiring for High Growth
Ultimately, our goal is to provide a service that's practical for businesses seeking to ramp up growth or launch new projects. Our services and processes are designed with this in mind, based on our own experience as a venture of that sort⁠—and our remote staff are chosen to suit the kind of work we'd expect of our own hires.
If you want to know more, or to get started gathering your own remote team, schedule a call with us.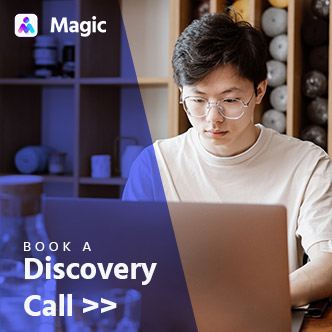 Match With a Vetted Virtual Assistant in 72 Hours!
Magic offers a frictionless way to source and qualify the right virtual assistant for your business so you can get things done fast and efficiently.