The way we think about work has dramatically transformed. With tech giants like Google, Microsoft, and Twitter already announcing permanent or long-term work-from-home arrangements; remote work is not just a passing fad.
While companies have existing remote team collaboration tools, many employees have never prepared for the likelihood of working from outside of the office for more than a day or two. It may be the first time they're forced to work for long stretches from their living room or bedroom, which isn't easy.
Whether you're managing a remote team or a hybrid one, it's crucial to effectively implement strategies on how to work from home. This will lead to more productivity and happier employees, as well as reduced overhead costs for your business.
Working From Home Essentials: Guides To Boost Productivity
Magic has been working remotely since 2017. As a fully remote team, we've become experts in maximizing productivity from home. We couldn't have done this without learning from others. So, we wanted to share a few resources that we found helpful to ensure working from home is best for you and your company.
1. Getting The Best Work-From-Home Setup
First, let's talk about setup. A good work-from-home setup for remote team members will make it easy to stay focused and grounded when there are distractions in your house.
2. Staying Engaged While Away From Others
Having a solid work-from-home setup without distractions leaves human interactions out of the equation. This is something that many will be missing for the first time. Here's how to combat that:
Read more from Magic: 8 Effective Tips on How to Build a Remote Team
3. Using the Right Remote Team Collaboration Tools
Now, let's talk about what companies have to do to ensure employees have the best tools, flexibility, and support when working from home.
Harvard Business Review suggests a remote work plan that includes maximum flexibility and an emphasis on over-communication.
Fastcompany focuses on strategies to ensure remote work is successful for any company, even if you're just getting started.
Stewart Butterfield, CEO of Slack described in step-by-step detail how his company prepared for remote work in this Twitter thread.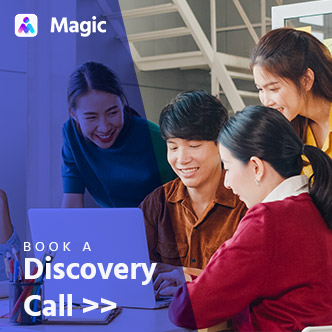 Customize Your Virtual Team Based on Your Needs
Get a team of qualified virtual assistants through a customized hiring funnel to easily fill in work gaps.
5 Tips For Leading A Remote Team To Success
Be it a fully remote or hybrid team, you should develop and apply strategies conducive to successful remote work. Managing a remote team successfully will reap many benefits for your business. Here are five tips for working from home as a team:
1. Be Strategic About Video Calls
Let's face it: Zoom fatigue is real, and we've all experienced it. No one wants to go through a sequence of back-to-back video calls.
It's important to call strategically—which often means planning your video conferences in advance so everyone on your team comes in prepared. Find the cadence that's right for you and your remote team, whether that means having daily or weekly team meetings.
You should also know that not everything needs to be said over a video call. Sometimes, intentionally documenting instructions or feedback via an email or Slack message can lead to clearer communication with less need for back-and-forth messaging.
2. Respect Boundaries
Work is work, even if it's done from home. Just because your employee is never in the office doesn't mean you should contact them in the off-hours. There should always be a good work life balance no matter the setup.
Respect your remote team's work hours and know that not everyone works in the same way—or at the same time, for that matter. This also includes differences in time zones. A huge part of employee satisfaction with remote work comes from the flexibility it allows. Without that flexibility, productivity might suffer.
3. Know Your Team
It's harder to get to know your team since there are no face-to-face interactions. You may not know the person behind the work they do. It's also all too easy for your remote workers to forget they're part of an actual team.
It's still important to know how to build culture in a remote team. During team meetings, break up the monotony by coming up with creative ways to get to know each other. From virtual happy hours to trivia games to About Me presentations, there are plenty of remote team building ideas to help your team members feel more connected.
4. Encourage Transparency
Trust is an important element in terms of how to work from home effectively. To build this, transparency is imperative. Set clear expectations and allow your remote team members to keep you (and each other) updated on their weekly tasks.
Using project management tools like Trello and Asana also makes it easier for everyone to track each other's progress on various projects. Let your team in on the bigger picture and share company-wide goals. This will help your team feel more engaged and connected to the work that they're doing.
5. Be Empathetic
Always remember the person behind the screen. Empathy goes a long way in leading a remote team. Working during a global pandemic is challenging, to say the least, and we're all dealing with it in different ways.
On top of work, many are facing anxiety and fear due to the virus. Some have been isolated from their family, friends, and communities. Others have had to take on extra childcare responsibilities.
Even if it's not a daily check, reach out to your remote team. Find out how they've been coping and offer support where it's needed. After all, we're all trying to navigate this new world.
Get Magic for Effective Remote Team Working
Working from home can be difficult if you've never prepared for it. Let Magic help you or your company do more with support from virtual assistants. As we are a remote company as well, we're fully devoted to finding solutions on how to work from home effectively.
Managing a remote team is easier with trained and experienced remote workers. Discover what a Magic Virtual Assistant can do for your business. Tell us what you need to get started today!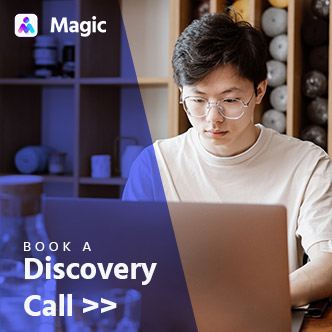 Match With a Vetted Virtual Assistant in 72 Hours!
Magic offers a frictionless way to source and qualify the right virtual assistant for your business so you can get things done fast and efficiently.