Whether you're a bustling startup owner or a seasoned executive, the right support can make all the difference. And that's where dedicated assistants come in. Each can quickly become familiar with your unique needs and working style. But with so many options available, how do you choose the perfect assistant tailored to your needs?
There are many different types of virtual assistants to choose from. More often than not, the top choices boil down to executive assistant vs virtual assistant. While the two are almost similar, Magic provides valuable distinctions between the two depending on your unique needs.
Thinking of getting remote assistance with Magic? Let's go over the roles, level of support, and other features of Magic executive assistant and Magic virtual assistant services.
Key Takeaways:
Whether you're a business owner or an executive, proper support is crucial. Magic provides dedicated assistants who can meet your needs and help you achieve your goals.
With numerous remote assistance options available, it's essential to know the distinctions between a Magic executive assistant vs virtual assistant.
In essence, Magic VAs are generalists who can quickly adapt to your work processes. Meanwhile, Magic EAs provide a higher level of support and expertise, crucial to strategic business functions.
Executive Assistant vs Virtual Assistant: Everything You Need to Know
Before we delve into what Magic offers in terms of hiring a virtual assistant or a remote executive assistant, let's talk about the basics.
What is an Executive Assistant?
Traditionally, an executive assistant (EA) is a right-hand person to top-level professionals, juggling high-level tasks and decisions. The role has evolved today, adapting to new technologies and workflows to anticipate the needs of the executive.
They offer specialized support beyond routine work, including industry-specific expertise and personal assistance. Some common tasks they handle are:
Managing Schedules and Travel Arrangements: Business owners and leaders often have back-to-back meetings in different time zones and need to catch a flight immediately after. A skilled EA ensures you're where you need to be when you need to be there.
Answer and Screen Calls and Emails: An EA acts as a filter, prioritizing messages based on urgency and relevance. They can also take messages for you and answer routine emails.
Conduct Research and Prepare Reports: Need market trends, competitor analysis, or a comprehensive report on a new venture? Your EA can research various topics and sift through data to offer valuable insights.
Delegate Tasks and Manage Projects: An adept EA can extend your leadership through efficient project management. They can assign tasks to team members, follow up on them, and create progress reports.
Gatekeeper and Image Representative: They handle interactions in a manner that aligns with your brand and professionalism, as well as make decisions on your behalf. This way, you can focus on what matters most in your business.
Overall, the EA ensures that an executive's day runs seamlessly and efficiently. With their skills and experience, their contributions go beyond being a secretary, driving productivity and growth in the business.
What is a Virtual Assistant?
On the other hand, a virtual assistant (VA) is a versatile professional who handles a wide array of tasks, from administrative to creative and technical. They operate remotely, providing a flexible and cost-effective solution for businesses of all sizes.
Some of the most common outsourced tasks to a virtual assistant are:
Administrative Tasks: A VA can handle data entry, managing emails, scheduling meetings, and other organizational duties that keep your operations running smoothly.
Content Creation and Digital Marketing Support: VAs can be the creative force behind your online presence, from scheduling blog posts to managing your social media pages.
Basic Bookkeeping and Invoicing: They can help maintain your financial records, ensuring accuracy and compliance. This includes managing invoices and payroll, helping in tax preparations, and reconciling bank accounts.
Customer Support: Need someone to provide support to your clients? VAs can answer queries, manage support tickets, and assist clients on various support channels like email and phone.
With a virtual assistant, you can tap into a broad skill set without the overhead costs of an in-house staff. Whether it's just one project or long-term support, VAs offer a dynamic solution. Learn more about what other tasks a virtual assistant can do for your business by visiting this blog – What Can a Virtual Assistant Do? Busting 7 Common Myths.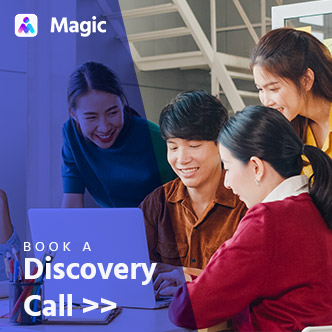 Customize Your Virtual Team Based on Your Needs
Get a team of qualified virtual assistants through a customized hiring funnel to easily fill in work gaps.
Should You Hire a Magic Executive Assistant or Magic VA?
Deciding whether to hire a Magic virtual assistant or a Magic executive assistant depends on your specific needs, priorities, and the level of support you require. Here are some factors to consider when choosing between an executive assistant vs virtual assistant:
Scope of Responsibilities: Assess the tasks you need help with. If you mainly need help with general administrative tasks, scheduling appointments, and basic customer inquiries, a Magic virtual assistant may be sufficient. However, a Magic executive assistant would be better suited to meet your needs if you need more specialized support, such as strategic planning or coordinating with other team members.
Level of Expertise: Magic EAs have a higher level of training and experience, specifically tailored to assist busy executives and top-level management. Meanwhile, Magic VAs are generalists who can adapt to your work environment.
Complexity of Tasks: VAs are skilled at handling many tasks, but EAs are better equipped to handle complex and specialized requests. An EA may be more suitable for intricate research, data analysis, or technical knowledge.
Strategic Involvement: EAs possess a deeper understanding of strategic decision-making and can provide more comprehensive support in planning and analysis. Meanwhile, VAs help prioritize tasks that can contribute to achieving your business goals.
Budget: Evaluate your budget and the costs of hiring a virtual assistant vs an executive assistant. EAs typically command a higher rate due to their specialized expertise and level of support, while VAs are more cost-effective.
Benefits of Hiring a Magic Dedicated Assistant
Magic provides a skilled, remote workforce with a wide range of expertise, making them a valuable ally for any business looking to streamline operations and increase productivity. Whatever your unique needs and preferences, we can match you with dedicated assistants in less than a week!
To know the best fit for your business, let's talk about the benefits of hiring a Magic virtual assistant or executive assistant:
7 Benefits of Hiring a Magic VA
Magic virtual assistants are trained professionals who excel in handling a wide range of administrative tasks and general support duties. They are highly adaptable and can quickly learn to work efficiently within your systems and processes.
When you hire a Magic VA, you benefit from:
Top 3% of talent: With a 3% acceptance rate, we source the only top VAs throughout Latin America and Asia to help you get things done.
Pre-trained assistants: Before our assistants work with clients, they must first graduate from our extensive assistant skills training program.
10+ hours/week time savings: As a VA completes tasks for you, you get back valuable time to focus on your core business functions.
Dedicated account leads: When you hire at least three full-time virtual assistants, you get an account lead to help manage them. They can make coaching plans and SOPs and help onboard new VAs.
Wide range of virtual assistant tools: You can easily integrate your VA into your tech stack as they are adept in many tools and software, from Microsoft Teams to Slack. They are also equipped with our own tech, Magic AI, to work even faster.
Instant replacement: We handpick your VA based on your business needs and goals. But if things don't work out with them, you can get a new assistant within three days.
Ease of scalability: Need more help? Whether you need part-time or full-time employees, you can quickly grow your VA team. Our larger clients with ten or more VAs also get more benefits, such as full-time account leads, custom reports and metrics, and hands-on support.
7 Benefits of Hiring a Magic Executive Assistant
Magic executive assistants provide a specialized and advanced tier of support. They possess more expertise and experience specifically tailored for helping executives and business owners.
Magic EAs anticipate and proactively support the goals and priorities of business leaders, helping them to navigate challenges, make informed decisions, and optimize work. As discussed earlier, you can delegate a wide range of tasks to them.
With our EA service, you'll be getting:
Top 1% of talent: We employ a more rigorous screening process for our Magic EAs, hiring only the best of the best to be your strategic personal assistant.
Pre-trained assistants: At Magic, we train our assistants to succeed and excel at work. From inbox management and event coordination to strong communication skills and critical thinking, rest assured that your EA is well-equipped.
Dedicated account manager: Want to scale up with your EA or have questions about our services? You'll be assigned an account manager to inform or help you make changes. They're just an email, call, or a Zoom meeting away!
Daily quality control and oversight: Rest assured that your EA completes tasks exactly how you want them done. Your assigned AM will help you better manage your remote team by keeping you in the loop daily.
Improved task management and quality: Magic always works on new ways to help you work with our assistants. Manage your EA (or team of assistants) and track their progress with our service dashboard. There's also Magic Task, where handling bulk tasks is made easy and efficient.
Improved tools: Our EAs are powered by cutting-edge technology, including Magic AI. Other tools we provide include a password manager called Magic Vault, virtual debit cards, to-do lists, and more.
Seamless assistant replacement: You don't have to worry if things don't work out with your first EA. We can smoothly replace your assistant ASAP to avoid disrupting your workflow.
Get the Best Dedicated Assistants with Magic
At Magic, we know that one size does not fit all when it comes to providing remote assistance. Understanding the distinctions between a Magic executive assistant vs virtual assistant is crucial to your success.
Evaluate your specific needs and preferences to find the perfect fit for your business. Let our expert matching team help you make the right choice when you book a call with us today! We'll source and screen our talent pool of over 1,600 pre-vetted and trained assistants.
With Magic, you can hire and onboard a dedicated assistant based on your needs in as little as a week! Whether you need one full-time employee or 1,000 team members, we make it easy to scale your team up or down. This way, you can put all your time and energy into what matters most: running and growing your business.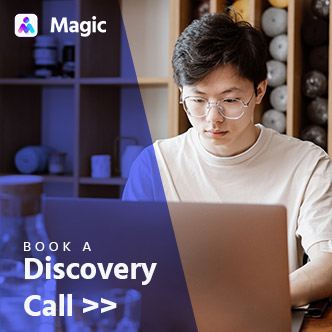 Match With a Vetted Virtual Assistant in 72 Hours!
Magic offers a frictionless way to source and qualify the right virtual assistant for your business so you can get things done fast and efficiently.