To stay ahead of the competition, you must be able to adapt and grow in an ever-evolving business landscape. This can come as a challenge that requires a dynamic approach and a willingness to explore new opportunities.
That's why many businesses turn to dedicated outsourcing services to scale with external experts for specific business functions. It's a powerful strategy that provides cost savings, flexibility, and efficiency, allowing you to focus on your core duties.
Want to take your business to new heights with the help of a dedicated team? Look no further than Magic, your modern outsourcing company that actively connects businesses of all sizes to a flexible, remote workforce across various fields.
Explore the possibilities of outsourced support in streamlining your operations and achieving ambitious goals. In this article, we'll look into how Magic's dedicated outsourcing services can meet the changing needs of your business.
Key Takeaways:
Scaling is a must for businesses but it requires a lot of effort and resources. So, many businesses outsource as a cost-effective strategy to better focus on business growth.
A dedicated outsourced team can take on a wide range of tasks across admin, sales, customer support, finance, and many more.
What Are Dedicated Outsourcing Services?
Dedicated outsourcing services are a way for a business to offload specific business functions to specialized external providers. This allows businesses to access a skilled remote workforce that works on their projects exclusively, without the need to hire in-house staff to meet unique business needs.
With Magic, you can outsource services across virtual assistance, sales, customer service, bookkeeping, and AI. Our dedicated team is selected from the top 3% of talent to ensure that we match you with the right workers. The result is a more agile and scalable business model that drives growth and success.
Benefits of Dedicated Outsourcing Services
Scaling is a tricky feat that requires a lot of effort and resources but luckily, outsourced support can address many of the challenges that come with it. You can leverage the benefits of dedicated outsourcing services, such as:
Cost Savings
By outsourcing, you can cut down on the time and costs of hiring and training employees to handle certain tasks. You can easily get a dedicated team of skilled experts as outsourcing companies already have a specialized talent pool across various fields. Also, you don't need to provide office space or equipment when working with remote teams.
Want to save a lot on labor costs? Magic offers dedicated outsourcing services starting at $10/hour. There are also no hidden fees or contracts! Instead, you only have to pay for the services you use.
Flexibility and Scalability
As market trends and demands come and go, you never know when you need to scale up or down. That's why it's crucial that your business is able to adapt quickly and stay competitive. Whether it's seasonal fluctuations or growth spurts, outsourcing services allow you to easily scale as needed.
No matter your business size, scaling your dedicated team is faster and easier with Magic. This means you can start with one worker and add more later on. If a remote worker is unsatisfactory or the project is completed, you can also reduce the size of your workforce without any complications.
Increased Efficiency and Productivity
Delegate tasks to skilled remote workers to streamline workflows. This allows you to optimize your operations and get more things done without sacrificing the quality of work.
Get overnight results when you outsource services to Magic! All our candidates go through a multi-step screening process to ensure that you get workers with skill, perception, and initiative. On top of that, we provide them with our custom Magic AI to help them with their tasks.
Better Focus on Core Competencies
Aside from cutting costs, the main reason why companies outsource is to supplement their employees and reduce distractions. By outsourcing tasks such as admin work, finance, or customer support to a dedicated team, your in-house staff can focus on activities that directly impact your bottom line, such as sales, marketing, or product development.
Also, a better focus on core business functions leads to increased innovation, improved customer satisfaction, and greater revenue growth. With Magic, you can gain a strong competitive advantage and drive long-term success for your business.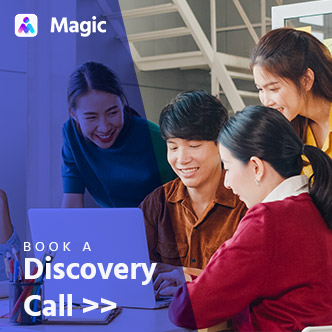 Customize Your Virtual Team Based on Your Needs
Get a team of qualified virtual assistants through a customized hiring funnel to easily fill in work gaps.
5 Outsource Services that Magic Offers
Are you looking to streamline your business operations and improve your bottom line? Magic offers five dedicated outsourcing services to help you scale your business in a cost-effective way. Let's dive in and see how outsourcing with Magic can take your business to the next level.
Virtual Assistance
Delegate routine work with virtual assistant outsourcing to spend more time on your core duties. Magic Virtual Assistants provides dedicated assistant support to your internal team by handling tasks such as:
Data entry: A Magic VA can enter and update data to help your team be more efficient and organized.
Inbox management: A virtual assistant can sort through and filter important emails, send responses, and relay messages to your team.
Calendar management: Make the most out of your workday by hiring a VA to organize, update, and keep track of your calendar.
Appointment scheduling: Let a VA confer with internal and external partners in setting up meetings and other events on your behalf.
Travel coordination: Focus ‌on your business with a VA to help you prepare itineraries, book flights and accommodations, and make changes to trips.
Industry research: A Magic Virtual Assistant can help you get to know more about your market, competitors, and customers by doing research and other helpful reports.
Meeting note-taking and transcription: Reduce distractions in meetings by having a VA prepare notes, take minutes, or transcribe audio and/or video clips.
Document preparation and organization: Focus on your ideas and concepts with a Magic VA to help you with documents from creating slide decks to drafting agreements.
Sales
Grow your pipeline with Magic's sales outsourcing services. To help you close more deals and boost profitability, they can handle different sales tasks such as:
Lead generation: Get more leads to fill up your sales pipeline with the help of an outsourced sales development representative.
Cold calling: Hit your sales numbers with a dedicated team handling both your inbound and outbound calls.
Appointment setting: Let an outsourced SDR handle communication with your prospects in setting and following up on sales appointments.
Lead qualifying: Build a virtual team to prospect and qualify leads through email, LinkedIn, phone calls, and other tools.
CRM management and cleanup: A sales assistant can enter data into your CRM to manage client interactions and streamline processes.
Customer Service
Level up your businesses' customer experience with Magic. You can start outsourcing customer service tasks to a skilled, remote workforce like:
Email support: A remote team can take over your email support service and correspond with customers and prospects.
Phone support: Get a dedicated team to provide 24/7 customer support via phone with the use of virtual dialers and other support tools.
Live chat: Provide instant support through live chat and chatbot technology through customer service outsourcing.
Resolving customer disputes: Let a remote customer support team handle angry customers and direct them to the right department to solve their issues.
Accounting and Bookkeeping
Outsource services such as your accounting and bookkeeping tasks to Magic so you can free up time for your internal team. This includes:
Bookkeeping: Keep track and record your daily financial transactions so you can get accurate information in making business decisions.
Financial tracking: Get an accounting assistant to compile and review billing reports, coordinate with different departments, and create reports.
Expense tracking and reporting: A remote team can create expense reports, handle vendor payments, and reconcile bank statements for your business.
Invoicing support: Let a virtual team create and send invoices on your behalf, follow up with customers, and ensure all bills are accurate and paid
AI Services
As AI revolutionizes the way we work, Magic also offers dedicated outsourcing services to help companies accelerate the AI lifecycle. Our human-in-the-loop solutions include:
Data labeling and classification: Remote assistants can organize data into relevant groups and add labels to raw data to give it more context for machine learning.
Data transcription: Get a dedicated team to convert speech into written text for documentation or analysis purposes.
Data annotation: Let a virtual team label individual elements of training data like text or images to help machines understand what's important.
Data cataloging: Keep your data inventory organized and mapped out with the help of skilled remote workers.
Data sourcing: Hire outsourced support to extract and integrate data from multiple internal and external sources.
Get a Magic Dedicated Team to Grow Your Business
Dedicated outsourcing services are a game changer for businesses looking to scale. With the perceived benefits of outsourcing, you can not only survive but also thrive in a volatile market!
With Magic, you can get the outsourced support your business needs. In less than a week, we'll match you with thoroughly vetted remote workers that fit your requirements.
Be it a virtual assistant or a dedicated team for specific functions, you can easily scale your business with our flexible remote workforce. Talk to us to find out how you can outsource services in a fast and easy way!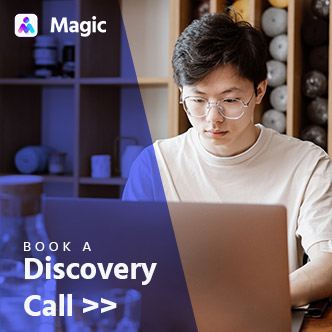 Match With a Vetted Virtual Assistant in 72 Hours!
Magic offers a frictionless way to source and qualify the right virtual assistant for your business so you can get things done fast and efficiently.