Some say everyone's got the same 24 hours. Others rightly say that not everyone's hours are quite the same⁠—that with the right resources, you can make your hours more efficient and productive. This is what virtual executive assistant services are meant to do.
Executive assistants (EAs) organize your time and take tasks off your plate so every hour in your day is better spent. And while there's a strong case to be made for virtual executive assistants, you may find yourself wondering, "Do I really need one?"
If so, read on. We'll go over seven common signs that it's time for you to get additional executive support.
Key Takeaways:
Executive assistants provide operational and long-term support to high-level executives. An EA helps an executive make more out of the hours they work.
Various signs⁠—from troubles at work to neglected personal time⁠—can signal issues in an executive's schedule or work patterns. An EA can help resolve these.
7 Indicators You Need Executive Assistance
If you're looking to ascertain whether you need an executive assistant or not, you'll need to pay close attention to the patterns in your work. Do you feel overwhelmed? Are things slipping through the cracks? Or are your subordinates working on unclear instructions?
Keep an eye out for these common signs that you're taking on too much by yourself.
You're Overwhelmed with Administrative Tasks
Taking an active hand in the day-to-day organization of your business is commendable, but spend too much time on administrative affairs and it can hold you back. After all, analyzing, planning, and executing strategic initiatives demands a lot of time and focus.
Tally the hours you spend on admin work each week, then compare it to the time you spend on other aspects of your job. Is the time spent on each proportional to its importance? (Bear the 80-20 rule in mind.) If not, you should consider offloading your administrative duties.
A virtual EA can attend to these tasks as part of their job. Alternatively, you can train them to oversee other assistants, so you can rest assured that their work is up to your standards.
You Can't Get the Skills You Need in Your Area
Even if you prefer hiring locally, you might not always find the people you need for the job. It could be that they lack the skills or experience you're looking for or that they can't work on the schedule you need (or can afford).
Virtual EAs, with their advanced skills compared to other assistants, are a viable option. Thanks to virtual agencies and gig work marketplaces, it's easy to get technical assistance of nearly any sort.
Executive assistant staffing often has part-time options, too, which can make it easier on your budget.
You Struggle with Time Management
Do you have a hard time establishing or sticking to a schedule? Or do you have one that doesn't seem to be meeting your needs?
Not everyone's great at managing time, especially their own. Take a closer look at the patterns in your own work life and consider if any of these happen often:
You go off schedule because you get caught up in work.
You underestimate how long a task will take you.
You miss appointments or end up double-booked.
You're overwhelmed by the number of events, deadlines, etc., to keep track of.
If any of these⁠ crop up often in your work, it may be worthwhile for you to have someone else help you keep you on schedule⁠. EAs have excellent attention to detail, and calendar management is their bread and butter.
You Have a Packed Travel Schedule
Travel can be an invigorating part of business⁠—but it can also be quite a hassle. In addition to the actual journey, there's all the planning involved, which can really eat into your schedule.
A virtual EA can oversee your travel arrangements so you can focus on your work, whether in the office or far afield. They can handle everything from canvassing prices to booking lodging, rentals, and even dining options.
If travel planning is giving you a headache, delegate it to an EA!
Your Personal Life Has Been Neglected
There's more to life than work! A robust personal life can keep you motivated and provide you with valuable insights and connections. So take care if you notice the following happening in your life:
You have no time for hobbies you used to enjoy (and still want to).
You have no time for fitness or proper sleep.
All your meals are chosen based on convenience rather than taste or nutrition.
You're canceling or declining time with friends or family much more often.
These are problems that a proper schedule⁠—and some extra help⁠—can easily solve. So if your personal life has begun to suffer, consider getting executive assistance.
Your Team Lacks Management
Bottlenecks in senior management can put your entire team in a bind. Keep an eye out for these telltale signs of high-level struggles:
Reviews and approvals are causing bottlenecks
Problems consistently arise from unclear instructions
Leaders frequently miss meetings
Project milestones are not adequately monitored
If you find you, or another senior administrator, is struggling with these, or other matters of team or project management, it may be time to hire an executive assistant.
You're Missing Out on Opportunities
If you're too busy, you may find opportunities slipping past you. These could be messages you missed until it was too late, discussions that falter because you forgot to reply, or projects that fail when you're too distracted to keep a handle on them.
If you find yourself thinking, "We would have had it if I'd just had more time!" then why not give yourself the time you need?
With proper executive support, you'll be more focused and more organized. That means fewer opportunities slipping through the cracks.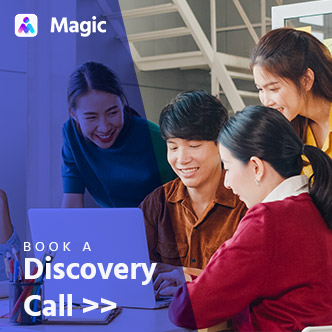 Customize Your Virtual Team Based on Your Needs
Get a team of qualified virtual assistants through a customized hiring funnel to easily fill in work gaps.
Top Executive Assistant Staffing Companies
Where do you get started with recruiting a VA? Here are four of the top virtual executive assistant services and what makes each one stand out.
Belay
Belay is a well-established EA service that focuses on recruiting and training assistants specifically to match each individual client.
They recruit exclusively within the US but boast a multilingual roster who can handle general work as well as more specialized roles; they also train recruits to use software or other digital tools upon clients' requests.
That said, this highly personalized process leaves their pricing quite opaque. Rates are only available after discussing with the company.
Zirtual
Zirtual takes a hybrid approach to VA services. While they do match you with a specific dedicated assistant, some tasks are shared across their roster of remote workers.
This approach allows Zirtual to offer both generalist services, as well as more specialized work, such as social media or digital marketing.
That said, the main drawback to this approach is that Zirtual tends to have a longer response or turnaround time than other services. Moreover, they offer fewer hours per month at equivalent rates.
Boldly
Boldly recruits US-based virtual assistants, who collectively cover a wide range of specialized work, including project management, design, copywriting, and editing.
Their assistants are also fluent in multiple languages. Boldly is a reliable way to get comprehensive EA services, especially if you require US-based contractors. That said, Boldly's pricing is steep, with no accessible options for smaller businesses to start with.
Magic
Magic offers dedicated virtual assistant services with flexible plans affording up to 24/7 support.
Basic VAs offer generalist services, while more specialized or experienced candidates are available for other roles, including executive support.
The company's customizable plans make it a solid choice for businesses of any size, and it lends itself especially well to projects with quick turnaround times. Also, Magic recruits throughout Latin America and Asia, so candidates are proficient in English.
Get Virtual Executive Assistant Services Today!
Magic can find you a virtual executive assistant to help you improve your effectiveness as an executive. Simply tell us what skills you're looking for or what work you need handled, and we'll have a suitable candidate ready within a week or less.
Our plans are flexible, with no setup fees or long-term contracts. You can adjust hours at any time with no more than a message to us. Pay only for the hours you need, as you need them.
Ready to get started? Schedule a call with us to discuss how our virtual executive assistant services can help you!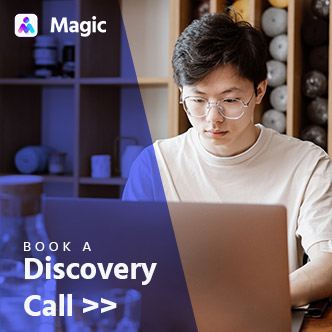 Match With a Vetted Virtual Assistant in 72 Hours!
Magic offers a frictionless way to source and qualify the right virtual assistant for your business so you can get things done fast and efficiently.