Productivity is one of the foundations of success, and you can reinforce it by hiring a virtual admin assistant. This game-changing approach involves outsourcing administrative tasks to skilled professionals who work remotely.
Embraced by forward-thinking businesses worldwide, an administrative virtual assistant offers a unique blend of expertise, cost-effectiveness, and remote flexibility. More and more companies are finding that VAs excel in different tasks and offer valuable perspectives and skills.
The result? Enhanced productivity and the ability to focus on core business functions, ultimately driving growth and success. Here, we'll explore the tasks, benefits, and strategies for leveraging a virtual administrative assistant.
Key Takeaways:
Virtual administrative assistants offer a cost-effective and flexible way to boost productivity and efficiency in your business.
Virtual admin assistants excel in tasks like calendar management, data handling, communication management, travel planning, and more.
With clear communication, SOPs, and the right tools, you can delegate effectively to your VA. This enables them to take on tasks, streamline your workload, and contribute to your productivity.
What is a Virtual Admin Assistant?
A virtual admin assistant is a highly trained professional who remotely provides administrative support to businesses. Unlike traditional in-house administrative assistants, they carry out their tasks using advanced tools and remote work best practices for seamless collaboration.
The nature of their work allows for flexibility and freedom in their working hours and location. They can also be hired full-time or hourly based on your needs.
Overall, they are an efficient and cost-effective way for businesses to manage administrative work and streamline operations. This makes them a valuable resource to boost productivity without worrying about the overhead.
What Does a Virtual Administrative Assistant Do?
A virtual assistant can handle a broad scope of administrative tasks to help streamline operations and increase productivity. Their role is highly adaptable and can be tailored to suit your needs and preferences.
Here are some of the key responsibilities of an administrative virtual assistant:
1. Calendar and Schedule Management
Maintaining an organized calendar is pivotal in getting work done. An administrative assistant will keep your schedule on track, book appointments, and set reminders. They'll ensure there are no scheduling conflicts, allowing for optimal time management.
2. Communication Management
Your VA can take on the role of an executive assistant to save you valuable time. They can manage your email, prioritize crucial messages, and filter routine inquiries. They also excel in answering, screening, and transferring phone calls.
This responsibility also includes handling sensitive data and drafting responses. They can also do basic social media management to boost your brand's online presence.
3. Travel Arrangements
Whether it's a business trip or a conference, your virtual admin assistant can handle all aspects of travel planning. They take on the responsibility of researching and booking travel arrangements, which includes flights, accommodations, and transportation.
Moreover, they go a step further by creating detailed itineraries. This ensures that your travel experience is as seamless and stress-free as possible.
4. Data Entry and Management
A virtual assistant is adept at handling data in various forms. They can input and manage data in spreadsheets, databases, and cloud-based systems. This way, you have accurate and well-organized data at your fingertips.
5. Document Preparation
Creating professional documents, presentations, and reports is a breeze for an admin assistant. They ensure records are well-organized, visually appealing, and aligned with your brand guidelines. This means you can present sharp, business-ready info, whether for a meeting, a demo, or a report.
6. Online Research
Staying informed is paramount in the competitive business landscape. A virtual assistant can conduct thorough research to help you be in the know. This includes various topics, such as competitors, market trends, and industry developments.
They distill this information into concise summaries, providing valuable insights for decision-making and strategic direction.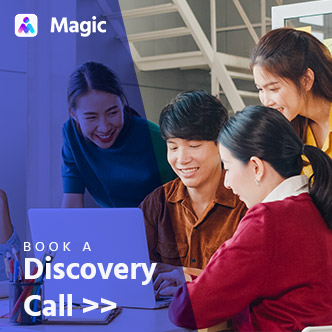 Customize Your Virtual Team Based on Your Needs
Get a team of qualified virtual assistants through a customized hiring funnel to easily fill in work gaps.
How to Delegate to an Administrative Virtual Assistant
After you hire a virtual assistant, you need to ensure that you're setting them up for success. You can do this by delegating effectively and ensuring tasks are completed to your satisfaction. This collaborative approach can lead to a highly productive working relationship.
1. Give Clear Task Guidelines
Before anything else, provide detailed instructions for the tasks you'll delegate to your administrative assistant. Be specific about what needs to be done, including any preferred methods or formats.
Clearly outline your expectations, desired outcomes, deadlines, and quality standards. The more precise your instructions, the smoother the delegation process will be.
2. Prioritize Your Tasks
Figure out which tasks need to be tackled first and need your admin assistant's full attention. Talk with them about what should be at the top of the list so they can manage their time and effort.
3. Communicate Regularly
Make sure to keep the lines of communication open with your virtual assistant for updates and questions. You can use various tools like email and messaging apps or hop on a quick video call to stay in the loop.
Also, define how often you'd like to touch base, depending on what works best for you. Use these meetings to address any concerns and provide guidance.
4. Use Task Management Tools
Hop on board with task management platforms like Asana, Trello, or Monday.com. They will serve as command centers for getting things done, especially for remote jobs.
Make sure your virtual admin assistant has the knowledge and access to use whichever tool you pick. This also includes all the resources like accounts and passwords they need right at their fingertips.
5. Provide Feedback
After a task is completed, provide constructive feedback to your administrative virtual assistant. Acknowledge their hard work and offer some friendly tips on how they can do even better. Let them know they can ask questions if something's unclear or they run into any roadblocks.
If you hire a virtual assistant from an outsourcing company, they can also help you manage your VA remotely. Magic provides enhanced oversight and a dedicated account manager to whom you can share your feedback regarding your Magic executive assistant.
6. Emphasize Data Security
With your VA working from home, data security may be one of your concerns. However, they are equipped with the best practices and tools in data protection and security. On your end, you can also establish secure methods for sharing sensitive information.
Use password-protected files and encryption tools to protect confidential data. If your VA uses specific secure technologies, ensure you are familiar with them and follow security protocols. With Magic, our remote workforce uses Magic Vault, a secure tech to share passwords and confidential info.
7. Create Repeatable Processes
For recurring tasks, think about making standard operating procedures (SOPs) to document step-by-step instructions.
SOPs serve as references for your admin assistant's work and make sure tasks are done the same way every time. They will also come in handy when you want to replace your VA or hire more, depending on your needs.
8. Embrace the Flexibility
Your virtual administrative assistant may have a different work schedule or time zone than you. You can take advantage of this to cover tasks outside of regular business hours when needed. Their flexibility also allows you to scale up or down based on your business's growth phase.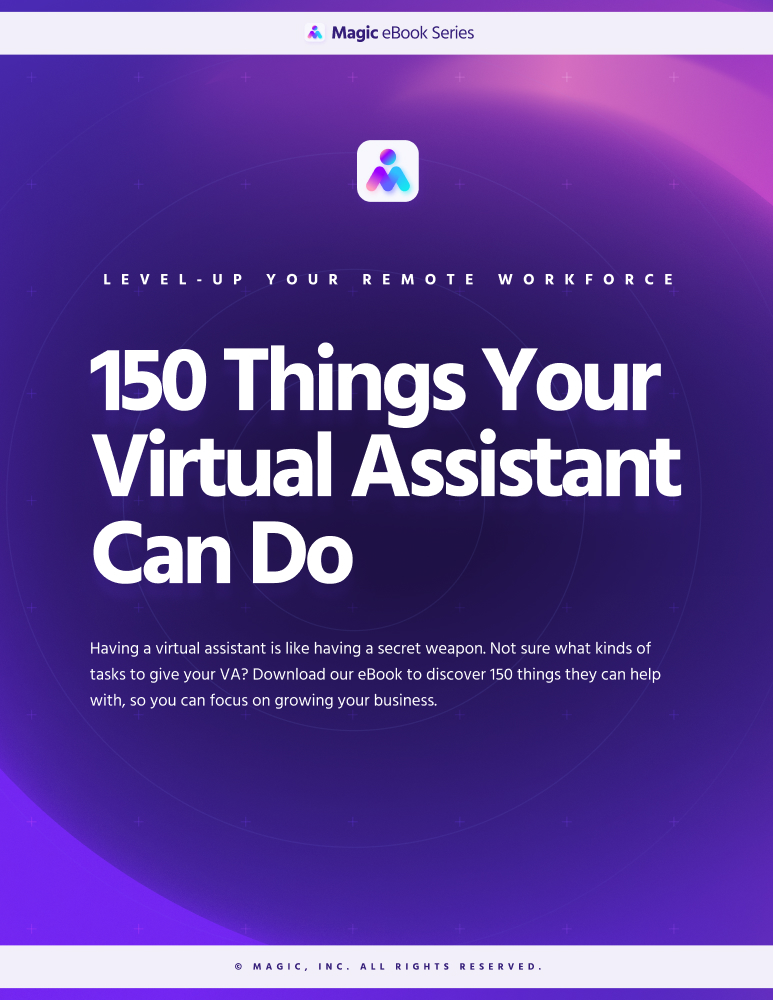 Grow Your Business With These 150 Virtual Assistant Tasks
Not sure what tasks to give your virtual assistant? In this eBook, we share 150 tasks they can do for you so you can save hours a day.
Learn More
Hire a Virtual Admin Assistant with Magic
A virtual administrative assistant can take on many tasks to support your business operations. Their expertise spans from managing communications and schedules to handling data and research.
With their assistance, you can streamline your operations, boost productivity, and focus on strategic priorities. Hire the right virtual admin assistant with Magic. We make the hiring process hassle-free so you can get things done quickly and efficiently!
In less than a week, you'll be matched with a VA from our pool of pre-vetted assistants. They are also equipped with our proprietary AI technology and VA training to set them up for success. Book a call with us today to talk about how Magic can help level up your productivity!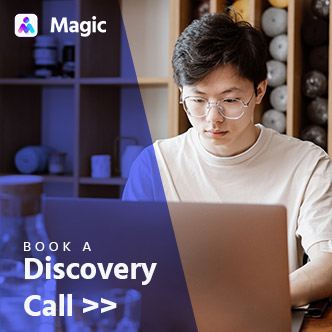 Match With a Vetted Virtual Assistant in 72 Hours!
Magic offers a frictionless way to source and qualify the right virtual assistant for your business so you can get things done fast and efficiently.