As you navigate the intricacies of a growing business, administrative tasks can quickly pile up, stealing valuable time and resources from your core competencies.
Hiring a dedicated professional to handle the backbone of business operations has become a great solution for many companies. A virtual administrative assistant can provide much-needed back-office support, allowing you to channel your energy into areas that truly matter. But do you really need to hire one?
In this article, we'll dive into the world of outsourced administrative services, the virtual office assistant role, and the undeniable value they bring to a business. So buckle up and get ready to discover why the answer to whether your business needs an online administrative assistant is a resounding "Yes!"
Key Takeaways:
A virtual administrative assistant is a skilled remote worker who provides valuable support in managing administrative tasks and streamlining business operations.
The transformative impact of virtual office assistants is undeniable, regardless of the size of your business. They free up your time, improve operational efficiency, and contribute to business growth and success.
Some signs indicating the need for an online administrative assistant include an overwhelming workload, disorganized systems, business growth, and rising costs.
What is a Virtual Administrative Assistant?
A virtual administrative assistant or virtual office manager is a skilled remote worker who provides top-notch administrative support.
With the advent of remote work, a virtual assistant has become an integral part of the modern business landscape. They can serve as an extension of your team, seamlessly blending into your operations and boosting productivity.
What Can a Virtual Office Assistant Do?
From managing calendars and emails to organizing and preparing documents, an online administrative assistant is truly a superhero armed with diverse skill sets and tools! This multitasker excels in various general virtual assistant tasks, including:
Email and Calendar Management: A virtual assistant can efficiently manage email correspondence, filter and prioritize messages, and schedule appointments.
Data Entry and Organization: They can manage databases and organize files to ensure your data is accurate, accessible, and well-structured.
Travel Arrangements: Let a VA handle the logistics of your business trips, from booking flights and transportation, and managing itineraries to ensure that your travel plans run smoothly.
Online Research: Whether you need market research or competitor analysis, a VA can compile relevant information, summarize findings, and present the data.
Document Preparation and Editing: A virtual office assistant can help prepare and format documents, such as reports, presentations, and other business-related materials.
Customer Service: Provide exceptional customer service and maintain customer satisfaction with a VA who promptly addresses customer concerns.
Social Media Management: Maintain a consistent online presence by entrusting your social media pages to a VA. They can schedule posts, interact with your audience on your behalf, and keep track of their performance.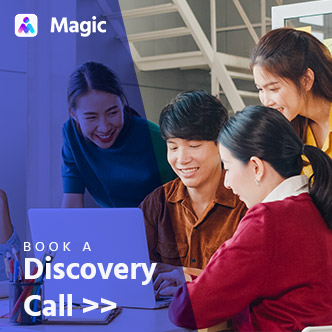 Customize Your Virtual Team Based on Your Needs
Get a team of qualified virtual assistants through a customized hiring funnel to easily fill in work gaps.
5 Crucial Signs You Need a Virtual Office Assistant
You're running a successful business. But lately, emails are piling up, deadlines are looming, and you're struggling to keep up with an ever-growing to-do list.
Sound familiar?
If so, it's time to bring in a virtual administrative assistant on board! To help you make an informed decision, let's look into tell-tale signs it's the right time to get virtual assistant services:
Too Much Work and Not Enough Time
If you struggle to keep up with administrative tasks and it hinders your ability to focus on core business activities, it's a clear sign that you need a virtual assistant. They can lift the weight off your shoulders, allowing you to focus on strategic initiatives while they handle the nitty-gritty.
What it looks like:

As a business owner or executive, you might spend hours responding to emails, scheduling appointments, and managing paperwork each day. These tasks are important but can easily consume valuable time better spent on strategic decision-making or client relationship-building.
Disorganized Systems and Inefficient Workflows
Projects can be delayed, or results can be subpar when your business processes lack structure and organization. To keep everyone on track, a virtual assistant can help implement efficient systems and ensure tasks are completed on time.
What it looks like:

You may have important documents scattered across different folders or need help locating crucial information when needed.
Business Growth and More Demands
As your business grows, the administrative workload naturally increases. An online administrative assistant can handle these demands and maintain operational efficiency. They can take on tasks such as data entry, customer inquiries, appointment scheduling, and other admin duties that come with business growth.
What it looks like:

You've just launched a new product or service that significantly increases customer inquiries across different channels. This influx of communication can be challenging to handle on your own.
Rising Costs and The Need to Save Money
Hiring a full-time in-house administrative assistant can be costly, especially for small businesses. A VA typically works on an hourly or project basis, allowing you to pay only for the support you need when you need it.
What it looks like:

As the business expands, you realize that the costs of hiring additional in-house staff, such as salaries, benefits, and office space, are becoming a significant financial burden.
Struggling to Manage Growth and Delegate Tasks
A virtual office manager can take on various admin responsibilities if you find it challenging to delegate tasks and responsibilities effectively. This allows you to offload tasks with confidence that they're getting done.
What it looks like:

As you experience exponential growth in client engagements, you find it challenging to delegate tasks effectively due to a lack of available support or trust in your current team's capacity.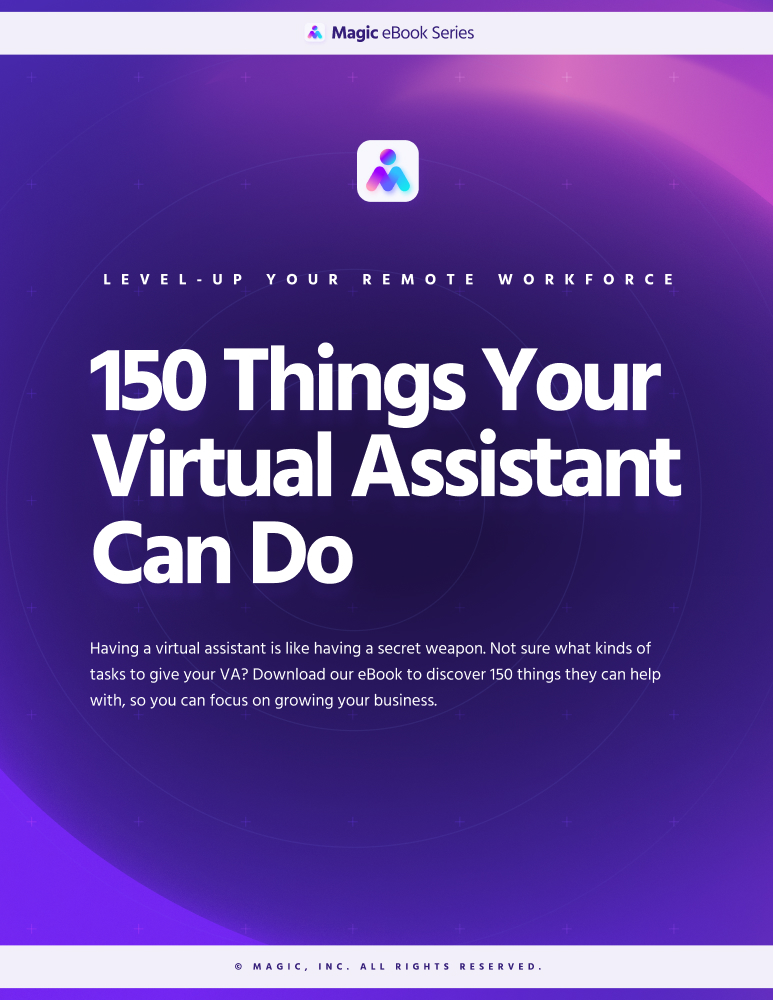 Grow Your Business With These 150 Virtual Assistant Tasks
Not sure what tasks to give your virtual assistant? In this eBook, we share 150 tasks they can do for you so you can save hours a day.
Learn More
8 Benefits of Hiring an Online Administrative Assistant
Virtual administrative assistant services allow you to streamline workflows and focus on strategic initiatives that drive growth. Virtual assistance brings a plethora of business advantages compared to traditional in-office support, including:
Time Savings
Reclaim your time and redirect your energy to important business functions by offloading administrative tasks to a virtual assistant. They can organize tasks, manage schedules, and ensure that projects and deadlines are met.
Reduced Overhead Costs
By hiring a virtual administrative assistant, you can save on expenses such as rent, utilities, office supplies, and employee benefits. This aspect is particularly beneficial for small businesses or startups with limited budgets.
Industry-Specific Knowledge and Skills
Depending on your business niche, you can find a virtual assistant with specialized expertise and understand your unique requirements. They can adapt their workload based on your business's changing needs, helping you deliver great results on time.
Flexibility and Scalability
With access to global talent, you can hire VAs who can adapt and work during hours that suit your business needs. Plus, they often work on a pay-per-use or hourly billing model so you can optimize costs. It also means you can easily adjust their level of support during peak/lean seasons or when experiencing business growth.
Increased Productivity and Efficiency
A virtual office manager excels in a remote work setting by managing their time effectively, staying organized, and working independently. They can also handle multiple tasks simultaneously to augment your internal teams. This leads to faster turnaround times, improved task management, and better business performance.
Related Topic: What Can a Virtual Assistant Do? Busting 7 Common Myths
The Transformative Impact of Virtual Administrative Assistants
Whether you're a small business or a large enterprise, you don't need to question if you need a virtual administrative assistant. They provide crucial support in all those time-consuming administrative tasks holding you back from reaching your full potential.
Focus on your core activities and strategic growth with Magic. We'll help you hire an online administrative assistant to streamline operations, increase productivity, and reduce costs. Explore your options today and find the perfect virtual assistant to revolutionize your business.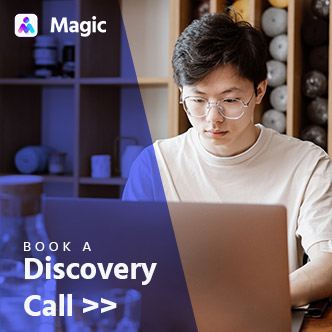 Match With a Vetted Virtual Assistant in 72 Hours!
Magic offers a frictionless way to source and qualify the right virtual assistant for your business so you can get things done fast and efficiently.