Many businesses are forced to adapt to new challenges such as going fully remote in order to survive. You might be struggling to find your footing now that your team has adopted remote work. Or, like us, you could be reaping the benefits of your newly remote teams — better productivity, less overhead costs, and more thoughtful communication.
We want to add to that list: easier hiring. Remote teams mean that there are no more geographical barriers to hiring. Talent is now location-agnostic and it's easier than ever to bring on qualified individuals from anywhere in the world.
Hiring a virtual assistant can bring more advantages to working remotely. Outsource administrative, sales, customer support, and other tasks to remote workers more easily from the gig economy today!
Barriers No More: What Is Outsourcing?
Put simply, outsourcing is when you hire an outside party to perform services or produce goods. Given the ubiquity of remote work, it has become all the more appealing, especially as businesses are pressured to cut costs wherever possible.
More and more businesses (yes, even smaller ones) are choosing to outsource work to get repetitive, time-consuming tasks off their plate. It boosts your efficiency, reduces costs, and in many cases, improves the quality of work.
How Do You Know When To Outsource?
There is no "correct" time to outsource. It all depends on the needs, goals, and capabilities of your company but if you find yourself bogged down by repetitive, time-consuming tasks, outsourcing may be the answer.
Here are five reasons you should consider outsourcing now:
1. You want to save time
Are the same tasks taking up too much of your time? Outsourcing repetitive tasks can help clear your to-do list and give you more time to focus on bigger projects at hand.
2. You want to cut costs
Hiring new employees can be expensive — it's estimated to cost approximately $4,100 per employee. Outsourcing, on the other hand, eliminates the need for extra costs like training, equipment, benefits, and office space. This is especially true for remote work solutions.
3. You want to reach more talent
Local talent not cutting it for you? Outsource a project and tap into a virtually endless pool of talent equipped with the skills, knowledge, and resources to get the job done. For example, hiring a virtual assistant means you're not limited to remote workers in your country.
4. You want to maximize your team
Outsource busy work so your team can focus on their core competencies. By taking work off their plate, you reduce the risk of your team dividing their focus or burning out. You can also outsource to gain skills and capabilities your team may not have.
5. You want to be in good hands
Outsourcing doesn't only mean cheaper— it may also mean better.  With outsourcing you can ensure that your task is being done by a remote worker who can focus on the task completely.
For example, you can delegate your accounting, sales, or HR needs to professionals and reap the benefits of an experienced remote worker without needing to hire them full-time and in-house.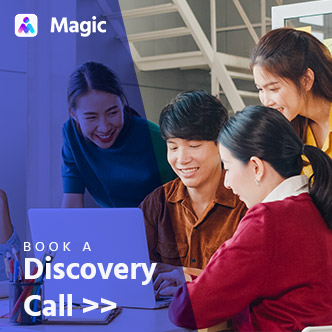 Customize Your Virtual Team Based on Your Needs
Get a team of qualified virtual assistants through a customized hiring funnel to easily fill in work gaps.
How to Outsource Work: Enter Virtual Assistants
Now that remote work has transformed how we work, you might be looking for a way to grow your remote team quickly, reliably, and efficiently. If so, you might be looking for a virtual assistant.
A virtual assistant is just as it sounds: someone who works for you virtually from a remote location. This means that you can hire a virtual assistant from anywhere in the world, so long as they have internet access.
Hiring a virtual assistant means there's no need to pay for benefits, office space, and equipment. They're often paid by the hour, too, so they only need to work (and you only need to pay) when there's actually work to do.
Another benefit to virtual assistants is that they're able to work independently or with minimal supervision — which is ideal for working remotely.
Here are five tasks you can outsource to a virtual assistant:
Administrative Tasks – Need someone to manage your email or calendar or handle tedious data entry tasks? Outsourcing to a virtual assistant lets you focus on core business tasks without having to worry about the small stuff.
Research – Kickstart your research project by hiring a freelancer or virtual assistant to help you get the work done, from researching competitors to putting together the pros and cons of a product.
Sales Tasks – Let your sales team focus on closing deals by offloading tasks to a virtual assistant. They can handle sales tasks from data scrubbing and cold calling to lead generation and lead qualifying.
Customer Support – Ensure a positive customer experience with the help of a virtual assistant. They can help your business field inquiries and handle support tickers across a wide range of platforms.
Accounting – Keep your books of accounts up to date and accurate by delegating accounting tasks to a virtual assistant. They can help with the clerical side of financing such as basic bookkeeping, data entry, invoicing, and financial reporting.
Why Hire A Virtual Assistant?
There has been a steady increase in demand for virtual assistance due to its perceived benefits, especially for companies shifting to a remote work setup. Here are the top three reasons why hiring a virtual assistant can be good for your business:
1. Saves you time
Are you bogged down by repetitive tasks that take up too much of your time? A virtual remote assistant can help clear up your schedule by taking care of daily tasks such as email management and data entry. This way, you have more time to focus on the bigger picture of running your business.
2. Cheaper than an employee
Think of all the extra costs when hiring a full-time in-house employee. There's screening, training, benefits, office space, and equipment, just to name a few. In contrast, a virtual assistant is like an all-in-one package that requires minimal management. They often charge on an hourly or task basis, too, which saves you money in the long run.
3. Very flexible
It's a two-way street: a remote virtual assistant's flexibility can benefit the employer, too. With no need for office space or a 9 to 5, a VA can work anywhere and at any time.
Need 24/7 customer support? A virtual assistant can easily take care of that for your business since they can work from any time zone. They're also contractual, so if they're not exactly the right fit for you, you can easily replace them with someone else.
How to Manage Remote Work Effectively
Virtual assistants can be working anywhere in the world — they could be in a city with a different time zone than yours. In this case, you can manage them effectively by choosing one time zone to use.
It'd be best to choose a time zone by which to abide to avoid any missed communication and deadlines. Choose the time zone where your clients are located; this way you can have your virtual assistant answer client queries in real time.
Furthermore, working with a virtual assistant can be challenging since all of the tasks are done online. That's why you should also establish which apps to use for messaging, project management, and shared storage. The best apps to look out for are Slack for messaging, Trello for project management, and Google Drive for shared storage.
Hiring a Virtual Assistant: How Magic Can Help
Now that you have the tools to work remotely, what's stopping you from hiring beyond borders? There are a lot of benefits to hiring a virtual assistant, but it takes time, energy, and often, some trial and error. We have a solution: Magic Virtual Assistant.
Magic has always been there to help you get things done. Now, we can help make your business better by growing your team for as low as $10. Hire a virtual assistant to handle your administrative, sales, customer support, or bookkeeping needs.
It's the fastest and easiest way to scale up, especially in a remote work setting!
We'll take on the sourcing, screening, and hiring to get you a Magic Virtual Assistant that's a perfect match for your business. Moreover, we know that it doesn't always work out the first time. That's why we'll replace your virtual assistant with another if they aren't a great fit.
Curious about how Magic's virtual assistants can help you? Tell us what you need to get started today.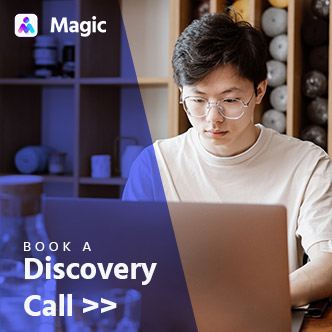 Match With a Vetted Virtual Assistant in 72 Hours!
Magic offers a frictionless way to source and qualify the right virtual assistant for your business so you can get things done fast and efficiently.