A wide range of tasks naturally appear in different facets of your business, especially as it grows. No matter how menial a task may seem, all of them are crucial in making sure your business runs smoothly.
Manage your workload and do more for your business by hiring a virtual assistant. It is a low-cost but effective way to ensure that tasks do not fall through the cracks. Tap into Magic's remote workforce to get matched with the right VA based on your needs!
A Magic Virtual Assistant will be a great addition to your remote team in dealing with various business functions. They will give you more time to focus on clients and boost your productivity without added cost.
Why Hiring A Virtual Assistant Is Worth It
As professional service providers, it's important to meet clients in person to build relationships and close deals more effectively. This is especially true for businesses that belong to these five industries:
Real Estate
Legal Practice
Finance and Accounting
Solar/Renewable Energy
Consultancy and Business Coaching
For companies hiring virtual assistants, they get to expand operations and grow their teams without the added hassle and cost of recruitment.
Virtual assistants are remote workers who don't require office space, equipment, and other things that full time workers need. They are also paid on an hourly or project basis so there are no salary or benefits packages to worry about.
Magic is here to make it easier for you to hire a virtual assistant. We're here to take care of the hiring process so you can offload tasks to your Magic Virtual Assistant. We source and screen candidates from our talent pool of top VAs who are college educated and trained.
Let us know what your needs and goals are, and we'll find the perfect match for your business. You'll have the chance to interview VAs and ask for replacements. This way, you can make sure that you get the best person for the job.
With a Magic VA, you can manage your admin work, sales, and more. They will help you give the best service to each client so you can drive more sales and revenue.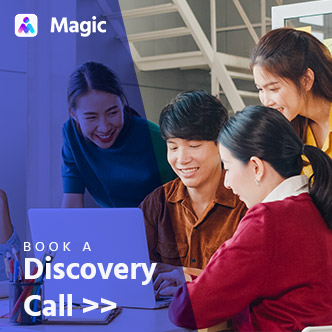 Customize Your Virtual Team Based on Your Needs
Get a team of qualified virtual assistants through a customized hiring funnel to easily fill in work gaps.
How A Magic Virtual Assistant Helps You Grow Your Business
Like many other companies hiring virtual assistants, your business can reap many benefits. Here are five business owners and leaders in different industries that can benefit from hiring a Magic Virtual Assistant:
1. Real Estate Agents
Real estate agents work closely with their clients so hiring a virtual assistant can free up more time for them. VAs will manage the administrative side of your business so you can do more important work. This also includes getting more leads and increasing sales for your real estate business.
Here are other tasks a Magic Virtual Assistant can do for you:
Manage and keep agents updated with their calendar
Contact cold calling real estate leads and book appointments
Research and update listings
Compute property maintenance
Verify each property listing data
Search for listings based on their requirements
Find real estate specialists like expert home stagers and property photographers
A VA can support agents by managing most of the work needed when buying or selling properties. They encode contracts and memoranda, as well as research and verify all the data needed for legal documents and agreements. This helps agents be better organized and more efficient.
2. Attorneys and Law Practitioners
For companies hiring virtual assistants, they are a low-cost way to get their schedules managed by someone who can adapt to their routines. This applies to law firms, especially those starting to build their reputation and career.
Attorneys and law practitioners can hire a Magic Virtual Assistant to deal with client communication. This includes recording and transcribing data for legal documents. A VA will also be able to help them with your data entry and bookkeeping needs. This ensures all business operations run smoothly while you're with clients.
On top of that, a Magic VA can get leads and other people to connect with your business. This allows you to grow your network and target audience reach. Some of the tasks for this include handling your calls, emails, and customer queries through voice or non-voice support platforms.
3. Financial Firms
While financial analysts focus on checking clients' finances, a Magic Virtual Assistant will do research and data entry tasks. This includes keeping track of business and economic trends that can provide new prospects and business growth opportunities for their clients.
Accountants can devote more time to client consultations while their VAs attend to admin work. A VA can maintain and prepare financial records for reporting as well. They make sure that the entries in their clients' books of accounts are up to date.
On top of that, they can send follow-ups on accounts receivable and reminders on accounts payable. You can even task your VA to send invoices for your client's payables, pending the client's approval.
4. Solar/Renewable Energy Startups
As the trend toward greener and more sustainable energy gains traction, many business owners are setting up renewable energy startups. However, it's no easy venture. There's so much to do such as making a business plan, getting the legal paperwork needed, and keeping operations running.
A Magic Virtual Assistant will handle the grunt work in running your solar/renewable energy business smoothly. With their help, you can have more time to meet with backers and partners, as well as build rapport with prospects.
Your Magic VA will help you with your business plan, documents, phone calls, emails, and many more. This way, you can get more leads for your renewable energy startup. They will also assist in customer support and bookkeeping tasks to free up time for your team.
5. Business Consultants And Coaches
Getting a solid grasp of a client's business status is crucial to consultants and coaches. Most of the time, this means sifting through lots of data on each client. A VA can help collect and organize such data, so coaches can focus on analysis and advice.
The quality of customer service is also vital in this field. A Magic Virtual Assistant will help with keeping track of client profiles, managing emails, and scheduling appointments.
Take, for instance, Mum's Garage, a business development startup based in New Zealand. They provide resources, programs, and assistance to startups who are trying to make a name for themselves in their chosen fields.
With a Magic VA handling emails, CEO Natalie Robinson can provide a more personal touch in dealing with inquiries or consultations. Her VA then shoulders the task to reply to simple inquiries or make certain arrangements.
Natalie is more focused on crucial work because her VA takes care of routine tasks on her to-do list. Some of the tasks she doesn't have to worry about are research, outreach, and customer support work.
What Magic Can Do for Companies Hiring Virtual Assistants
Hiring a virtual assistant is a cost-efficient way to give your operations a boost and drive revenue. No matter what industry you're in, Magic can help scale your business. We'll handle your hiring process, from sourcing to qualifying, so you don't have to!
Magic continues to work on our services to provide the best matches for companies hiring virtual assistants. Here are the top business functions that you can offload to a Magic Virtual Assistant:
We make it easy for you to scale up or down based on your needs. Get more virtual assistants during peak season and shrink your remote team in the lean season. This is especially helpful for startups and SMEs still building their businesses or shifting to remote work.
Hire a Magic Virtual Assistant in just 72 hours. We do the scouting and screening so you already get the top candidates to choose from. Once you're satisfied with our recommendations, we'll set up an online meeting with them. You can ask questions in the interview and let you decide who to hire.
Find out what Magic can do for your business when you get started with us. Book a call now to talk about your business needs and how we can help!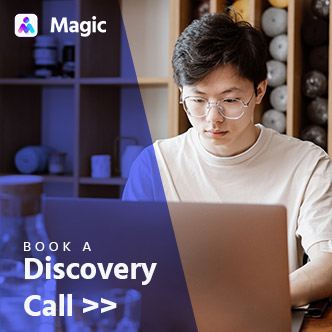 Match With a Vetted Virtual Assistant in 72 Hours!
Magic offers a frictionless way to source and qualify the right virtual assistant for your business so you can get things done fast and efficiently.