A Magic assistant is matched to each client's requirements to efficiently help them deal with various business functions. Hire one to manage routine tasks that naturally arise during your business operations. This allows you to focus on meeting clients and offering consultations and expert advice to them.
As professional services providers, it's important to meet clients personally, especially those that belong to these five industries:
There are many companies in these industries that are hiring virtual assistants to help them deal with daily tasks such as administrative work, appointment setting, and more. Have your own virtual assistant to manage your non-core duties so you can give each customer the best service possible.
How a Magic Assistant Help Them Grow Their Businesses
Law Practitioners and Attorneys
Virtual assistants are a cost-effective way for these professionals to get their schedules managed by someone who can adapt to their routines. Attorneys and law practitioners who are starting to build their reputation and career can hire a Magic assistant to deal with their client communication and transcriptions. A VA can also help them with their invoicing needs. This ensures that they are keeping all business operations running smoothly while handling clients. 
In addition, a Magic VA can create content for LinkedIn to slowly establish their expertise and authority in this niche. Constantly doing this encourages more people to connect with them, which can get them more leads. Their VAs can also manage their blog – if they have one – to encourage their readers to come back to read new ones on a regular basis.
Remote assistants can help real estate agents find more leads and close more sales. Here are a few ways they can do so:
A VA can help agents be better organized since they can manage most of the work needed when buying or selling properties. This includes encoding contracts and memoranda as well as researching and verifying all pertinent information to be added to legal documents and agreements.
Financial and Accounting Firms
While financial analysts focus on checking clients' finances, their virtual assistant can research financial developments within their industry which can serve as solutions for those clients' businesses. These include business and economic trends that can open new prospective customers and business growth to their clients.
Match With a Vetted Virtual Assistant in 72 Hours!
Magic offers a frictionless way to source and qualify the right virtual assistant for your business so you can get things done fast and efficiently.
Similarly, accountants who hire a VA can focus on client consultations, while their assistant attends to admin or clerical work. Their virtual assistant can update the data entry journals of their customers' businesses, follow up on accounts receivable, and issue reminders on accounts payable. Their VA can even send invoices for their client's payables, pending their client's approval. In addition, their assistant can maintain the databases and prepare the financial reports of their customers. Lastly, their VA can submit client payroll to their clients so they can confirm these before sending the payroll to a third-party software provider.
Consultants and Business Coaches
Understanding a client's business status is crucial to consultants and coaches. This usually means sifting through lots of data on each client. A VA can help collect and organize such data, so coaches can focus on analysis and advice.
The quality of personal service is also important in this field. A Magic assistant can help with organizing client profiles, managing correspondences, and scheduling appointments⁠—all of which improve the overall service a coach can offer.
Mum's Garage, a New Zealand-based business development startup, provides resources, programs, and assistance to business startups who are trying to establish their business. With a Magic VA handling the sorting and organizing of emails, its CEO Natalie Robinson, is able to focus on replying personally to important inquiries or consultations. Its virtual assistant can later reply to simple inquiries. Plus, its VA takes care of setting appointments, research, and outreach. As a result, Natalie is more focused on her important tasks while having the peace of mind that her Magic VA takes care of the daily tasks.
Roles Magic Can Offer To These Industries
Magic continuously aims to improve our services to provide the best matches for our clients and their Magic virtual assistant. Here are our top three industries that hire Magic assistants to work with them as of June 2022.
Enjoy easy scalability with Magic Inc. as we enable our clients to hire fewer VAs during their lean season and more during their peak season. This is especially helpful for startups and SMEs that are still building their businesses. 
Hire a virtual assistant and enjoy interviewing shortlisted candidates within 72 hours of the initial call. We do the scouting and screening so our clients already get the top candidates to choose from. Once they have determined who to interview, we will set them up in a virtual interview so they can ask questions that let them decide who to hire. To hire a Magic Assistant, call us today.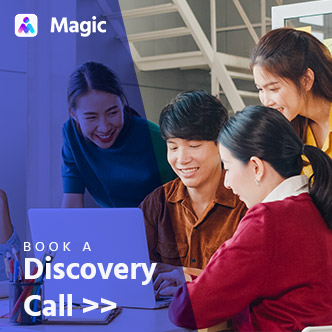 Customize Your Virtual Team Based on Your Needs
Get a team of qualified virtual assistants through a customized hiring funnel to easily fill in work gaps.