Outsourcing and offshoring allow you to get work done at a lower cost. Because of this, people often confuse the two business practices with each other. But the outsourcing vs offshoring discourse has subtle distinctions that can impact your success.
The main difference between outsourcing and offshoring is how they work, specifically where you're getting external help from. Outsourcing is simply offloading work to a third party while offshoring involves business operations in another country.
So, it's possible to outsource work but not offshore it. You can also offshore business functions but not outsource them. See where it gets confusing?
As a business owner, understanding these concepts thoroughly allows you to make better choices in transforming business processes. So, let's explore outsourcing and offshoring, their benefits, and the factors to consider when choosing between the two.
Key Takeaways:
Outsourcing involves delegating work to a third party. It offers cost savings, faster work completion, and an increase in revenue
Offshoring is basing business activities in a foreign country to take advantage of lower labor costs and allow for round-the-clock operations.
The key difference between outsourcing and offshoring lies in your relationship with the remote workforce. Outsourced services are performed by an entity separate from your business while offshoring involves directly hiring workers in a different country.
You can take advantage of the benefits of both strategies with offshore outsourcing. It allows you to tap into a larger talent pool in a country with lower labor costs without handling complex processes in hiring and training, as well as foreign contract obligations.
What is Outsourcing?
Outsourcing is when you delegate work to an individual or group outside of your organization. Compared to performing tasks in-house, this practice allows you to cut costs, get work done faster, and ultimately boost your revenue.
You can outsource an entire business function, a project, or certain tasks so you can focus on your business. In most cases, the main reason why companies outsource is to get extra help when there's more work or when there are gaps in the workforce.
Case in point, Truffle Shuffle, a fledgling food business that ramped up its operations with Magic. They outsourced their sales and customer support to Magic to provide the best customer experience even with the growing demand.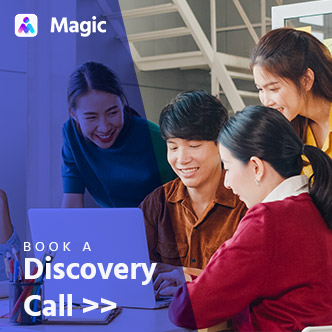 Customize Your Virtual Team Based on Your Needs
Get a team of qualified virtual assistants through a customized hiring funnel to easily fill in work gaps.
What is Offshoring?
Offshoring is when you base some of your business activities overseas. Instead of doing everything in one place, like in your home country, you can choose to get certain tasks or operations done in another country.
This practice is often done to take advantage of a foreign country that has a large and scalable labor pool, lower costs, and a different time zone. Sometimes, a company's goal in working with remote teams is to establish a business presence in a different country.
Offshoring can also help your business operate 24/7 across different time zones and access specialized expertise. The most common business function that is offshored is customer support such as call centers in the Philippines that cater to foreign accounts.
Understanding the Difference Between Outsourcing and Offshoring
Unlike insourcing, offshoring isn't exactly the opposite of outsourcing. The outsourcing vs offshoring discourse has overlapping concepts since both are technically external help. As we prefaced earlier, you can outsource work but not offshore it and also offshore work but not outsource it.
The key difference between outsourcing and offshoring is your relationship with the remote workforce you're working with.
What this means is that you have the option of outsourcing offshore or within your home country depending on your key considerations and preferences. Regardless of the location, the work is performed by an entity that's not affiliated with your business.
With offshoring, it's possible to get work done in a foreign country without the help of a third party. This means that you will be working with people you have directly hired and are considered part of your internal team even if they are in a different country.
In short, you can get outsourcing services both domestically and internationally. On the other hand, offshoring specifically refers to moving work to a different country.
Factors to Consider When Choosing Between Outsourcing and Offshoring
When it comes to scaling your business, the choices between outsourcing and offshoring can be crucial. Both strategies offer unique advantages, but understanding the key factors to consider is crucial for making an informed decision.
Here's what you need to factor in when evaluating outsourcing vs offshoring for your business operations:
Costs
Assess the financial implications of both options for your business. Both can reduce your expenses if done properly.
Outsourcing offers cost savings by using external resources for hiring and training employees. Outsourcing companies already have a talent pool of experts you can easily integrate into your operations. Also, they provide flexibility so you can easily scale however you need.
Meanwhile, offshoring takes advantage of cheap labor costs in foreign countries. This includes factors such as wages, taxes, infrastructure costs, and currency exchange rates.
On top of all that, offshore outsourcing provides access to a skilled workforce in another country that has lower labor costs.
Quality of Work
Research and evaluate the expertise, track record, and reputation of potential outsourcing partners or offshore locations.
In outsourcing business services, the quality of work can be influenced by factors such as the expertise and reputation of service providers. So, you should look for references, case studies, or customer reviews in choosing the right outsourcing company for your business.
On the other hand, you should consider the specialized expertise that countries are known to excel in. For instance, software development in India or manufacturing products in China. Work practices, norms, and standards in the country also add ‌an extra layer of complexity.
Time Zone Differences
When working with remote teams, time zone differences can greatly impact communication and operational efficiency. Offshoring or outsourcing labor to a location with a significant time difference can offer 24/7 operations.
That said, you need to carefully coordinate and schedule work hours to ensure seamless collaboration between teams. You should also set clear guidelines and expectations for asynchronous communication and work delivery.
Cultural Differences and Language Barriers
When outsourcing or offshoring, you'll interact with people from different cultural backgrounds and encounter language barriers. This can lead to misinterpretations, misunderstandings, and inefficiencies if not properly addressed.
To mitigate the impact of cultural differences and language barriers, ensure that the remote team has sufficient language skills to effectively communicate and understand the requirements and expectations. In particular, the Philippines is one of the top English-proficient countries with a score of 7.95 on the Business English Index. There should also be clear and open communication channels in place to bridge the gaps in understanding and cultural awareness.
Political and Economic Climate of Location
Unstable political or economic situations can pose risks to your business operations. Research and assess the political stability and economic trends of the country you're considering. You should also take a look at legal frameworks, intellectual property protection, contractual obligations, and currency fluctuations to know if it's worth investing in.
Offshore Outsourcing to Magic
There are many factors to think about when weighing the benefits of outsourcing vs offshoring. Both can help your business succeed depending on what you need. That said, outsourcing offshore can provide the optimal balance of the two strategies.
Get dedicated outsourcing services that can provide specialized expertise and round-the-clock operations with Magic. Starting at $10/hour, you can hire a skilled remote worker or scale with a virtual team in less than a week.
Fill in work gaps across different business functions such as sales, customer support, accounting, and more! Selected from the top 3% of candidates, rest assured that our on-demand workforce can deliver results to hit your business targets.
Learn how Magic can help you grow your business when you book a call now!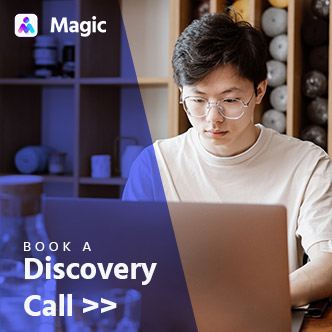 Match With a Vetted Virtual Assistant in 72 Hours!
Magic offers a frictionless way to source and qualify the right virtual assistant for your business so you can get things done fast and efficiently.