Outsourcing gained popularity as a business strategy in the late '80s and has seen widespread use throughout the decades since. You've probably heard people talk about its benefits at least (likely more than) once.
Outsourcing work saves money, lets you ramp up faster, can help you run a business on a lean team, and much more. Furthermore, it has become more versatile and more accessible over the years.
It's not just big businesses that can leverage it: even startups, SMEs, and solo ventures can benefit from outsourcing in a variety of ways. The spread of remote and hybrid work setups, including virtual gig markets, has fuelled this rise.
If you're looking for a quick introduction to outsourcing work, look no further. We'll cover the fundamentals in this brief article.
Key Takeaways:
Outsourcing is the practice of contracting certain business processes to a third-party provider, which may be an agency or independent contractor.
The most widely outsourced work includes routine processes as well as non-core functions. Finance, HR, and IT are among the most widely outsourced roles.
While most widely used as a cost-saving measure, outsourcing has several strategic uses, including access to specialized skills or technology or to meet regulatory requirements.
What Does It Mean to Outsource Work?
Outsourcing is a business practice in which a company contracts a third party to handle certain processes traditionally handled in-house⁠—though "traditionally" requires some context. The past few decades have seen some business processes become outsourced about as much as they're done in-house.
What Are the Most Outsourced Services?
Outsourcing tends to favor routine processes that can be completed with little supervision on the buyer's part or non-core functions (sometimes handled end-to-end). Among GBS providers, the most commonly outsourced services are in finance, HR, and IT.
Among independent contractors, virtual customer support and general admin or clerical work (under the role of "virtual assistant") are some of the most widely leveraged.
That said, outsourcing is also commonly used to gain access to specialized skills or technology. In IT, specifically, companies often outsource enterprise-level virtual storage (which otherwise needs significant investments in equipment) as well as information security (which calls for very specific skills).
Service Providers: Call Centers, Gig Workers, and More
Outsourced service providers take many forms. Some are agencies, including call centers and contact centers (offices that house entire teams of outsourced workers). Others work as independent contractors, offering their services through online job boards or networks.
Another alternative that has emerged is establishing dedicated offshore teams⁠—or global in-house centers (GICs)—organized by third-party recruiters or handlers.
Each kind of service provider may be suited to different types of work. A marketing or sales campaign, for example, might best be served by a project-based freelance creative, while long-term payroll services are best entrusted to an agency.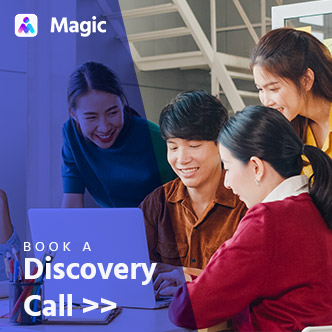 Customize Your Virtual Team Based on Your Needs
Get a team of qualified virtual assistants through a customized hiring funnel to easily fill in work gaps.
Why Do Companies Choose to Outsource Work?
The predominant reason companies outsource is to cut costs and, by doing so, remain more competitive or more profitable. That said, as the scope of outsourcing has increased, it's become more common for companies to turn to it in order to reach strategic goals.
Other than cost savings, the top reasons companies choose to outsource include gaining access to new capabilities, increasing the speed at which they can adapt to technological changes, filling gaps in talent, or even meeting new regulatory requirements.
Here's a rundown of how outsourcing can benefit various aspects of your business.
Cost Efficiency
One of the main drivers of cost efficiency is labor cost dispersion. Often, companies contract work to agencies or freelancers in countries with lower labor costs or standard hourly rates. Labor costs can also be affected by service providers' payment schemes or service models.
In other cases, though, cost efficiency is a matter of scale. It's often cheaper, for example, to pay for software as a service rather than develop all digital tools in-house. Similarly, you might benefit from equipment at scale, such as data storage servers, delivery networks, and so on.
Outsourcing's biggest advantages are time and cost savings. A manufacturer of personal computers might buy internal components for its machines from other companies to save on production costs.
As a rule, outsourcing also lets you save on overhead costs, such as benefits, equipment, and office space.
Access to Expertise
Your local talent pool won't always have the skills you need on the terms you need them. In these cases, outsourcing presents an opportunity to get access to skills beyond your own locale.
It also offers the chance to enlist certain talents at part-time rather than full-time rates or on fixed-term projects. This is especially useful if you're trying to get on board early with emerging methods or technologies.
Focus on Core Competencies
In a similar vein, outsourcing allows you to forgo recruitment for non-core functions, such as payroll, bookkeeping, or web development. This frees you from the upkeep of skills and equipment in that function, as well.
Outsourcing for this reason allows you to keep a much tighter team, minimizing supervisory work while still operating as normal.
Scalability and Flexibility
Contracting a service provider is quicker than recruiting and onboarding new team members⁠. This gives you the ability to launch new projects more quickly, as well as the leeway to pause or end them as needed.
With quick, flexible access to additional talents and technology, outsourcing is a great way to expand to new markets, test new strategies, or even ramp up for seasonal surges.
Time Savings
By outsourcing non-core functions or other routine work, you give your employees more time to work on what they do best. Since outsourced services generally cost less per hour than your in-house workers do, you effectively extend their productive time at a lower cost.
Outsourcing can also improve turnaround or response times since it allows you to rapidly scale up your team or deploy workers during off-hours.
How to Outsource Work Successfully
Here are the steps you can take to ensure a smooth and productive outsourcing process.
Identify Your Outsourcing Needs
Take some time to consider your business situation: what's your strategic goal in outsourcing? Is it simply to reduce costs or save time? Are you outsourcing a specific function or access to technology? To what extent do you need to outsource: part-time help or a full-time team (or its equivalent)?
Once you're clear on the scope of what you want outsourced, you can start canvassing for providers.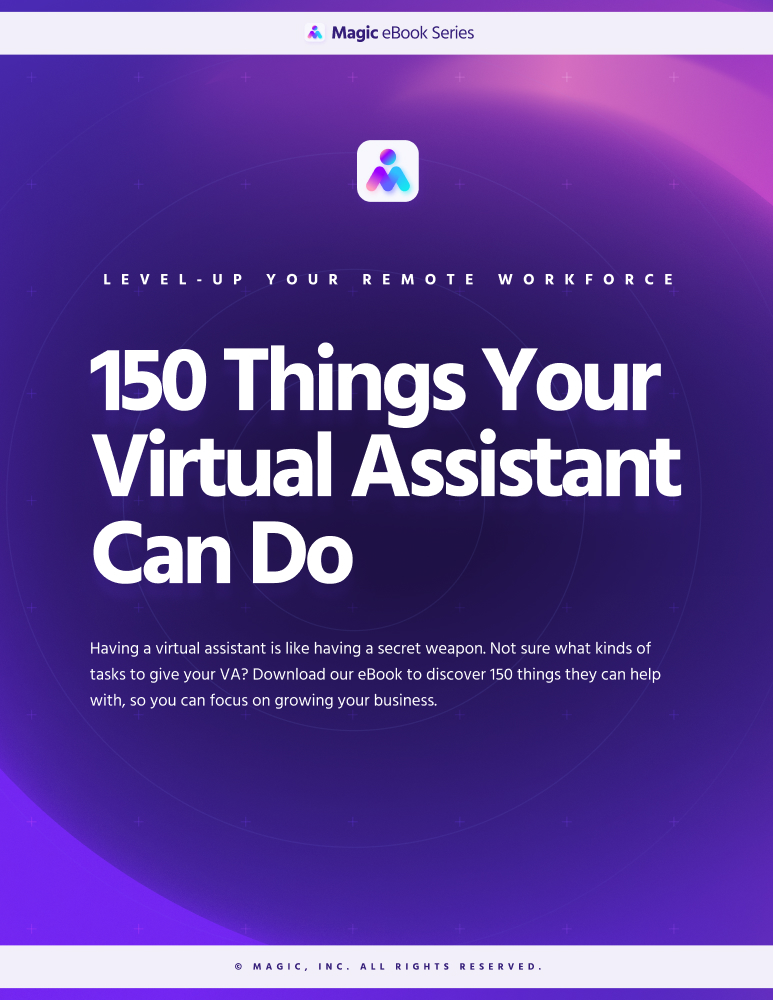 Grow Your Business With These 150 Virtual Assistant Tasks
Not sure what tasks to give your virtual assistant? In this eBook, we share 150 tasks they can do for you so you can save hours a day.
Learn More
Choose the Right Service Provider
When choosing an outsourcing provider, consider both the scope of what you need and what resources you can allocate to outsourcing. Resources comprise both funds and time or labor; different outsourcing setups will require different investments of time in setup and supervision.
For example, assembling a team of freelancers might be cheaper than going through an agency, but they'll require more time invested in coordinating them.
With long-term outsourcing agreements, compatibility in attitudes or communication styles is also especially important. You'll want, at the very least, a service provider you can easily work with.
Define Clear Expectations and SOPs
Establish clear procedures, including lines of communication, point persons, and schedules or turnaround times. Some of these will be set by your provider's contract, but the rest should be hashed out before you proceed.
You'll also need to identify KPIs, if at least for your own evaluation. This way, you'll know whether you're getting the benefits you want out of the outsourcing arrangement. Be specific about your criteria to ensure a proper assessment of value.
Set Up Communication Channels and Other Tools
Depending on what functions or roles you're outsourcing, you may need to get your service provider (or their representative/s) set up on some of your work networks, such as coworking platforms, internal messaging systems, CRM/CMS platforms, or cloud storage.
Make sure they have easy access to whatever they'll need for work, but at the same time, take steps to secure your information and have contingency plans in place.
Monitor and Evaluate Performance
Take time to regularly revisit your outsourced service's performance. In addition to the KPIs you set, remember to look at things like hours worked, problems encountered (exceptional or recurring), and any other points of friction. By doing so, you can identify points for improvement⁠, or whether you need to switch outsourcing partners altogether.
Some service providers can help with this by offering tools or services for easy management. Magic, for example, can set you up with an account manager who helps you track your remote staff's activity and make changes to your service plan⁠—even as you maintain direct control over your remote team.
Get Started with Outsourcing
Outsourcing is a great way to reduce costs and stay competitive. It offers an efficient way to fill roles, quicker adaptation to changes in technology or regulations, and access to specialized skills or resources.
With the flexibility of outsourcing arrangements, it's easy to find one that suits your objectives and constraints. Magic's approach to outsourcing makes it easier for you to find the skills you need while putting you in direct control of your service arrangements.
Simply tell us what your goals are, and we'll find the remote workers you need in no more than a week. And with our account managers, you can tailor your plans to suit changing needs.
Schedule a call with us today!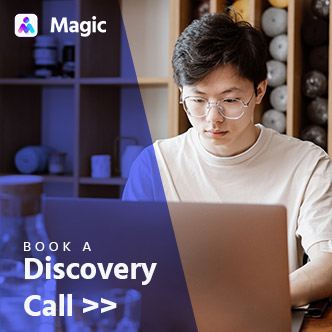 Match With a Vetted Virtual Assistant in 72 Hours!
Magic offers a frictionless way to source and qualify the right virtual assistant for your business so you can get things done fast and efficiently.