Finding people to fill roles is crucial when dealing with strict deadlines and competition in the media industry. It can be challenging,  especially in a fast-paced domain but with many types of virtual assistant services, you can quickly meet any business need.
Boost the productivity of your team by hiring a virtual assistant. It's an easy and low-cost way to keep up with the trends and demands in the industry. Here are the most in-demand virtual assistant services you can outsource for your business:
1. Back-office administration
What do virtual assistants offer? Relating to all fields, the top answer is back-office administration. It's a broad scope of work but critical to keep things running smoothly. This includes four types of virtual assistant jobs:
Documentation
Documents and records are vital in the media and entertainment industry. This includes ad copy, scripts, contact lists, and contracts that serve as guides in making content. A VA will be in charge of all documentation so your team can focus on the project itself.
Calendar Management
There are a lot of strict deadlines to meet in this sector. Not to mention, meetings with team members or clients will also take up your time. It's important to keep your calendar organized and updated to avoid missing out on something.
It can be tiresome to keep track of your schedule yourself. Assigning calendar management to a VA ensures that a project stays on schedule. They will also help you and your team to work in sync. This keeps you from wasting time and making costly mistakes.
Travel and Event Planning
Being in the media industry means always being on the move. It could be for research, filming, or conferences. All of these can cost a lot of time and money so there's no room for error.
A virtual assistant will plan your trips and affairs to make sure all goes smoothly. This way, you will be able to focus on your goals without leaving out the finer details.
Internal and External Communications
Clear communication among your team members reduces mistakes, saving you time and money in operations. Building relationships within the industry also lets you reap mutual benefits with other groups.
Entrust all communication to an on-demand virtual assistant. They have strong communication and people skills to make sure that messages are sent and received clearly and even identify opportunities for your team.
2. Research and Data Work
Since the media provides info to the public, a lot of research and data work is done to make sure that it's all factual and relevant. Even in the entertainment sector, there's still a need for research to make things more engaging and believable. It also helps in keeping up with media industry trends.
Whatever the project is, you can offload research tasks to a virtual assistant for faster and more efficient work. It's one of the most in-demand virtual assistant services that media industry companies can benefit from. Related tasks you can outsource include:
Collect and enter data
Design forms and surveys
Conduct research on different topics
Make reports based on research done
Ensure the accuracy and quality of information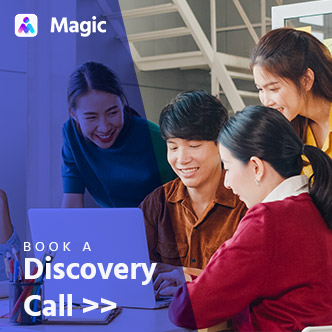 Customize Your Virtual Team Based on Your Needs
Get a team of qualified virtual assistants through a customized hiring funnel to easily fill in work gaps.
3. Basic Bookkeeping
Be it a show, publication, or film, there are a lot of logistics in every media production. A point person is necessary to keep track of your expenses, invoices, and bills assuring you don't go over the allocated budget.
An on-demand virtual assistant will help you with basic bookkeeping tasks such as:
Record and update daily transactions
Prepare financial documents
Manage receipts and invoices received
Reconcile accounts to balance bank reports
Send invoices and follow up on past-due accounts
Answer client questions about billing and payment
4. Social Media Management
As of January 2022, 58.4% of the world uses social media. For the most part, each individual spends 2 hours and 27 minutes per day on a specific channel. The media industry is taking advantage of social media platforms and broadening its audience reach.
A virtual assistant has the digital marketing skills to manage your online presence allowing your brand to thrive online without having to burn a lot of resources. Some of a digital marketing VA's tasks are:
Set up social media accounts
Schedule posts for various platforms
Filter and reply to comments
Create basic visual designs
Write captions for posts
Develop social media campaigns
Create performance reports
5. Audio and Video Editing
One thing's for sure: there will always be a stream of content produced for the public. This includes audio and videos that may be for the project itself or marketing purposes.
Effective materials need a level of expertise but professional services can be costly. Consider outsourcing your audio and video editing needs to a virtual assistant. They have the skills to handle the following tasks:
Research and generate content ideas
Record and edit files
Remove background noise and enhance volume levels
Improve footage segments and create rough cuts
Set up and embed podcasts onto web pages
Upload final versions of content to streaming platforms
Other Types of Virtual Assistant Jobs You Can Hire For
Still have a lot of work you need help with? Aside from the most in-demand virtual assistant services we've covered, there are a lot more things that VAs offer. Below are other types of virtual assistant services you can outsource:
Sales
Sales is the lifeblood of any venture. In the media industry it involves selling advertising space. A virtual sales assistant will help you with the following roles:
Research company directories for quality leads
Book calls and appointments
Manage and organize CRM tools and software (e.g. Salesforce and Hubspot)
Conduct research on prospects
Customer Support
The media and entertainment industry is leading the way to personalized experiences for consumers. This happens through gaming, streaming, and content delivery. A customer support assistant will cover tasks such as:
Respond to customer inquiries and concerns
Process customer orders
Coordinate with logistics
Keep records such as customer data and orders
Use Magic and Stay Competitive in the Media Industry
Many media industry companies compete with each other to break stories or create the right message that resonates with the audience. How digital media has changed communications has also made it a more lucrative domain. As media industry trends come and go, it pays to boost your team's productivity and efficiency in producing content.
Magic offers the most in-demand virtual assistant services to help you compete in the media industry. With our quick and easy hiring process, we'll match you with a virtual assistant based on what your business needs.
Starting at $10 per hour, you can outsource any tasks to a Magic Virtual Assistant. We can also help build a team of remote workers for businesses looking to scale. Book a call now to get started!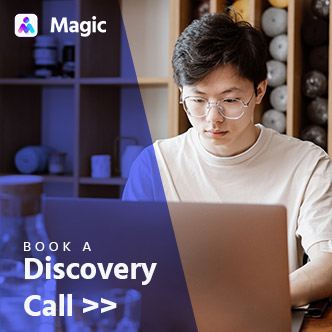 Match With a Vetted Virtual Assistant in 72 Hours!
Magic offers a frictionless way to source and qualify the right virtual assistant for your business so you can get things done fast and efficiently.