Every sale has to start somewhere. Generally, that somewhere is a lead: a person who's taken an interest in a product or service but hasn't quite come around to buying just yet. Because every big sales opportunity starts with a lead, it follows that every business needs a solid lead generation process. Lead generation is the process of getting people interested in what you're selling⁠ and creating an opening for you to close the deal.
There are many lead generation techniques. This article will introduce some of the most common ones and cover how you can outsource lead generation, including which tasks you can delegate, how to find a modern outsourcing partner, and what you need to prepare.
Key Takeaways:
Lead generation refers to the various methods by which businesses generate interest in what they're selling and create opportunities to contact people who show interest.
The most common pattern for generating leads is attracting attention, then directing users to a landing page, where they can obtain an offer in exchange for their contact information.
Outsourced lead generation can create a steady stream of high-quality leads without compromising your sales/marketing team's time, focus, or budget.
What is a Lead?
Before we jump into explaining more about the lead generation process, let's first explain what lead is.
A lead is a person who's shown interest in what your company is selling. But as mentioned earlier, this interest has to be in a way that you can recognize and act upon⁠⁠. A lead needs to be identifiable and contactable. For example:
Someone who supplies their name and contact info through a website form
A referral from your network, who's expressed interest to one of your peers
Someone who signed up for an event, listing contact details in doing so
Among leads, some are more likely to buy than others. Someone who's done a free trial, for example, is likely closer to purchasing than someone who's simply followed your page. And so-called cold leads⁠—who are something of an exception⁠—may not even know of your brand at all, making them highly unlikely to make a purchase.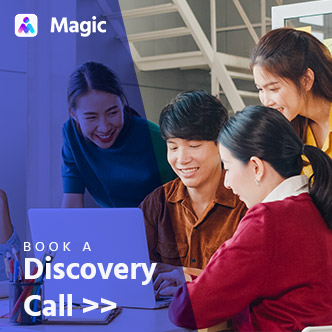 Customize Your Virtual Team Based on Your Needs
Get a team of qualified virtual assistants through a customized hiring funnel to easily fill in work gaps.
What is Lead Generation?
Lead generation refers to the various tactics a business uses to gather contacts that are interested in what they're selling.
Here is a common lead generation process:
First, capture a person's interest when they encounter your company.
Then, prompt them to signal that interest somehow.
Finally, ensure that when they do so, you have a means of following up with them.
The first step could involve running social media ads or building interest through articles or videos. The second step might ask them to follow you on a certain platform (this gets you their user info) or submit their contact details to download something. Lastly, the third step involves sales following up on the lead and keeping them interested.
Understanding Lead Generation Strategies
Every business is different and therefore, your lead generation process will be unique to your company. Still, there is a broad pattern that most lead generation methods follow. Use this to start and modify it to better suit your industry and approach.
Identify your target audience
The first step is determining your ideal customer profile (ICP). This is a process you'll tweak and revisit over time, so the initial profile need not be too detailed. Still, you need something to focus your efforts on, so consider what sort of customers are most likely to buy your products, or whom you'd most want to buy your products more.
If you are taking a more outbound approach, you can use databases or professional networks to identify likely prospects. This can be rather time-intensive, however, so it's also worth considering outsourcing it or hiring a service to do it for you.
Prepare your lead magnets
A lead magnet is something of value that people can get in exchange for their contact information⁠. It should be related to your product or service, so that anyone who's drawn to your lead magnet is likely to be at least somewhat interested in what you're selling. Some lead magnet examples include eBooks, webinars, or templates.
What sets lead magnets apart is that they can only be accessed once someone takes an action that gets you their contact information, as well as the consent to contact them.
Capture leads
There are a few ways to get access to your leads' contact information⁠—lead capture, as it's called⁠.
The most widely used method is a lead capture form. It's a form that someone fills out, which gets their basic information in exchange for access to a lead magnet. Information can include name, gender, business affiliation, and anything else that will help you assess how likely they are to buy from you. Often, this comes with an option to signify interest in email updates for further promotions.
Another way is to get access to them through social media. For example, if you get someone to follow you on a social network, you may gain access to their profile, which includes both information and a means of messaging them. Setting up pages and groups may enable you to feed them regular updates, which can later nurture them as leads.
Assess and nurture leads
There can be a few stages between lead and customer, and this stage is all about gradually leading your prospects from one to the other. It involves looking for signs of increased interest while cultivating trust and interest⁠—until you can finally hand them off to Sales.
Not every lead will be as likely to buy⁠—or as close to the point of buying⁠—as every other lead. Lead scoring and lead qualifying are techniques used to determine a lead's likelihood of buying based on actions they take, or qualities they possess as businesses or individuals. Based on these indicators, leads may be sorted into different groups, or different types of qualified leads. Qualified leads⁠—which can be marketing qualified leads (MQLs), sales qualified leads (SQLs) or a variety of other QLs⁠—are simply leads assessed to be closer or farther from the point of purchasing.
Hand the leads off to Sales
The last step is to hand off any sufficiently nurtured or qualified leads to your sales team. A good hand-off involves supplying them with all the relevant information you've collected over the course of lead nurturing. These include the technical details of how to contact them, how big their company might be, and any constraints they face; it also includes things they've taken an interest in or, if you've contacted them directly before, tips for communicating with them.
Keep in mind that customers hate having to provide the same information multiple times, or to otherwise feel that a company isn't making things easier for them. A good sales hand-off eliminates these problems, setting you up for success.
Grow Your Sales Pipeline With Sales Outsourcing
In our sales outsourcing eBook, we explain exactly how a remote sales team can help you grow your business.
Learn More
7 of the Best Channels for Generating Leads
There are many ways to generate leads, from blogging to running ads to contacting potential customers. Here are a few of the best strategies for generating leads:
Blogging
Blogging remains one of the easiest, most accessible ways to build and maintain a presence on the internet. The best blogs answer the reader's questions, provide helpful information, and entice the visitor to take further action, such as by downloading an eBook or signing up for a free trial.
Here are a few ways you can get more traffic to your blogs:
Search engine optimization (SEO): Every search engine follows a certain algorithm when compiling results. By conforming to those algorithms, you can make your blog visible when people search for information relevant to your products.
Backlinking: Links to your blog from other websites are a source of both traffic and credibility. The more authoritative your content is, the more other websites will want to feature it.
Social Media or Syndication: Posting your blog articles on social media can be a good way to boost visibility. It's a complementary strategy: your social profiles get content, and your blog gets in front of more people.
Landing Pages
A landing page is a standalone web page designed specifically for lead generation. Each landing page is focused on a single call-to-action (CTA) such as downloading an eBook, attending a webinar, signing up for a free trial, and so on.
Landing pages are easy to set up, making them one of the preferred choices for capturing leads. It's common practice to set up a landing page for each lead magnet you offer, with the landing page contents tailored to encourage sign-ups. These include:
The offer: Visitors should know exactly what they're there for.
Unique selling proposition (USP): Explain what makes your content special.
Benefits: Include all the potential benefits a lead will get by giving you their information.
Pain points: Identify them explicitly, or use them to craft the page's messaging
Social proof: If possible, include testimonials or case studies from other happy customers.
Email
Email marketing is valued for its directness: a person's inbox isn't subject to algorithms beyond your control. That said, to get into someone's inbox, you first need their address⁠—so email lead generation is a great tactic to add to your arsenal.
Mailing lists that promise updates or benefits are a great way to keep people interested until they're ready to take further action.
Videos or Podcasts
As with blogs, videos and podcasts are a great way to get new eyes or ears on your brand. Compared to blogs, they can be easier to distribute and promote (YouTube for videos, or platforms like Spotify or Apple Podcasts for podcasts).
Videos and podcasts can drive visitors toward your website⁠, where they're encouraged to continue interacting with your company (and eventually become a lead).
Social Media
There are two general strategies for generating leads through social media, often used in combination.
The first method is through paid advertising. This includes fairly typical display-type ads, as well as promoted posts. The latter, especially, tend to look somewhat less intrusive than other digital ads, and work especially well when partnered with the detailed targeting options that social networks offer. These ads and posts can then take users to a landing page on your website, where they can be converted to leads.
The other method relies on organic engagement: attracting attention through the videos, images and text you post, and then cultivating interest over time. Of course, it pays to edit your photos and videos to fit your specific brand or style, as that will help you attract more people to your profile. From there, you can aim to direct them to your website as usual. Alternatively, you can continue nurturing on social media through community engagement such as contests or virtual events⁠—or even attempt to close sales, if the social network has the tools for that built into it.
Virtual Events
Virtual events, such as webinars or giveaways, can serve as lead magnets, while things like contests can entice people with the chance of rewards (and, sometimes, the fun of participating). Sign-ups are an easy way to generate leads, and tools like Gleam.io or Shortstack greatly expedite the process of running a contest or giveaway while capturing leads through it.
Digital Ads
This method uses digital advertising networks to direct people to your website. These ad networks include paid search ads⁠—like the ones appearing at the top of SERPS⁠—as well as alternatives, like the Google Display Network.
These methods allow you to target ads based on the keywords people search, or which are associated with particular sites, which serve as an approximation of interest or intent. When people click on the ads, they get directed to one of your web pages, where you can then convert them into leads.
Cold Calls
It's possible to get leads from cold calls, as long as you undertake it with some forethought and preparation. For productive lead generation, you can't simply buy any old list of email addresses or phone numbers. Rather, you should use a high-quality database or a prospecting tool, such as LinkedIn's sales navigator, to identify potential leads aligned with your target audience. Make contact, establish some common ground, and then gradually build interest.
Outsourced Lead Generation
Finding high-quality leads is among the top challenges for sales teams. It's a time-intensive task, which may get harder in the near future as people adapt to changes in the social media landscape⁠—such as major changes in Twitter and Reddit⁠—as well as changes in privacy policies, such as the third-party cookie phaseout. Marketing teams may also be constrained by tighter budgets amid broader economic slowdowns.
In addition to the lead generation strategies we shared above, outsourcing your lead generation is also a way to save time and get more leads. Outsourcing lead generation is an effective way to maintain a source of high-quality leads without compromising your team's time, focus, or budget.
How to Outsource Lead Generation
Most lead generation tasks can either be outsourced to specialized lead generation companies, outsourcing firms, or to freelance teams or individuals.
Lead generation can be outsourced based on hours worked, with fixed tasks assigned; or it can be outsourced based on the number of leads generated or appointments set with qualified B2B prospects. Choosing a particular service model is a matter of compatibility with your goals: do you want to save money, launch projects quicker, or enter new platforms? Find what works best for you.
Because the lead generation process involves many small tasks, it's easily covered by a modular approach. You can assign discrete, routine tasks to outsourced employees, to improve your processes bit by bit. Offshore services can be found at half or a third of the usual in-house rates (about USD 10 hourly).
What Lead Gen Tasks Can You Outsource?
The best tasks to outsource are routine, repeatable, and have well-defined steps and output. Given the breadth of the lead generation process, that can encompass quite a lot of work, depending on how creative you get.
That said, there are a few staples of lead generation that, when outsourced, can save you a lot of time and money.
Content curation: Curated content is a great way to keep an active social media presence without the steep resource costs of original content. You can get a virtual assistant to find relevant media, schedule posts, and create captions.
Community management: Engaging with other users on social media can help build a loyal following. An outsourced assistant can interact with users, reply to comments, and field messages to your account, either by answering them or relaying them to someone on your team who can.
CRM data entry or management: A well-maintained database of leads can help you identify and nurture the most promising opportunities and keep your sales team organized. Sales outsourcing teams can handle data entry, updates and CRM management, or compile regular reports to keep your marketing and sales teams up-to-date.
Prospecting: You can have an outsourced assistant scour lead databases to identify potential leads. Tools like LinkedIn Sales Navigator and databases such as Crunchbase can be valuable for researching points of contact, especially for B2B companies.
Admin work: The lead generation process has a lot of moving parts. A virtual administrative assistant cab coordinate messages, schedules and documents and prepare reports, slide decks and other materials.
Outsource Lead Generation Through Magic
Our services are designed to help businesses gain access to lead generation services precisely as they need them. We offer flexible, low-cost plans ideal for boosting efficiency and ramping onto new platforms. We can help you fill lead generation roles through outsourcing, whether you need a single part-timer or a remote team handling a range of tasks.
Our on-demand workers are among the best in the Philippines and Latin America, and we can get you the people you need in no more than a week⁠—just tell us what you need.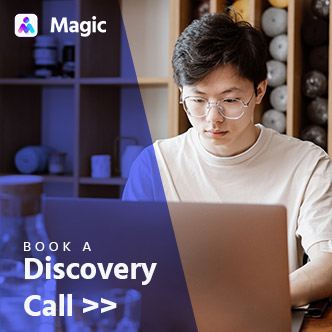 Match With a Vetted Virtual Assistant in 72 Hours!
Magic offers a frictionless way to source and qualify the right virtual assistant for your business so you can get things done fast and efficiently.