Business-to-business or B2B lead generation and appointment setting are vital for a business looking to grow and expand its customer base. While the two may seem similar at first glance, they have key differences and their own benefits.
Lead generation targets potential customers while appointment setting arranges meetings with them to discuss how your company can meet their needs. The two can also go hand in hand as a sales development activity to build a strong relationship with clients.
In this article, you can explore the nuances of the two approaches for a more effective B2B sales strategy. Plus, learn how outsourcing lead generation appointment setting can help your business turn more leads into sales.
Key Takeaways:
B2B lead generation and appointment setting can help grow and expand the customer base of your business.
Lead generation is getting potential customers to start your sales process, collecting their data, and piquing their interest. Meanwhile, appointment setting is interacting with prospects to get them to set a sales appointment and turn them into a sales opportunity.
Lead generation appointment setting is a sales development activity where a specialized sales rep does the cold calling and follows up on top of the funnel leads to avoid wasting time with people who aren't ready to buy yet.
Outsourcing B2B lead generation and appointment setting, among other sales tasks, can free up time for your sales team so they can deliver a more hands-on approach to your potential and current clients.
What is Lead Generation?
Lead generation in sales finds people who don't know about your business but may be interested in it.
Generating leads also includes gathering customer data such as contact details and buying preferences. This allows you to create a list of potential customers that can be pursued by your sales team.
The main goal in lead gen is to target the right people and build awareness for your business. To do so, it uses common methods such as cold calling, networking, and referrals. Other ways to get leads are through coupons, live events, and online content (e.g blog posts).
What is Appointment Setting?
B2B appointment setting is a sales activity where a business reaches out to warm leads (e.g. phone calls or emails) to nurture and move them through the sales pipeline. This mainly involves setting the appointment between a qualified prospect and a sales representative.
An appointment setter is usually the one who makes such meetings. In the sales appointment, customer pain points are discussed. The sales rep also highlights how your company can help in hopes of getting the prospect to do business with you.
Understanding the Difference Between Lead Generation and Appointment Setting
B2B lead generation and appointment setting are the two most commonly used functions in the sales process. Both maximize the chances of closing business deals to boost business growth. But before delving more into their key differences, you need to understand leads, prospects, and sales opportunities.
These three are part of the sales funnel that will turn the right group of people into paying customers:
Sales lead – It is a person who hasn't engaged with your business but may become a potential customer.
Prospect – It is a warm lead who fits your buyer profile and has interacted with your business.
Sales opportunity – It is a qualified prospect who is most likely to make a purchase.
Alright, let's circle back to the two sales approaches.
Lead generation, as the name suggests, is the manner of getting leads to start your sales process and piquing their interest. On the other hand, appointment setting is the interaction with prospects aimed to qualify them as a sales opportunity.
In short, lead generation in sales is for brand awareness and appointment setting is for customer relations. Well, you might be wondering which one you should use in your sales process for the best results.
While these two approaches are equally crucial for B2B sales, lead gen is just a short-term process to engage with your target market. Appointment setting is a more active and focused method of delivering a sales pitch.
After all, both make contact with potential customers in the hopes of moving them down the sales funnel.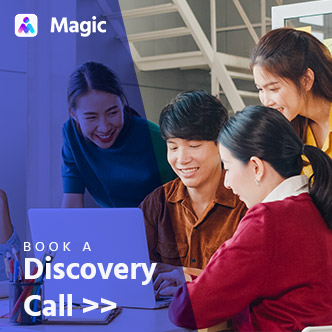 Customize Your Virtual Team Based on Your Needs
Get a team of qualified virtual assistants through a customized hiring funnel to easily fill in work gaps.
What is Lead Generation Appointment Setting?
B2B lead generation and appointment setting can be a cohesive sales development activity to target and build rapport with potential customers.
Lead generation appointment setting is where a specialized sales rep does the cold calling and follows up on top of funnel leads. This keeps your sales team from wasting time on selling to people who aren't ready to buy from your business yet.
This approach is ideal for B2B sales, especially when dealing with higher sale prices, since it can take longer to nurture and close. Businesses usually delegate this to an appointment setter so their sales teams can focus their efforts on closing a sale.
What Does a B2B Appointment Setter Do?
One of the duties of a B2B appointment setter is lead qualification. They identify and categorize sales leads based on the client's budget, authority, need, and timeline. They then reach out to qualified leads who fit your buyer profile to set a meeting with a sales rep.
To engage with prospects, a sales appointment setter has good product knowledge. They can also handle inbound calls from potential clients as they arise. One-on-one or group meetings can be scheduled to discuss more about how a product or service can help them.
On top of that, the appointment setter makes sure that the sales team meets its monthly goals. This also includes collecting and organizing customer data, sending reminders for sales appointments, and assisting in the sales pitch.
Should You Outsource Lead Generation Appointment Setting?
There's a lot of work that needs to be done in order to close a business deal. Sales work requires a team to ensure that you address all of your customers' needs and demands across the sales process.
Most of the tasks in B2B sales can be considered routine work, which can take up most of your team's workday. Outsourcing lead generation appointment setting will free up your sales team so they can deliver a more hands-on approach to clients.
Plus, having an appointment setter also makes routine sales and administrative tasks faster without compromising the quality of work. This provides accurate and updated customer data that can be valuable in nurturing leads.
With lead generation appointment-setting services, your sales team can provide a positive customer experience that motivates prospects to make a purchase. Not only that, but you can also win lifetime buyers who can become ambassadors for your business.
Related Topic: Measuring the Success of Outsourced B2B Lead Generation
Streamline Your Sales Process With Magic
Whether or not to outsource B2B lead generation and appointment setting is a decision that depends on your needs and resources. Ultimately, it can be a great option for your business if you want to focus on core business functions.
Magic offers a low-cost and easy remote hiring service to help your business grow and scale up. Outsource lead generation appointment setting to virtual sales assistants to get more qualified leads and boost sales.
Get the support you need in sales tasks such as call handling, cold calling, data scrubbing, leads processing, and more. Magic Virtual Assistants are skilled and trained in different sales tools and software like:
Salesforce
Hubspot
Ring Central
ClickFunnels
LinkedIn Sales Navigator
Oracle E-Business Suite
Stripe
SumoMe
Skype
Twilio
Get Magic for your B2B lead generation and appointment setting tasks to streamline your sales process and close more deals! Talk to us to learn how we can help your business.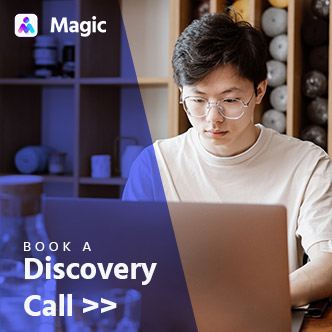 Match With a Vetted Virtual Assistant in 72 Hours!
Magic offers a frictionless way to source and qualify the right virtual assistant for your business so you can get things done fast and efficiently.