Reliable lead generation is fundamental to the success of any business, especially B2B businesses.
Since B2B leads tend to take a long time to nurture, securing high-quality leads early on is important. Many businesses use outsourced B2B lead generation to ensure steady opportunities for growth.
Lead generation outsourcing has lots of benefits, including lower costs, improved efficiency, and being able to access new skills or technology. Specialist agencies or freelancers often have access to networks or databases for finding appropriate leads, and the methods to do so.
Of course, choosing the right lead gen strategy can take some time and may involve measuring various outcomes in the process as you figure out what works for your business.
We've compiled a short list of indicators and metrics to assess when you're outsourcing your lead generation.
Key Takeaways:
Being able to evaluate lead generation ROI is crucial to making proper long-term plans, especially when considering the wider plans for the company.
To assess the value of outsourced lead generation, consider both the lead generation metrics and your objectives for outsourcing.
You can assess lead generation efforts according to their cost, their efficiency, and the revenue they generate.
What Are Lead Generation Services?
In short, lead generation services are activities that identify potential customers or cultivate interest in them. When outsourced, lead generation may simply involve researching potential prospects, or it could extend to nurturing them until they agree to an appointment.
Businesses outsource lead generation for many reasons and there are multiple lead gen outsourcing options. Three of the most common are traditional outsourcing, managed services, and working with freelancers.
Reduce Costs with Traditional Outsourcing
Traditional outsourcing can help keep your costs low. In this setup, you contract another business to handle tasks for you.
For most lead generation agencies, this involves monthly pricing with a minimum project fee. This can simplify budgeting (versus, for example, services that charge per appointment with a qualified lead). Leading agencies that take this approach include Belkins, SalesNash and LeadGen Dept.
Improve Your Output With Managed Services
Managed services are a more involved approach to outsourcing. Contracts are based on output or quality and are guaranteed by a service level agreement (SLA).
A managed service team will generally require more input from your end, especially during the initial period. That said, it will also be easier to adjust based on assessments made as you go.
If you're using the setup, it's important to understand the criteria your provider will use to qualify leads, as these will dictate your ability to get better results. One example of a managed lead gen service provider is Callbox.
Fill Specific Gaps With an Outsourced Sales Team
On-demand work marketplaces have developed significantly in the past several years. You can use an outsourced sales team for highly specialized work, including lead gen. This option is best for B2B companies that have the time to train their outsourced team and that want to reap the benefits of a multi-faceted approach. With a team of sales assistants, you can focus on everything from lead generation to content marketing to email management to CRM database management.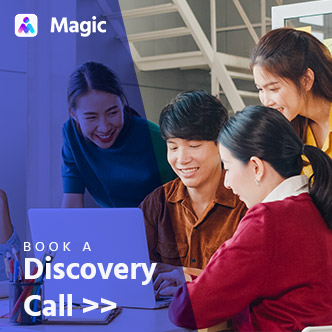 Customize Your Virtual Team Based on Your Needs
Get a team of qualified virtual assistants through a customized hiring funnel to easily fill in work gaps.
How to Measure the Success of Your Outsourced Lead Generation
Here are some important metrics to track when evaluating outsourced b2b lead generation. We've grouped them into indicators based on cost, efficiency, and income.
Cost Indicators
Cost per lead (CPL) is the average cost of each lead acquired in a given time. To calculate CPL:
While you can get a rough figure by taking all your marketing expenses and dividing it by new leads at the same time, good lead attribution and analytics can help you produce more precise, specific results.
Cost per click (CPC) refers specifically to the cost it takes for each of your paid ads (on social, search, or display networks) to get a click. You can generally get this indicator from the ad platform.
Customer acquisition cost (CAC) refers to the average cost of getting a successfully converted lead.
As not all leads eventually convert, this is useful for determining the efficacy of your lead nurturing methods, and how much they cost you. It can also provide insight into the quality of leads you're generating.
Efficiency Indicators
Conversion rate refers to the proportion of visitors who give their user information in exchange for a lead magnet. Most lead generation techniques rely on lead capture forms and landing pages.
To calculate your conversion rate, divide the total number of conversions by either
The total number of sessions on the web page
The total number of unique visitors to the page
within a specific time, and then multiply it by 100. Either one may be useful, depending on what you're looking for.
Bounce rate refers to the proportion of visitors to your website who don't continue on to other pages‌. To calculate bounce rate, divide the number of one-page visits to your website by the total number of visits and multiply it by 100.
Lead conversion rate is a similar measure, but refers to the number of conversions at a given segment of the funnel. To measure the lead conversion rate of your efforts at a given stage, take the number of total conversions in that segment and divide it by the number of total leads at that stage in a given time. Then, multiply it by 100.
This indicator can help you determine where leads are falling off in your sales process and which parts of the funnel you need to work on.
Income Indicators
Customer lifetime value (CLV) is the total amount of revenue you can expect to get from a given customer.
There are a lot of ways to calculate this. But the general formula goes like this: take the average revenue you get from them in a given time. Then, multiply that by the number of such periods the average customer stays with your business.
An alternative method, if regular periods vary, is to multiply the average purchase value by the average number of purchases a customer makes.
Calculating CLV relies on having a good amount of data already available. But once you understand it, it provides valuable context for making decisions.
Return on investment (ROI) is essential for defining the success of marketing efforts vis-a-vis the business' larger plans and functions. The other measures here should help you know how much you spent on lead gen and how much it earned you in turn.
Do all of these calculations make your head spin? Luckily, we have a network of data entry experts to help you run these numbers and calculate ROI. Our sales outsourcing team would be happy to help.
Grow Your Business With Outsourced Lead Generation
Successful outsourcing relies on choosing the right setup and the right scope depending on your business needs and budget.
Traditional outsourcing to a lead generation business is ideal for businesses that don't have time to oversee their outsourced efforts. Businesses that are more concerned with hitting specific targets should opt for more closely managed business lead generation services.
An outsourced sales team, including lead generation experts, can help with cold calling, B2B lead generation and appointment setting, among other tasks. They can also track all the data needed to improve your operations and refine them for long-term success.
Add Magic to your outsourced B2B lead generation practice. Get the support you need to drive your business forward and book a call now.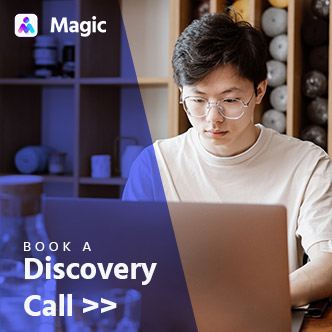 Match With a Vetted Virtual Assistant in 72 Hours!
Magic offers a frictionless way to source and qualify the right virtual assistant for your business so you can get things done fast and efficiently.