Not all potential customers you get with your lead generation efforts are qualified to be actual paying clients. Your sales pipeline can quickly get convoluted and inefficient without qualified sales leads.
In a competitive business environment, companies need to identify and target qualified leads to maximize their sales process. Not only do qualified leads save time and resources, but they also improve your chances of closing deals. This, in turn, helps accelerate business growth.
So, what is a qualified lead exactly? In this article, we'll look into the definition and characteristics of a sales-qualified lead, as well as give tips on how to identify and qualify leads effectively.
Key Takeaways:
A sales-qualified lead is someone who fits your ideal customer profile and has expressed interest in your product or service.
Compared to unqualified ones, qualified sales leads are more valuable as they are more likely to convert into paying customers.
The answer to "What is a qualified lead?" varies on your business or the niche you're in so you should set sales-qualified lead criteria such as BANT (Budget, Authority, Need, Timing).
You can qualify leads using different methods like lead scoring, lead nurturing, and lead qualification forms.
What Is a Qualified Lead?
A qualified lead is someone in your target audience that has given their contact details such as their name, email address, and phone number. What's more, they have shown an active interest in purchasing your product or service.
Qualified sales leads are pulled from lead generation techniques and assessed by the sales team if they fit your ideal customer profile. Once deemed valuable, they are then pursued and nurtured into customers by your sales reps.
Qualified Lead vs Unqualified Lead
To further understand the qualified lead definition, here's a quick comparison of sales qualified and unqualified leads:
Compared to an unqualified one, a sales qualified lead is more valuable as they are more likely to convert into a paying customer. They are the ones that the sales team should pursue and nurture for a robust sales pipeline.
Sales Qualified Lead Criteria
In reality, the answer to "What is a qualified lead?" differs depending on your business or the niche you're in. That said, establishing sales-qualified lead criteria will make your lead qualification process more streamlined and thorough.
As a whole, a sales-qualified lead has the ability to commit and/or do business with you. This means that they should at least have the traits discussed below:
1. Clearly defined need
A quality lead has a specific problem that they are aware of. They also know that your business exists and that your product or service can meet their needs.
2. Budget and authority
A qualified lead has the financial resources and the decision-making power within their company to purchase or invest in your product or service.
3. Sense of urgency
A qualified sales lead has an established timeline to do business with you and is ready to promptly move forward with it.
4. Trust and willingness to be informed
The potential customer should be willing to be in contact with your sales rep to further talk about a product or service and make a pitch. This also includes building a customer relationship that hopefully ends with a sale.
5. Strategic alignment with your business
Lastly, on your part, make sure that your sales process aligns with your buyer's journey to know if it makes sense for your sales team to go after a lead.
Having set criteria will help your sales team conclusively evaluate the leads you generate and how to move forward with them. This way, you avoid wasting time, money, and sales efforts on potential customers who aren't ready to buy yet.
For example, the most widely used sales qualified lead criteria is BANT (Budget, Authority, Need, Timing).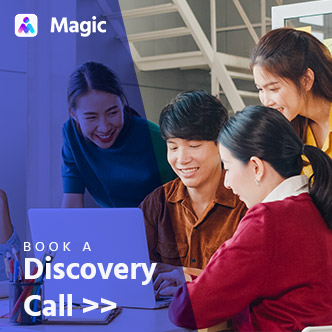 Customize Your Virtual Team Based on Your Needs
Get a team of qualified virtual assistants through a customized hiring funnel to easily fill in work gaps.
How to Identify a Sales Qualified Lead
With the question "What is a qualified lead?" out of the way, let's look into what is lead qualification and how its process works. Aside from having sales qualified lead criteria, there are many ways to identify a qualified lead such as:
1. Lead Scoring
Lead scoring is a qualification method where you assign a numerical value to sales leads based on their chances of converting to paying customers. This can be done by taking into account different factors such as:
Demographics

What is the age, gender, or location of your target audience? Add demographic questions in your landing page forms to find out if they fit in. Then, give a negative score to any lead that falls outside of those parameters.
Business model

Consider your business model. For instance, if you are a B2B business, you will have to determine the business size, type, or industry of the companies you want to sell to.

Behavior

Take a look at your qualified sales leads and how they interact with your business. This can be how they behave on your website such as visiting certain types of web pages and forms. Set high-value pages and forms like pricing pages and demo requests with higher lead points. You should also monitor any changes in their online behavior and adjust the lead score accordingly.

Engagement

Review online engagements such as email and social media to see how interested a lead is in making a purchase from your business. Look at the open and click through rates of your email lead generation campaigns. For social media engagements, take into account the times they clicked through your posts. This can also be the frequency of their likes, retweets, shares, etc., and the number of their followers.
By assigning a score to each sales-qualified lead, companies can prioritize which ones to focus on and which are less likely to make a purchase. It also lets your sales team know how to respond to them and boost the rate at which those leads turn to customers.
2. Lead Nurturing
The process of lead nurturing builds and reinforces relationships with your potential customers. It involves listening to their needs and concerns and offering information and/or solutions that your business can provide.
Lead nurturing can be done through different means such as:
Content marketing

Create relevant and valuable content to attract and engage customers. This should also inform them about your business or the niche you're in to get qualified sales leads. It can be blog articles, video tutorials, infographics, podcasts, and other media. With this approach, you can establish expertise in the niche you're in and promote brand awareness. This, in turn, will keep your business at the forefront of your prospects' minds when it's time to make a purchase.
Social media marketing

It's best to have a cross-channel approach in nurturing your leads and social media is your best bet. Make sure to identify and research your target audience to find out how to run engaging campaigns. Post on social media platforms relevant to your business such as Facebook, LinkedIn, and Twitter. Interact with your target audience in line with your brand voice and tone. You can also streamline the process by creating a content calendar.

Personalized email campaigns

Targeted email campaigns can further personalize your lead nurturing efforts and help promote your products and services. It can also be used to incentivize certain actions using discounts and promos, ebooks and whitepapers, and other services.

Display ads and retargeting

Back when we were talking about "What is a qualified lead?", we mentioned unqualified ones. They are also potential clients who weren't nurtured enough in the sales process. One way to connect to them again is retargeting ads to try and win them back. Just make sure that these ads reflect where the user was on your website on their last visit. Then, provide personalized and useful content to each customer segment.
With all of the information you provide, you can move leads further down the sales pipeline and boost the chances of turning them into paying customers.
3. Lead Qualification Forms
Get leads who fit your ideal customer profile using lead qualification forms. They also help you gather important information about a lead such as their job title, company size, budget, and decision-making authority.
Lead qualification forms filter through all kinds of visitors and users you get on your landing pages and/or website by asking specific questions. They capture quality leads, especially high-intent ones, that your sales team can follow up on and nurture.
Tips for Identifying and Qualifying Leads
The lead qualification process is not a one-time thing. Leads may change over time so you need to continuously identify and qualify leads. This ensures that you are targeting the most promising ones and make the most of your sales efforts.
Here are some ways to effectively identify a sales-qualified lead:
1. Use customer feedback
Get customer feedback to understand the needs and pain points of your potential clients. This can be done when cold calling leads or through surveys and forms. Customer feedback helps give insight on how to qualify leads more effectively and even new sales opportunities.
2. Ask the right questions
It's important to ask the right questions to get the needed information about your potential customers such as their budget, authority, need, and timeframe. Make sure that you also listen attentively and take note of their responses to know if they are a good fit for your business.
3. Be on the lookout for red flags
The point of identifying and qualifying leads is to avoid wasting time and resources on the wrong people. Be aware of red flags all throughout your sales process to know if it's still worthy to pursue a lead. This can be indicators such as unclear needs and the lack of budget or authority.
Continuously monitor potential customers and their alignment with your sales-qualified leads criteria. This way, you'll know if you need to drop a lead, retarget them, and the like.
4. Don't forget to follow up
One of the reasons a potential client becomes an unqualified lead is due to losing touch with them. Promptly follow up with quality leads while they are still interested in your business to avoid this.
Make sure to choose the right frequency and channel for your follow-ups to avoid driving away your leads. Always offer something valuable as well to keep them engaged such as more information about your product or service, free trials, and discounts.
5. Streamline your sales process
Having a robust and well organized sales process can help your sales team close deals better. Take advantage of automation in lead generation software, lead prospecting tools, and other applicable apps.
Related Topic: The Best Lead Prospecting Tools for Your Sales Team in 2023
You can also outsource your sales process to business lead generation services so you can focus more on your current and potential customers. With it, you can ensure that your sales team is generating, pursuing, and nurturing a sales-qualified lead through your sales pipeline.
Qualify leads with Magic to streamline your sales process and boost revenue. Get the support you need for your business from lead generation to closing sales!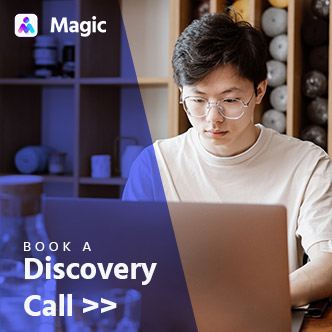 Match With a Vetted Virtual Assistant in 72 Hours!
Magic offers a frictionless way to source and qualify the right virtual assistant for your business so you can get things done fast and efficiently.