For any business looking to grow its customer base and revenue, generating sales leads is crucial. But, generating quality leads might be easier said than done.
According to the latest lead generation statistics, 68% of B2B businesses struggle to generate quality leads due to a lack of resources, budget, and staffing. Fortunately, B2B lead generation services can help businesses identify and qualify potential customers in a cost-effective and streamlined way.
To help you understand the advantages of lead gen services, let's take a closer look at the types of services available, list some of the top lead generation companies for your business, and share how to choose the right one for your needs.
Key Takeaways:
B2B lead generation services can help businesses find, attract, and nurture potential customers in a cost-effective and streamlined way.
The goal of lead gen services is to get quality leads that will convert into paying customers.
In deciding on a lead generation company for your business, you need to consider your target market and budget, as well as the service's tools, ease of scalability, and results.
What Are B2B Lead Generation Services?
B2B stands for business-to-business, which means a business that targets other businesses as their potential customers (leads). So, B2B lead generation services are a way for a business to find, attract, and nurture companies to buy their product or service.
The ultimate goal of lead gen services is to get quality leads that will convert into paying customers.
To drive sales, B2B lead generation companies implement a wide range of tactics such as:
Cold calling potential customers
Creating lead magnets like blogs, white papers, and newsletters
Optimizing your website and landing pages with SEO
Using scraping tools on social media platforms like LinkedIn, Facebook, and Instagram
Retargeting and re-engaging past users
Organizing and/or attending trade shows and events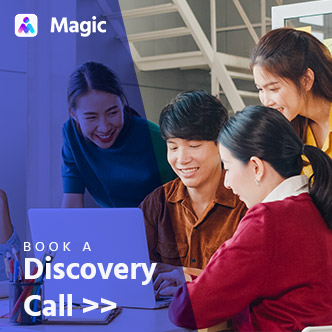 Customize Your Virtual Team Based on Your Needs
Get a team of qualified virtual assistants through a customized hiring funnel to easily fill in work gaps.
What to Consider When Implementing a Lead Gen Service
Once you have an idea of what type of lead generation services you need for your business, take into account your target market, budget, any possible integrations with your tech stack, scalability, and desired results.
Your Target Market
The first step in deciding which lead generation company is best for your small business is to know your target market. This includes building your ideal customer profile, understanding their pain points, and knowing what they're looking for in a product or service.
With this information, lead generation services will make it easier to reach potential customers and engage with them.
Your Budget and Resources
You may have limited funds and resources, so it's important to choose a service that requires minimal time and effort. You should also consider the cost of different lead gen services and look at the ones that offer the best value.
Some services may have a high upfront cost, while others may have a lower cost but require a long-term commitment. Do your due diligence as you consider the overall cost of different lead generation services.
Potential Integrations and Tools
Another thing you should consider is the integrations that your business can use with your B2B lead generation service.
Integrations can make communication and collaboration easier between you and the service provider. They can also help streamline your workflow and ensure that the data you're getting is consistent across different platforms.
Use integration tools such as Slack, Asana, Trello, and Basecamp to easily keep track of tasks and projects across different teams. Calendly and Zoom can help you automate your scheduling process and make booking meetings easier. For customer relationship management, sales tools like Salesforce and Hubspot can help you organize and better handle customer relationships.
Scalability
As your business grows, it's vital to have a lead generation service that can adapt to your changing needs. Some B2B lead generation companies offer a customizable approach so you can add or remove features as needed.
Desired Results
The most important factor in choosing a lead gen company are the results it can produce. It's important to choose a service that has a great track record of generating sales leads and driving revenue. You may also want to use the service for a certain period, such as 30 days, to give yourself time to evaluate whether it's working for your business.
6 Lead Generation Services for Businesses
Many B2B lead generation services stand out for their effectiveness, affordability, and ease of use. Here are some of the top lead gen companies for businesses:
Cience
Cience is one of the fastest-growing lead generation companies in the market and offers multi-channel outbound sales specialization. It uses research and targeted messaging to create a stream of qualified sales leads that sales teams can then pursue.
Cience's software and service packages are highly-customizable depending on the scope of the project. This is ideal for startups and companies in the SaaS industry, especially those without a sales team.
Martal Group
Another B2B lead generation service that's ideal for IT, SaaS, and telecom businesses is Martal Group. It boasts four curated databases with 100 million contacts.
With 100+ sales executives, Martal Group is a great addition to your internal team and can help you improve your messaging and qualify sales leads. Martal Group has a 3-month Pilot Campaign with a flat fee per month.
RocketReach
RocketReach is a lead gen business that helps brands find, reach and engage their audiences, especially through email. It uses a global database of emails, direct dials, and automation to boost the sales process.
There are three individual plans you can choose from, starting from $53 per month or $421 per year. They also have a free trial of up to 5 lookups per month with no credit card required.
Callbox
Callbox uses an account-based multi-channel marketing approach to qualify and nurture leads. Their sales lead generation services include lead management, telemarketing scripts, email templates, and an automation platform. The company also uses a global B2B database to build its clients' target lists.
Social Bloom
Social Bloom specializes in outbound sales and offers email marketing, cold calling, and social selling. It builds, handles, and scales outbound sequences with its team of SDRs, copywriters, deliverability experts, and scrapers.
Social Bloom works with small and medium enterprises (SMEs) that are having trouble reaching out to prospective clients consistently. It offers four plans, starting at $16 per week, and you can cancel at any time.
Magic, Inc
Another option for generating leads for your business is to work with a modern outsourcing solution like Magic.
Maximize your sales efforts with expert sales support and streamline your workflow with top-tier teams. Magic deploys a flexible remote team on your behalf to handle all of your most time-consuming lead generation tasks, such as cold calling, appointment setting, and data scrubbing. We only recruit the top 3% of talent to ensure that you have a high-quality outsourcing team working for you.
Get the help you need to find and qualify leads for your business so you can focus on growth. Magic is fully customizable and scalable to meet changing business needs and we help you make the most out of your time and resources.
Unlock Your Business' Potential with B2B Lead Generation Services
Generating high-quality sales leads is the lifeblood of your business. High-quality leads mean growth and increased profit.
With so many lead generation strategies out there, it can be hard to know where to start. Take your business to the next level by partnering with a lead generation company like Magic.
From targeted campaigns to personalized outreach, Magic's lead generation services can help you connect with the right people and grow your customer base. Our remote workforce can handle B2B lead generation and appointment setting, cold calling, call handling, lead follow-up, and so much more. Plus, our solutions are fully customizable, so you can hire as many (or as few) assistants as you need.
With a team of experts dedicated to finding and nurturing leads, you can focus on what you do best: running your business. Book a call with us to discuss how we can help you with your lead generation and sales outsourcing needs.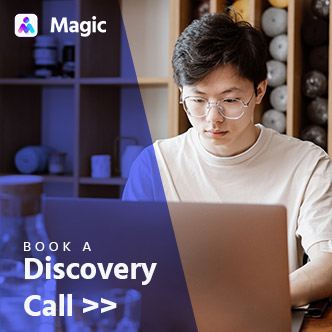 Match With a Vetted Virtual Assistant in 72 Hours!
Magic offers a frictionless way to source and qualify the right virtual assistant for your business so you can get things done fast and efficiently.