An executive assistant plays a crucial role in streamlining workflows for executives and top-level managers within an organization. They provide high-level administrative support that is distinctly adaptable to meet the dynamic demands of a business environment.
With this flexibility, you can hire a part-time executive assistant to help lighten your load. However, hiring a full-time remote executive assistant is a wiser investment, as they offer many benefits.
While part-time EAs have their merits, a full-time EA can contribute more significantly to the growth and efficiency of your business. In this article, we'll delve into the pros and cons of both executive support options to help you make an informed decision.
Key Takeaways:
A part-time executive assistant offers flexibility for businesses with fluctuating workloads but may have limited availability and a potential lack of continuity. They can also be cost-effective for businesses with specific project-based tasks or limited resources.
Full-time remote executive assistants provide better availability, deepened understanding of your business, consistency, and commitment.
While a full-time executive assistant may be more costly, the ROI in terms of productivity, task management, and overall success justify the investment.
Pros and Cons of Part-Time Executive Assistants
A part-time executive assistant is a skilled professional who dedicates a portion of their working hours to support a business. They are usually freelance executive assistants you can find on online job marketplaces.
This option can be appealing to companies seeking cost-effective solutions or for those with specific project-based tasks in mind. So, without further ado, let's look into the benefits and challenges of part-time personal assistant jobs.
PRO: Flexibility
Part-time assistants offer a level of flexibility that is useful for businesses with fluctuating workloads or seasonal demands. You can bring them in as needed, and they'll adapt their schedules to accommodate your needs.
CON: Limited Availability
Hiring an executive assistant on a part-time basis can mean limited availability. They may only be confined to specific hours or days, depending on the work hours you both agreed on.
This restriction can cause delays in urgent matters or when immediate access to support is needed. It's also likely that you're not the only client of your part-time EA. So, their attention and focus are divided, and it may be challenging to coordinate schedules.
PRO: Specific Project-Based Tasks
As established, part-time EAs can bring specialized skills to the table for a limited duration. They can still be particularly valuable for specific projects. As such, they can handle event planning, market research, or a temporary surge in administrative tasks.
CON: Potential Lack of Continuity
With part-time assistants, your usual workflow may be fragmented. For example, it can hinder tasks that require collaboration or coordination, as the executive might need to wait until the EA's next scheduled workday.
What's more, handover processes between the part-timer and the rest of the team can become a challenge. It can also result in higher turnover rates that may disrupt the continuity of tasks and projects of the executive team.
PRO: Cost-Effectiveness
A part-time executive assistant can be more budget-friendly for business owners, especially in startups or small businesses with limited resources. This option is also ideal for businesses that don't require a constant, full-time presence.
You pay only for the hours worked, reducing fixed overhead costs. So, they allow you to still access high-level support without the financial commitment of a full-time employee's salary and benefits.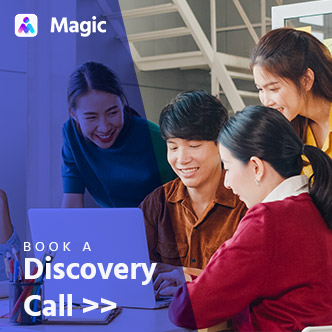 Customize Your Virtual Team Based on Your Needs
Get a team of qualified virtual assistants through a customized hiring funnel to easily fill in work gaps.
Pros and Cons of Full-Time Remote Executive Assistants
Full-time remote executive assistants are dedicated professionals who work remotely but are available for most standard working hours. You can hire them through specialized virtual assistant companies like Magic.
This option provides a higher level of commitment and availability compared to part-time assistants. So, let's dive into how a full-time executive assistant makes more sense.
PRO: Better Availability and Accessibility
Full-time executive virtual assistant services offer consistent availability and dedicated support. This means your EA ensures tasks are promptly and efficiently attended to throughout regular working hours.
It can be especially valuable when you need constant assistance for a wide range of responsibilities.
For instance, you're a high-profile executive who manages a complex schedule with frequent meetings, interviews, and travel arrangements. Providing a high level of responsiveness, a full-time EA would be crucial in organizing all these aspects and handling unforeseen situations.
PRO: Deepened Understanding of Your Business
With the commitment of full-time hours, your virtual assistant can become intimately familiar with your business, preferences, and operational nuances. This deeper understanding leads to more efficient and tailored support.
Let's say you run a consulting firm specializing in market research for niche industries. A full-time EA has the time to learn the ins and outs of your business.
They can immerse themselves in the intricacies of your clients, industry trends, and your company's unique approach. This deep understanding allows them to screen potential clients more effectively, ensuring a better fit for your services.
PRO: Consistency and Commitment
When you hire a virtual assistant on a full-time basis, they can bring a higher level of commitment to the role.
This is because, unlike a part-time executive assistant, you're their only client, so they can focus on their tasks and provide quality results. This dedication also fosters a strong working relationship over the long term.
Suppose that a company is undergoing a major restructuring. A high-level assistant who has been working full-time and gained in-depth knowledge of the company would be well-equipped to assist in coordinating the transition. They can take charge of communications, ensuring that all stakeholders are kept informed.
PRO: Ability to Take on Broader Responsibilities
Beyond basic administrative tasks, a full-time executive assistant can often handle more specialized functions. They may excel at project management, event planning, and other executive assistant roles, providing more comprehensive support as needed.
With more time available, a full-time EA can dedicate themselves to developing specialized skills or knowledge that may benefit your long-term efforts. This could include expertise in specific software and industry knowledge.
PRO: Proactive Support
Having worked full-time under you, a great executive assistant can actively anticipate your needs and take initiative in managing tasks. This proactive approach can lead to a smoother workflow and increased productivity.
Since they're familiar with your work style and preferences, they can make decisions on your behalf and even act on it. This way, you can focus better on your core competencies without worrying about the little details.
PRO: Better Long-Term Planning
You don't have to worry about adjusting your long-term goals and initiatives since you only have to onboard an executive assistant once. They can also help in setting goals, tracking progress, and ensuring that the business is moving in the right direction.
What's more, a full-time remote assistant is more likely to be deeply invested in your success and the company's success. They have a greater stake in helping you achieve your long-term goals, as they're dedicated to your role full-time.
CON: More Expensive
Of course, getting executive virtual assistant services on a full-time basis costs more. In scenarios where budget constraints and seasonal demands are significant factors, a full-time EA might not be the most viable option.
However, it's also apparent that the benefits justify the higher costs of hiring a full-time virtual executive assistant. While there is an initial financial commitment, the ROI in terms of business productivity, task management, and overall success makes it all worth it.
From streamlining workflow processes to enhancing communication, problem-solving, multitasking, and maintaining confidentiality, executive assistants can be indispensable strategic partners to the executive team.
Invest in Top-Notch Executive Virtual Assistant Services
While hiring a part-time executive assistant has its merits in terms of cost-effectiveness and flexibility, the benefits of a full-time one far outweigh this.
The deeper understanding, consistency, commitment, and ability to take on broader responsibilities make full-time remote executive assistants an invaluable asset to any business. By investing in a full-time EA, you're making a strategic move towards increased productivity and business growth.
Ready to take your business to the next level with a full-time executive assistant? Book a call with Magic today to learn more about our executive virtual assistant services.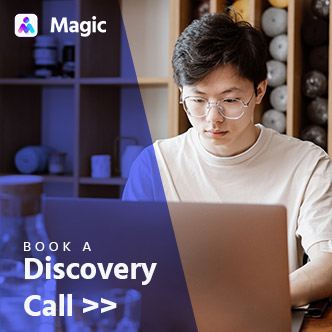 Match With a Vetted Virtual Assistant in 72 Hours!
Magic offers a frictionless way to source and qualify the right virtual assistant for your business so you can get things done fast and efficiently.