Need help managing daily tasks while you focus on growing your business? Human virtual assistants powered by AI are the answer!
If you're a business owner, you know how overwhelming it can feel to juggle the little tasks that come with running a company. But with AI-powered virtual assistants, you never have to do it alone.
Today, we're taking a look at how these assistants can revolutionize your productivity.
From streamlining workflows to conducting research, VAs take care of the details, so you can focus on the big picture and scale your business. We'll also explore the benefits of working with AI-powered assistants and where to find them.
Grab a notepad and get ready to discover the secret weapon to growing your business!
Key Takeaways:
Virtual assistants (VAs) help businesses take care of everyday tasks. By handling the day-to-day, they help boost productivity and promote business success.
VAs powered by AI provide even more value to businesses by delivering faster, more accurate results.
A VA can manage scheduling, sales initiatives, customer service tickets, marketing tasks, and more.
VAs with AI business tools can help businesses save time and money and reduce human error. They can also streamline tedious workflows, process large data sets, and turn them into helpful reports.
With advanced algorithms, AI VAs can increase customer response times. They can also use predictive analytics to plan the best solutions.
What is a Virtual Assistant?
Virtual assistants are humans who work remotely. They help with tasks such as managing emails and scheduling meetings.
Virtual assistant services are effective for businesses that need flexibility and support.
But, as businesses continue to evolve, traditional virtual assistants have limitations. Their availability is tied to regular working hours, and may use outdated, manual workflows. This is where the "new era of virtual assistants" comes into play.
AI tools empower virtual assistants, boosting their abilities to:
Process information
Iterate on output
Adapt to a wide range of situations
By leveraging the power of AI, VAs can provide even more value to businesses, delivering faster and more accurate results.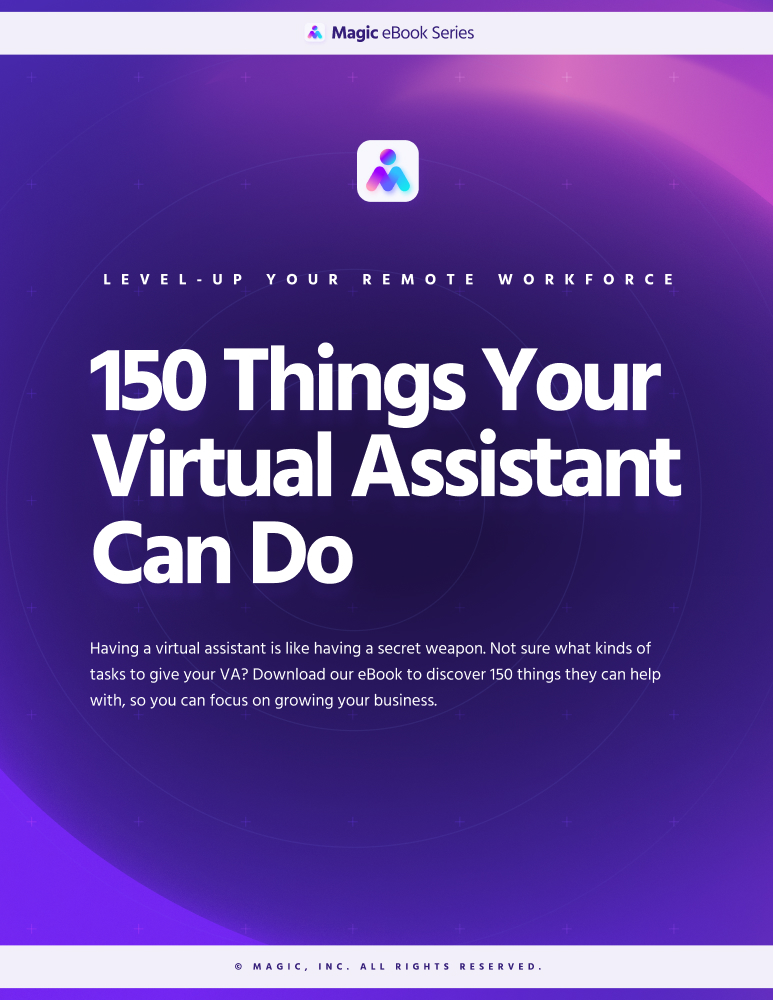 Grow Your Business With These 150 Virtual Assistant Tasks
Not sure what tasks to give your virtual assistant? In this eBook, we share 150 tasks they can do for you so you can save hours a day.
Learn More
6 Benefits of Working with an AI-Powered Virtual Assistant
Imagine having a VA that can respond to emails, create processes, and schedule appointments based on your preferences. All without needing constant supervision.
AI business tools empower virtual assistants to do all of the above. With AI on their side, VAs can:
Streamline workflows
Automate repetitive tasks
Handle complex data analysis
This support frees up your time so you can focus on business growth and strategy.
Let's take a look at more specific benefits AI business tools help VAs bring to the table — and how they can boost your productivity.
1. Save time and money
With a VA, businesses can avoid investing precious energy working on redundant tasks. By hiring AI VAs, business owners can use the extra time to work on growth initiatives instead.
That means you can pour more time and money into strategies that matter most.
2. Reduce human errors
With AI, VAs have access to advanced algorithms and machine learning capabilities. These support them as they learn to predict patterns and make intelligent decisions from data.
In other words, they can perform tasks with high precision. AI helps reduce the risk of human errors that can occur due to fatigue, distraction, or oversight.
3. Streamline tedious workflows
AI-powered virtual assistants streamline workflows by automating redundant work. They also integrate with the digital tools and systems you use every day.
VAs can connect with your project management platform, CRM, and communication tools to manage and update daily tasks, removing the need for manual data transfer between systems and enhancing operational efficiency.
VAs can automate repetitive tasks, such as:
Email follow-ups
Scheduling
Status updates
And more
4. Process large amounts of data and unlock new data insights
AI algorithms can analyze and interpret complex data sets and generate insightful reports.
VAs can pull valuable insights to make precise decisions by auto-processing vast amounts of information. Removing the need for manual data analysis reduces the possibility of human bias or oversight in the process.
Picture this …
You have a vast database with various data models, such as star schema vs. snowflake schema. Your AI-powered VA poses questions and receives immediate answers in visual formats, including:
Engaging charts
Insightful graphs
Concise tables
The VA then sends these to you via a quick email.
This seamless interaction saves you valuable time and resources while you prepare for an upcoming board meeting. With these insights in hand, you can propose smarter business decisions to the board and back them up with hard data.
5. Increase response time
With advanced algorithms and machine learning, AI-powered VAs can process information at incredible speed, promoting faster response times.
They can quickly:
Retrieve and reference data
Provide instant answers to queries
Carry out tasks without the usual delays that occur when relying solely on human resources
6. Increase precision with predictive analytics
AI-assisted VAs use data analysis, machine learning, and statistical models to spot patterns predicting future behavior.
With these insights, businesses can forecast trends from seconds to years into the future with great precision.
For instance, AI business tools like Zeda.io help organizations uncover product opportunities.
With Zeda, VAs can analyze data points and turn them into actionable insights. With these in hand, you can decide which products to build confidently. The process would require significant time and financial investment without AI support.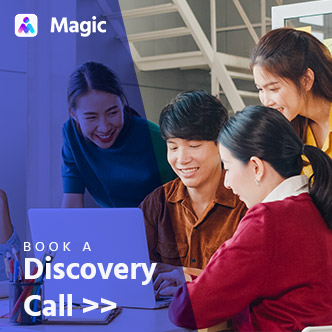 Customize Your Virtual Team Based on Your Needs
Get a team of qualified virtual assistants through a customized hiring funnel to easily fill in work gaps.
​Tasks Virtual Assistants Can Streamline with AI
Now that you're clear on the benefits of working with an AI-assisted VA, let's take a look at some virtual assistant tasks they can help you streamline.
Admin work
Tired of wasting endless hours on administrative tasks?
AI administrative assistants perfect email management and take care of your schedule, calls, and daily tasks. Plain and simple: They make sure everything is organized and running smoothly.
AI VAs also excel at transcription and data entry, so you can transcribe important meetings and log data as soon as you get it. They can also conduct research and gather the data you need at lightning speed so you can present reports and make smarter decisions.
Sales support
When it comes to sales support, AI VAs can supercharge your lead generation efforts by automating the process. AI VAs can identify potential leads, qualify them based on specific criteria, and even start outreach campaigns to nurture those leads.
Need help managing inbound or outbound calls? AI VAs can skillfully handle sales inquiries, provide product information, and even close deals. AI VAs can deliver personalized sales support and pristine customer experiences with access to advanced algorithms.
Customer support
Need an assistant for customer support?
Whether it's managing complaints, resolving issues, or providing information, AI-powered VAs are there to help.
AI VAs can field inquiries and support tickets across a variety of platforms. They can also:
Provide quick responses with tailored solutions
Improve response times
Streamline customer interactions
Enhance overall customer satisfaction
Marketing support
If you need to level up your marketing efforts, AI-powered VAs can supercharge your approach.
VAs with AI features excel at social media management, helping you create engaging content, schedule posts, and interact with your audience. VAs with AI technology can also handle your social media accounts, so you can have a consistent and impactful online presence.
Need help with email campaigns? VAs can craft compelling emails, manage subscriber lists, and track campaign performance. They can also help with content writing, creating blog posts, articles, and website copy that captivate your audience.
With their expertise, VAs can also create landing pages, opt-in forms, and other assets to help you boost sales funnel conversions.
Wrap up
Whether it's managing your calendar, responding to emails, or performing data analysis, you can rely on AI virtual assistants to free up your time so you can focus on the bigger picture.
Ready to save time and get back to business? Get started with Magic today, and we'll hand-match you with a vetted, dedicated assistant powered by AI within 72 hours!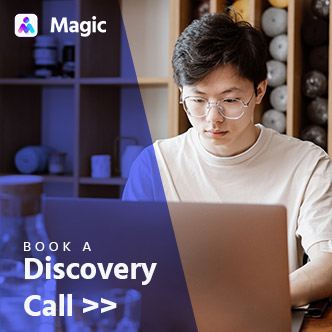 Match With a Vetted Virtual Assistant in 72 Hours!
Magic offers a frictionless way to source and qualify the right virtual assistant for your business so you can get things done fast and efficiently.