Executive assistants have long been a mainstay of the C-suite. With a good EA, an executive can reduce the number of hours they spend on non-core tasks, multiplying their productivity for a relatively low cost.
Yet while the guiding hand of the EA has been instrumental in shaping the modern office, their role⁠—and how they fulfill it⁠—has changed quite a bit as people left the office behind. And as virtual executive assistants have grown in popularity, you may find yourself wondering: Which one is right for you, an in-person EA or a remote executive assistant?
Here, we'll go over the core functions of an EA, the differences between in-person executive assistants and their remote counterparts, and the pros and cons of each.
Key Takeaways:
An executive assistant supports a high-level executive. They handle administrative and clerical tasks and apply their own insight to organize and expedite their clients' work.
The main advantage among in-person executive assistants is their ability to manage things on premises.
The main benefits of hiring a remote executive assistant is flexibility and cost-savings. They often provide coverage across multiple time zones, ensuring around-the-clock support when needed.
The Rise of Remote Executive Assistants
The prevalence of remote work exploded over the last few years. Before 2020, just over 1 in 20 full-time US work days were worked remotely.
And while things have calmed down from the height of pandemic restrictions⁠—when over half of full-time work was done remotely⁠—remote work has stayed steady at around 28%. Many executives are trying to bring that number down but there's a broad consensus that remote or hybrid work will remain prevalent.
In addition to the rise of remote work, VAs have grown in popularity for their ability to increase productivity at low costs while also presenting flexible options for staffing. This category also includes remote executive assistants.
With the accessibility of virtual assistants, companies can tap into a global talent pool, allowing them to select from a diverse range of skilled professionals. This not only offers cost-efficiency but also ensures that businesses can find the right expertise and experience to match their specific needs, all while benefiting from the flexibility and adaptability of remote work arrangements.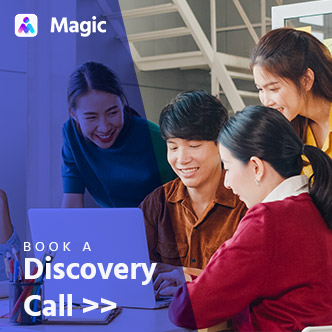 Customize Your Virtual Team Based on Your Needs
Get a team of qualified virtual assistants through a customized hiring funnel to easily fill in work gaps.
What Does an In-Person Executive Assistant Do?
An executive assistant supports a high-level executive, carrying out multiple tasks to increase their efficiency. While EAs do handle administrative and clerical tasks, they also apply their own insight and business acumen to organize and expedite their clients' work.
Experienced EAs who have adapted to their clients are well-suited for managing and executing administrative tasks as well as more complex projects and responsibilities.
Generally speaking, executive assistant services can span the following tasks, among others:
Problem Solving: Handling unexpected challenges and adapting to the dynamic needs of the executive and the organization.
Calendar Management: Schedule meetings, appointments, and events; coordinate with internal and external stakeholders to optimize their time.
Communication: Handling phone calls, emails, and other forms of correspondence; prioritizing messages and sending routine replies or follow-ups.
Travel Arrangements: Organizing travel logistics and itineraries.
Administrative Tasks: Drafting documents, preparing presentations, and managing paperwork; transcription, data entry, and similar work.
Meeting Support: Preparing agendas, taking meeting minutes, and following up on action items to ensure that decisions made in meetings are implemented.
Information Management: Organizing and maintaining files, records, and databases to ensure easy access to important information.
Project Coordination: Assisting with project management, tracking deadlines, and liaising with team members to keep projects on track.
Client and Stakeholder Relations: Building and maintaining positive relationships with clients, partners, and other stakeholders on behalf of the executive.
What distinguishes an EA from a more general virtual assistant is a focus on growing accustomed to their executive's specific context. An EA adapts to how they work, learns about their peers and counterparties, and makes improvements based on these.
An in-person executive assistant, specifically, also manages an executive's office. They ensure it's kept in order, oversee the flow of visitors, and strive to make it conducive for work. An EA may fulfill the role of receptionist, admitting, rejecting, or inviting people to the office according to the needs and priorities of their executive.
In cases where an executive has multiple staff, they may oversee or coordinate the others⁠. In this sense, an EA can help build a strong company culture⁠—or more specifically, a particular office's own culture.
What Does a Remote Executive Assistant Do?
Virtual EAs fulfill the same role, but remotely: they handle their client's schedule and correspondences, coordinate with co-workers and counterparties, and come up with solutions or improvements when obstacles arise.
That said, because a remote EA operates virtually, they're poised to improve your virtual collaboration setup. Working online, an EA can:
Maintain and organize online collaboration platforms; this includes Notion, Asana, Trello and similar kanbans and project management platforms
Keep you abreast of updates and deadlines on these platforms
Configure and use video recording or conferencing tools, and take notes or edit transcripts
Handle data storage and sharing while maintaining data privacy and information security standards
Assist with the use and configuration of other virtual tools
If you deal with these often in your day-to-day business, an EA can ease the burden of managing them all.
In-House vs Remote EAs: The Pros and Cons
In-Person Executive Assistants: Pros
The main advantage among in-person executive assistants is their ability to manage things on the premises. They have a better pulse on your business' locality, as well as the minutiae of your actual office.
This lends itself well to coordinating on-site events by liaising with vendors, preparing event spaces, and ensuring everything runs smoothly, as well as managing office logistics, from ordering office supplies to maintaining equipment and facilities.
EAs on-premises also add a more personal touch: a sense of courtesy and warmth. They serve as your office's first point of contact, warmly greeting visitors and ensuring they have a positive experience, which reflects well on the organization.
And of course, they're physically available for any ad hoc tasks that may arise. And when you need last-minute preparations, being in the same space is often the best way to get things done.
In-Person Executive Assistants: Cons
Compared to remote EAs, in-person assistants can be more difficult to hire and more costly to retain. Your available talent pool will be restricted to candidates in your area⁠. If you operate in an area with high cost of living, the going rate for these EAs will be quite high. And regardless of where you're based, you'll have to cover benefits, as well as equipment costs.
You may also lose out on some flexibility, as EAs working on premises will probably tend toward regular business hours. (Of course, many in-person duties are fulfilled during this time, so you might not find this too much of an issue.)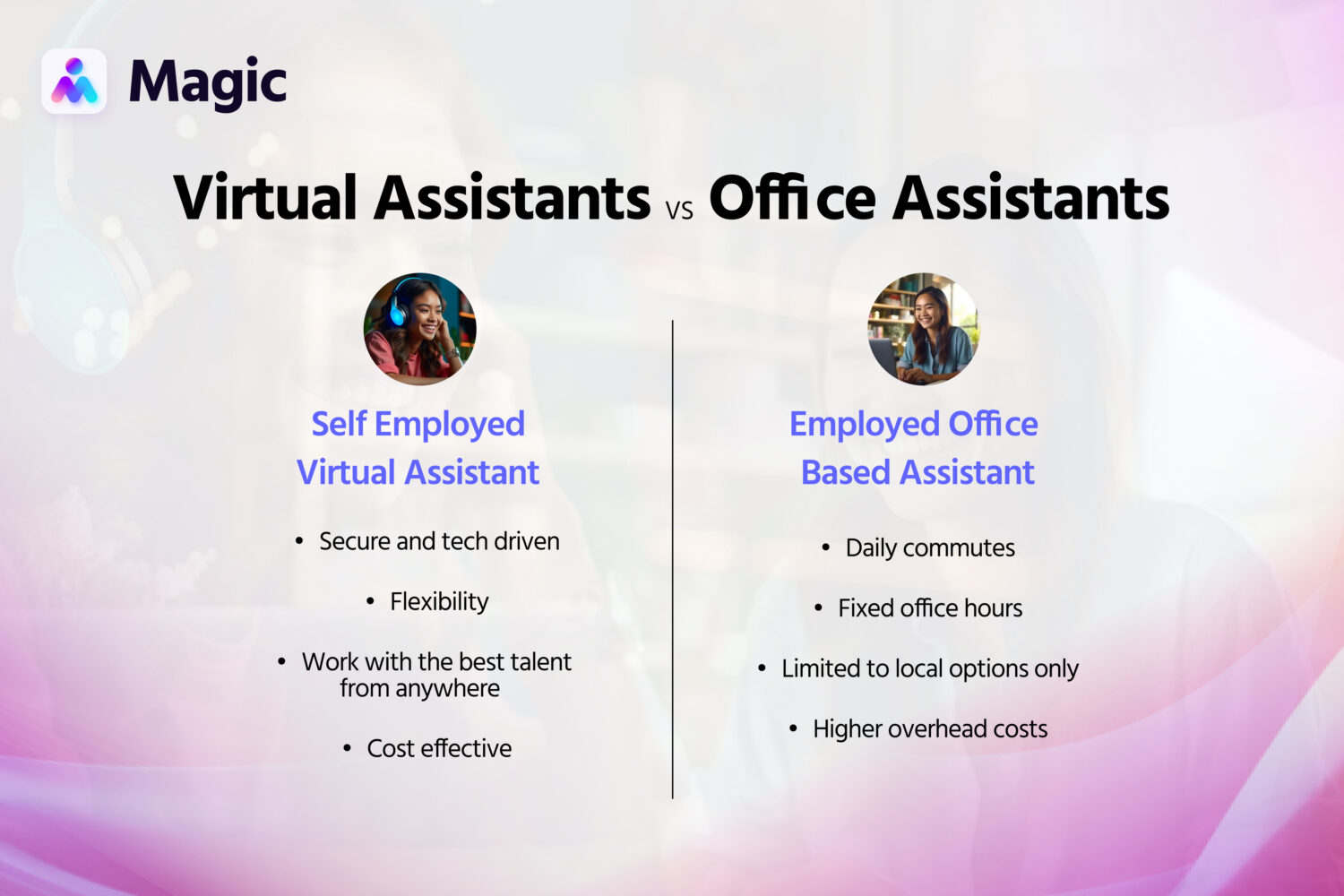 Remote Executive Assistants: Pros
With virtual collaboration platforms, remote EAs are well-equipped to assist you with your schedule, messages, files, and similar office concerns. They can be especially helpful if you want someone to sort them off-hours so they're ready for you when you start the day.
Speaking of which, flexibility is a hallmark of remote executive assistant arrangements. They often provide coverage across multiple time zones, ensuring around-the-clock support when needed.
This adaptability proves invaluable in a globalized business landscape, allowing executives to maintain operations and communications across different regions without constraints.
Cost savings are one of the major benefits of having a virtual executive assistant. Companies can reduce overhead costs associated with physical office space, utilities, and equipment.
Additionally, remote assistants typically work on a contractual or part-time basis, eliminating the need for full-time salaries and benefits, further contributing to cost-effectiveness. Overseas assistants often charge less for an equivalent level of service, too. In all, the savings can be quite significant.
Finally, one major appeal is that hiring a virtual assistant allows you to bypass many of the limits and difficulties of conventional hiring. You gain access to a much wider pool of talent, and can get started quicker, since there's less bureaucracy to deal with.
Remote Executive Assistants: Cons
Virtual EAs face the same troubles as any remote worker would. They'll miss information conveyed casually, in person, rather than through official channels, and won't be as familiar with your local area and its quirks. (This can be a hindrance in planning IRL events or logistics, though virtual maps and research can offset this.)
And, of course, remote EAs can't do much related to your physical office premises. So if that's a priority for you, going remote clearly isn't for you.
Conclusion
These days, the decision of how to work⁠—in-office, remotely, or in some hybrid arrangement⁠—occupies the minds of many business leaders. And the way a company chooses to approach this can have significant implications on the role that EAs fulfill and how they do so.
An in-person EA remains an ideal choice for businesses that emphasize personal interactions, office culture, and hospitality on-premises. They may also be essential for executives whose work deals with a lot of physical materials or products, such as prototypes or original documents that must pass through their office directly.
Conversely, a virtual EA adds valuable flexibility to the role of EA. Businesses, especially startups or small businesses, that already operate virtually or in a hybrid mode will appreciate the agility and adaptability that remote EAs bring to the team, as well as the ease with which they can be brought on. The added savings also give the business much more leeway overall in planning business strategies.
Hire an Executive Assistant Through Magic
If you're looking for an executive assistant to suit your needs, you can get a Magic EA in as soon as seven days. Tell us what you need, and we'll find the right EA for you.
Our virtual hiring services cover a range of other roles too. You can easily assemble a remote team to suit your objectives. Add or replace virtual assistants as needed, scaling to match the situation.
All Magic executive assistants and VAs are carefully screened, ensuring you only work with the best. Get started with Magic by booking a call with us today.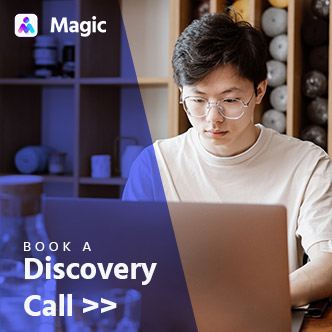 Match With a Vetted Virtual Assistant in 72 Hours!
Magic offers a frictionless way to source and qualify the right virtual assistant for your business so you can get things done fast and efficiently.