A virtual bookkeeper offers convenient and flexible record-keeping solutions that eliminate the need for in-house hires. Not only that, hiring a virtual bookkeeping assistant saves you money and time, so you can focus more on what really matters – the success of your business.
With their skills and experience, a remote bookkeeper can adapt to your needs and become an invaluable asset to your business. But how can you ensure you hire the right person for the job? To help you make informed decisions, we'll explore must-ask questions before you hire a virtual financial assistant.
Key Takeaways:
If handling your business's books is getting tricky or overwhelming, a virtual bookkeeper might be the answer. They offer flexible bookkeeping services that save you time and money by replacing the need for in-house staff.
In hiring a bookkeeper remotely, you can save money by working directly with freelancers, but outsourcing agencies can help with finding the right fit.
While remote bookkeepers have different rates, don't just consider the costs; think about the quality of their service and how they can help your business.
5+ Things to Ask Yourself Before Hiring a Remote Bookkeeper
Navigating the world of outsourced bookkeeping can be a transformative step for your business. That said, there are crucial questions that warrant thoughtful contemplation to ensure the virtual bookkeeper you're hiring aligns with your business's unique needs and goals.
When Should I Hire a Virtual Financial Assistant?
Before hiring a virtual bookkeeping assistant, assess the financial complexity of your business.
Do you find it increasingly challenging to manage transactions, invoices, and payroll on your own? Are you expanding rapidly, making it difficult to stay on top of financial records? If the answer is yes, it's likely time to outsource bookkeeping services.
What this looks like:

Things can quickly get hectic if you're running a flourishing e-commerce business. With a surge in orders and corresponding financial transactions, managing inventory and financial reports, tracking invoices, and reconciling payments manually can become overwhelming.

A virtual bookkeeping assistant could efficiently streamline these processes, ensuring accuracy and freeing up your time for strategic decision-making.
Where Do I Hire a Virtual Bookkeeper?
Today, hiring a bookkeeper remotely can be done through a myriad of platforms and resources. Freelancing websites like Upwork and Freelancer are excellent places to start your search. There are also outsourcing companies like Magic that provide specialized remote teams.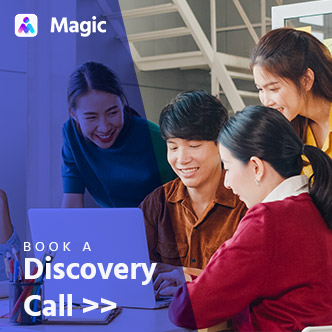 Customize Your Virtual Team Based on Your Needs
Get a team of qualified virtual assistants through a customized hiring funnel to easily fill in work gaps.
It's imperative to vet potential candidates thoroughly, and you also have to consider your time and money. Connecting directly with freelancers can cut out the middleman and other possible hiring fees.
However, remote staffing agencies provide support in sourcing, screening, and onboarding your virtual assistant. At Magic, our talent pool consists of the top 3% of candidates who go through comprehensive training and are equipped with tools like Magic AI.
What this looks like:

As a small business owner, you've heard about the benefits of virtual bookkeeping but are unsure where to start.

You research different platforms and seek recommendations from fellow business owners who have successfully integrated virtual financial assistants into their operations. By tapping into these resources, you can find one who aligns with your needs and values.
What Should I Look For in a Virtual Bookkeeping Assistant?
Finding the right virtual bookkeeper demands a comprehensive assessment of qualifications, experience, and adaptability. So, take into account the bookkeeping tasks you want to offload to know which key skills and credentials you should look for in an applicant.
Prioritize candidates with a strong understanding of relevant accounting software, such as QuickBooks or Xero. Their ability to manage tasks similar to those your business requires is a testament to their suitability.
While not really necessary, accountants and bookkeepers with relevant certifications such as Chartered Accountant (CA) or Certified Public Accountant (CPA) can also provide an extra layer of assurance regarding their expertise.
What this looks like:

In your search for a bookkeeper for your marketing agency, you find two candidates with similar technical skills. However, one candidate has extensive experience working with creative agencies, understands the ebbs and flows of project-based billing, and communicates effectively with creative professionals.

In this case, the candidate's industry-specific experience and ability to understand your business nuances make them the clear choice. Prioritize candidates who can bridge the gap between technical expertise and industry familiarity.
How Much Should I Pay For Virtual Bookkeeping Services?
The price you pay for virtual bookkeeping services can be different depending on things. It can be based on where the virtual assistant works, how experienced they are, and what tasks they do for you. You should also consider payment options and other possible fees.
It's important to think about virtual assistant rates but also take into account the quality of work you'll be getting when it comes to budgeting. Choosing the cheapest option might seem like a good idea to save money at first, but it could actually lead to expensive mistakes and problems later on.
What this looks like:

As the owner of a fast-growing SaaS startup, you're cautious about your budget and want to minimize expenses. However, you've also experienced some financial discrepancies due to inadequate bookkeeping.

Consider the potential cost savings of an outsourcing firm's bookkeeping service for startups. A virtual bookkeeper's ability to accurately track expenses, identify tax deductions, and streamline financial operations can ultimately save your business more than their service fees.
Is My Business's Financial Data Safe and Secured?
When you give your financial records and other sensitive data to a remote bookkeeper, it's crucial to make sure they keep it safe. Look for a bookkeeper who takes strong steps to protect your data.
This could mean they use encrypted communication channels, secure data storage practices, and regular software updates to avoid data breaches.
What this looks like:

In a health tech company dealing with sensitive patient information, security is paramount. When evaluating bookkeepers, ask about their data security measures. You want to hear about encryption protocols, secure cloud storage, and their experience with compliance standards like HIPAA.

Choosing a virtual financial assistant who places a strong emphasis on data security ensures the safety of your business's financial information and compliance with industry regulations.
Bonus: Is Hiring a Remote Bookkeeper the Right Choice for My Business?
While the advantages of hiring a bookkeeper remotely are pretty evident, you still need to evaluate whether this choice aligns with your business's circumstances.
Bookkeeping for small businesses can provide specialized expertise without the commitment of a full-time employee. For larger enterprises, on the other hand, remote bookkeeping can supplement existing in-house teams during peak periods, enhancing overall efficiency.
Analyze your business's needs, budget, and growth goals. If your business is experiencing growth but struggling to keep up with financial demands, a virtual bookkeeping assistant can provide the support you need to maintain accurate records and make informed financial decisions.
Outsource a Virtual Bookkeeper with Magic
Virtual bookkeepers offer the expertise, flexibility, and cost-efficiency that modern businesses need to thrive in today's competitive landscape. Embrace the power of remote bookkeeping with Magic and watch your business's efficiency and growth soar.
Magic provides a skilled remote workforce trained in outsourced bookkeeping services, so you won't get lost in your book of accounts. We'll manage your financial transactions, organize your records, and give you accurate financial information to help your business grow – all remotely!
Contact us today to explore how a virtual bookkeeping assistant can streamline your operations, enhance accuracy, and drive growth.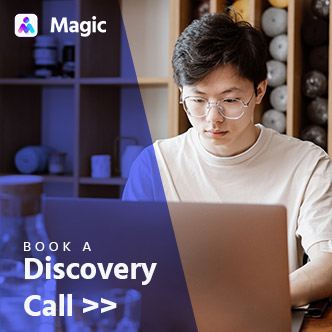 Match With a Vetted Virtual Assistant in 72 Hours!
Magic offers a frictionless way to source and qualify the right virtual assistant for your business so you can get things done fast and efficiently.