You can't run a business without managing finances; that much is true. Though that doesn't mean you have to enjoy it⁠, and many business owners don't.
Unsurprisingly, about half of the businesses that outsource include financial services in their outsourced tasks. So if you're looking for outsourced bookkeeping services, you'll find a robust market with a lot of options⁠—and this article will help you figure out how to start looking.
Key Takeaways:
Bookkeeping can be a time-intensive task, but it's easily entrusted to external parties. Through cloud accounting software and other digital tools, financial records can be handled efficiently and securely, even online.
Freelancers, financial services outsourcing, and other BPO firms present a wide range of bookkeeping options for businesses of all sizes, across industries.
Outsourced bookkeeping services can cover a range of record-keeping work and auxiliary tasks related to business records and finances.
What Do You Get When Outsourcing Bookkeeping?
The work of bookkeeping involves tracking and recording a company's day-to-day finances. A bookkeeper might maintain a number of different ledgers, in addition to records of other financial activities. Outsourced bookkeepers can also prepare regular reports and assist with interpreting financial statements or data.
All in all, outsourced bookkeeping takes the hassle out of dealing with daily finances. And with the sophistication of cloud bookkeeping tools, virtual bookkeepers can fulfill their function remotely.
Does It Cover Accounting?
Take care not to conflate the two: an outsourced bookkeeper isn't necessarily an outsourced accountant, and vice versa.
Where outsourced bookkeeping services focus on granular, day-to-day data, accounting uses this data to analyze the big picture. Accountants often deal with tax preparation, audits, compliance, and high-level account analysis. These all require expertise that a bookkeeper may not possess.
There is, of course, some overlap. Some bookkeepers manage to fill accountant roles, and many accountants have practical experience with bookkeeping. Still, if you're looking for outsourced financial services, it's important to be specific.
What About Taxes?
An outsourced bookkeeper can assist you with tax preparations or filing for various industry-specific requirements, but there are limits to what they can do. Generally speaking, they can prepare data for you beforehand, or accomplish certain forms, so that the submission process goes more smoothly.
That said, most outsourced bookkeepers won't be able to advise you on the finer points of legal compliance, especially if your industry is subject to complex government regulations.
For these sophisticated processes, you may need to look into compliance consultants or tax preparation outsourcing specifically⁠—or service providers with proven expertise in those procedures.
The Benefits of Outsourced Bookkeeping
Outsourcing your bookkeeping does more than just save you time. It can offer several advantages, such as reduced costs or improved data security.
How Much Can You Save?
The average salary of an in-house bookkeeper runs from about $37,000 to $49,000/year, which is about $18.50-$24.50 per hour. And this doesn't even cover the equipment⁠—physical or digital⁠—they'll need, nor any further compensation you might need to win over worthy talent.
Conversely, offshore bookkeeping services often have rates as low as $10 per hour. Remote bookkeepers have their own equipment, and some agencies can even get you discounts on cloud bookkeeping software. This means that you could save about $34,000/year when you include salaries and overhead costs.
Does It Really Improve Data Security?
Outsourced bookkeeping companies or freelancers can help you make the most of cloud accounting software to ensure protection from cyber-attacks and contingency in case of damage to physical records or computer storage.
You can do this yourself, of course, but with an outsourced expert, you can save time and ensure that you follow best practices in handling and storing your financial data.
What Do You Save Time On?
With the DIY approach to bookkeeping, it can take a while to reach a level of speed and reliability that would match an external service.
It's not simply about recording transactions as they happen⁠; to do that, you'd first need to become proficient with the software you're using⁠ and learn the basics of keeping good records.
Beyond that, you'd also be spending time compiling those records whenever you need to review them or use them in other processes. And if you're dividing time between bookkeeping and other duties, you're more likely to make mistakes⁠—and double-checking your records can take up a lot of your time.
When you put all that together, you'll find that even basic bookkeeping for a small business can quickly add up. Outsourcing those functions can easily save you hours every week. (We cover the tasks a bookkeeper handles in more detail later on.)
3 Different Ways to Outsource Bookkeeping
There are a few ways to find an outsourced bookkeeper. This means you can cast your net wide if you're so inclined⁠.
Alternatively, you can figure out what sort of service you need, or what goals you have for outsourcing, and narrow your search accordingly. Here's how you can outsource bookkeeping for your business:
Freelance Bookkeepers
Thanks to online gig markets, such as Fiverr and Upwork, finding freelancers is remarkably easy⁠—and bookkeeping is a widely offered freelance service.
Getting a virtual bookkeeper may be ideal if your budget constraints are tight. The lowest bookkeeping rates are found among freelancers. Similarly, freelance bookkeepers are more likely to offer flexible hours and low project minimums.
On the other hand, finding a reliable virtual bookkeeper may require more effort compared to other options. You'll need to screen candidates individually to make sure their qualifications are up to standards, and after signing, onboarding may take longer than with a dedicated outsourcing partner.
And as with all cases of enlisting freelancers, you'll need to make your own arrangements for contingency and data security.
Bookkeeping or Financial Service Agencies
Outsourcing bookkeeping to an agency has the advantage of specialization. Bookkeeping agencies and those offering broader financial services will be better prepared to offer comprehensive services. This results in less onboarding and management on your part, so you save more time.
In addition, agencies are more likely to have specialized tools to handle bookkeeping. For example, cloud-based bookkeeping platforms come with certain data privacy and backup features. Working with an agency is also advisable if you're in an industry with complex compliance requirements.
The downside of working with a bookkeeping agency is that they are generally more expensive and you will likely be required to enter into a long-term contract, which could be up to a year. This offers less flexibility for your bookkeeping needs.

Dedicated Outsourcing Companies
The last option is to work with a dedicated outsourcing company (like Magic). A modern outsourcing partner is a great choice if you want flexibility and a seamless process. They do all the heavy-lifting of finding the perfect hire without you having to sort through individual resumes, while also offering support and customer service as your needs change. Plus, you can hire multiple assistants across your business, such as an executive assistant or remote SDR,  all under the same roof.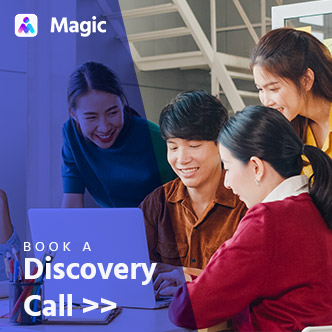 Customize Your Virtual Team Based on Your Needs
Get a team of qualified virtual assistants through a customized hiring funnel to easily fill in work gaps.
What Can You Delegate to a Virtual Bookkeeper?
Outsourced bookkeepers can handle a variety of record-keeping work. Depending on your setup, they may perform some auxiliary functions as well. Here are some of the most common outsourced bookkeeping services:
Managing Ledgers
This is a bookkeeper's bread and butter. Bookkeepers fill out, update, clean, and double-check ledgers to ensure precision and accuracy in your financial records.
Thanks to specialized bookkeeping SaaS and optical character recognition (OCR), remote bookkeepers can work with physical receipts or documents.
Payment Reminders
It happens from time to time that clients neglect the payment of their bills⁠—and losses from delinquent accounts can add up quickly. A bookkeeper can send out payment reminders to delinquent accounts. Since they monitor your finances anyway, they're well-placed to observe and correct lapses in payments.
Excel and Cloud Accounting
Bookkeeping software, such as Excel or Quickbooks, is designed for ease of use. Still, having an outsourced expert can put your records in even better order.
Remote bookkeepers familiar with these software can create spreadsheets or databases that are functional, efficient, and intuitive. This way, retrieving data from your records becomes much quicker and easier. They can also help you transfer data from one platform to another.
Payroll Monitoring
As payroll affects your finances, you can also have a remote bookkeeper track your company's payroll. They can also monitor related records such as timesheets or commissions.
With payroll outsourcing, you can pay your staff correctly and on schedule, while keeping tabs on how your funds are disbursed properly.
Interpreting Financial Statements
If your background isn't in finance, a virtual financial assistant can help you make sense of financial documents and reports. Though not on the level of analysis a consultant or accountant will provide, they can explain terms or provide useful context.
Auxiliary Tasks
Outsourced bookkeeping services also include basic administrative or executive tasks, especially where they're connected to tracking records. This could be sending and automating emails, scheduling reminders, data entry, and similar work.
When Should You Outsource Bookkeeping?
Ultimately, this boils down to the question: does your team have the time and skills to achieve the level of bookkeeping your business requires? And by "requires," we mean having a clear view of your finances, enabling you to make decisions that help you achieve your goals.
Here are a few specific situations in which limited bookkeeping capacity might be holding you back or causing repercussions:
Growth and Expansion
You should know enough about where your money is going to be able to chart a path toward growth. If you don't have a clear idea of where your revenue's coming from, what it's being spent on, or how your cash is flowing, you may need to improve your bookkeeping.
Seasonal Fluctuations
If your capacity is stretched too thin during spikes in business activity, you should consider a service that lets you scale up on short notice, or that can handle retrospective bookkeeping. Additionally, outsourcing bookkeeping tasks to a reliable service provider can alleviate the burden and ensure accurate financial management.
Reporting or Compliance
Complex financial reporting or compliance documentation is quite time intensive, with little room for error. Mistakes, after all, can come with hefty fines. If you're pulling a lot of overtime or incurring penalties, it's a strong indication you should outsource bookkeeping services.
Choosing the Right Service Provider
There are a lot of outsourced bookkeeping firms out there, some better⁠ than others in different regards. Sometimes, even the best bookkeeping companies won't be the best fit for you specifically. Here are a few things to consider when outsourcing bookkeeping:
Experience and Expertise
Bookkeeping isn't a regulated or specialized profession, but it nonetheless requires some training. There are various certifying bodies that accredit bookkeepers, such as the National Association of Certified Public Bookkeepers in the US, along with various institutes and private firms.
Security Measures
Information security (InfoSec) is a major concern when finances are involved, so you should make sure any potential bookkeeper knows how to handle your data.
When it comes to outsourced bookkeeping firms, you can base this on the security of the tools they use, or on accreditations like ISO 27001. Freelancers can be evaluated through interviews or social proof.
Scalability and Flexibility
Not every business needs a full-time bookkeeper. If you outsource bookkeeping services, there's a fair chance you don't⁠—yet. When choosing a service provider, see what options they offer for scaling your service up, either to cover more hours or offer additional coverage you might need later on.
Simplify Your Finances with Magic
Don't get lost in your ledgers! Take control of your finances today with Magic. Download our bookkeeping eBook to learn more about why you should outsource bookkeeping for financial empowerment.
With Magic, you can get the outsourced bookkeeping services you need, whether that means a part-time bookkeeper or a remote team to handle records, payroll, data entry, and more.
Our system is designed to be as quick and flexible as possible. Tell us what you need, and we'll have your candidates ready within a week! Our recruits are rigorously screened for ability and attitude. And if your needs change at any time, you can add or replace team members as needed.
Get all the benefits of outsourcing bookkeeping in an agile and low-cost service. Schedule a call with us today.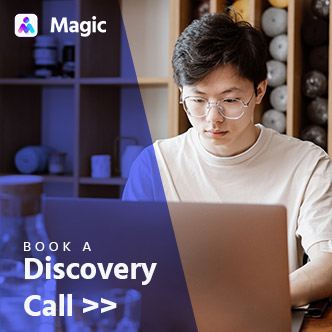 Match With a Vetted Virtual Assistant in 72 Hours!
Magic offers a frictionless way to source and qualify the right virtual assistant for your business so you can get things done fast and efficiently.