Startups, small businesses, and growing corporations hire virtual assistants to manage repetitive tasks. In fact, hiring a virtual assistant can help you save time and money in the long run.
However, hiring a virtual assistant for your business isn't a single solution that'll solve all your problems. How you manage and set them up for success will determine their performance.
Today, we'll give you the rundown on maximizing your virtual assistant's potential for business owners. That way, they can be more comfortable, achieve higher productivity, and deliver an ROI for your business.
Key Takeaways:
How well you train and help your VA affects how good they are at their job.
Using the right tools and communication methods greatly affects your VA's output.
Creating a trusting relationship with your virtual assistant is key to making them work hard and do well.
Hire a Virtual Assistant with Relevant Experience
Virtual assistants are invaluable for lessening your workload. However, their effectiveness significantly hinges on aligning their expertise with your requirements. It's crucial to seek out virtual assistants with relevant experience and qualifications in the areas where you need support.
For instance, a virtual assistant with an associate degree in business can effectively support a Chief Financial Officer (CFO). On the other hand, someone with a degree in human resources can provide optimal support to a Human Resources Director.
By selecting virtual assistants with expertise that directly matches your needs, you unlock a higher quality of assistance. Their specialized knowledge reduces errors and enhances your team's overall productivity.
Therefore, when enlisting the help of virtual assistants, it's essential to consider their qualifications and experience, ensuring a seamless collaboration that yields the best possible results.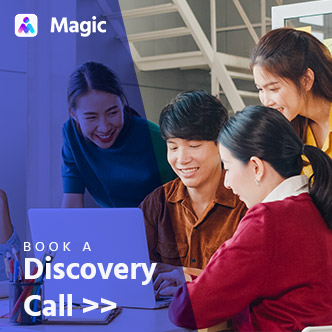 Customize Your Virtual Team Based on Your Needs
Get a team of qualified virtual assistants through a customized hiring funnel to easily fill in work gaps.
Don't Underestimate the Small Details
Small hiccups in workflows add up and seriously impede your VA's efficiency. That's what happens when a VA gets locked out of ‌an application crucial to their task.
Every minute spent waiting is a minute lost from productive work. Over time, these minutes can add up to a significant loss in productivity.
One of the ways to minimize these disruptions is to use magic links for authentication across your tech stack. Magic links are one-time URLs sent to the user's email address, allowing them to access a service or application without typing a password or using an app.
They're easy for users and administrators, as they leverage the security of the user's email provider and remove the need for password management.
And the best part? You can maximize your virtual assistant's potential by making accessing different services and applications easier without remembering or typing passwords.
For example, if you want to use a web-based tool that requires authentication, you can click on a magic link that your virtual assistant sends you via email and log in instantly.
That way, you can save time and avoid ‌the domino effect of delayed tasks while waiting on others to grant access. It's a no-brainer.
Use Video Tutorials to Give Specific Directions
Giving brief and clear instructions is key to allowing virtual assistants to do their jobs. One of the best ways to communicate clear directions is through video-sharing software.
Loom is a popular video recording platform that's perfect for this purpose. Loom lets your team members record and share videos using a convenient link. It only takes a few minutes to record a Loom video instead of writing out directions in Slack or sending an email.
On top of that, you can store Looms for a long time, giving your virtual assistant a point of reference they use throughout their time at your organization.
Invest in Their Learning
Virtual assistants are a part of your team. If you want them to excel at their jobs, you should do your best to invest in their learning.
For example, let's say you're hiring a virtual assistant to perform lead research on LinkedIn for your business. If they only know how to complete the first task, they won't know what comes next, such as qualifying leads or reaching out.
If you pay for your virtual assistants to take courses and receive certifications, you'll provide them with the skills to provide better use to your organization. Also, they can use these skills for other clients, which will further improve their real-world experience. It's a win-win.
Use Time Tracking Software
Staying productive helps virtual assistants get more tasks done in an efficient manner. It's something that's a challenge for all kinds of people, from freelancers to successful entrepreneurs.
Luckily, using time-tracking software makes it possible to stay on task by learning how long it takes for each task. Then, you can use time-tracking software to plan a more efficient schedule.
Using an employee task tracker and time tracking software can also help your VA know exactly how they spend their time. If you realize they can be more efficient with their time, you can help them create a better schedule.
Write Clear Standard Operating Procedures
Standard operating procedures (SOPs) are step-by-step instructions that tell someone how your business operates. In other words, use your SOPs to fill virtual assistants in on how to complete a task.
For example, maybe your organization has a specific way of saving files for tracking purposes. Here's how this would look for file name conventions:
Save the Excel sheet.
Rename the file to Month – Invoice – First Name
Email the file to [email protected]
Creating SOPs will save you the time and headache of micromanaging your virtual assistant. If you go ahead and set them up now, you won't have to worry about correcting their work later.
Work smarter, not harder, by starting out on the right foot. Proper documentation of tasks helps create a single source of truth.
Give Regular Feedback and Appreciation
Keeping your virtual assistant working at their best isn't just about productivity and performance. It's also about how you make them feel while working for you.
Giving regular feedback can help boost your VA's job performance, especially if it's constructive. On top of that, showing your appreciation can go a long way.
In fact, employee appreciation has a strong link to improving employee engagement. When you intentionally show gratitude to your virtual assistant, you can boost engagement rates by 8x.
You can show your appreciation with a simple thank-you note. You can also send a gift card or whatever you believe is appropriate.
It's important to always reward a job well done. If your VA shows a track record of completing their tasks on time, consider giving them a raise. You can also offer rewards to show your appreciation.
Set Office Hours
Hiring a virtual assistant isn't a set-it-and-forget-it activity. While you don't need to watch their every move, you should be reachable during a set time every week.
Think of it like a teacher's office hours at school. Just as students know there's a specific time to visit their teacher for help, your virtual assistant should know when they can reliably reach you. For example, setting aside Tuesdays and Thursdays from 10 a.m. to 12 p.m. for your VA provides open communication and a smoother workflow.
Staying on standby for your VAs is a great way to show you support them and make their jobs easier.
Be Realistic
Hiring a virtual assistant doesn't give you the license to overload them with all the work you don't want to do. With that said, make sure you're realistic in how you offload your tasks to their plate.
Here are some ways to do this:
Set realistic assignment deadlines.
Expect a learning curve.
Be on standby throughout the learning curve until you're confident in their work.
It's unrealistic to expect a VA to come into your company and start a job without growing pains. Give them a reasonable grace period, and you'll save yourself a lot of unnecessary grief.
Create an Efficient Project Management System
Nothing is more frustrating than going through countless emails to learn how to complete a task.
Cycling through multiple emails to find important documents and spreadsheets is also a time-waster. Adding a project management tool to your tech stack helps you better arrange the tasks you want your VAs to do.
The most popular project management software options are:
ClickUp
Monday
Teamwork
Trello
Notion
Buying a project management tool is only half the battle. You should also ensure you're creating workflows so each task transitions smoothly from one collaborator to another.
This extra step will help avoid project delays, bottlenecks, and silos.
Avoid Micromanaging
Micromanaging is frustrating to anyone on its receiving end. It undermines the people you hire for a job and shows you can't delegate a task properly. With that said, avoid micromanaging for the best results.
Give your VAs all the information they need to complete their job and be ready if they need you for anything. However, you should give them breathing room to learn to do a task independently.
If they mess up or make a mistake, don't belittle them or respond condescendingly. Instead, offer constructive feedback and send a Loom if their mistakes continue.
Maximize Your Virtual Assistant's Potential With Magic
Hiring a VA will only save you time and money if you set them up for success. Otherwise, you're going to spend a lot of time holding their hand through repetitive tasks.
Make sure to follow the strategies in this guide to maximize your VA's potential. And if you need more help along the way, Magic has your back. Book a call with us to discuss your needs, and we'll handle the rest!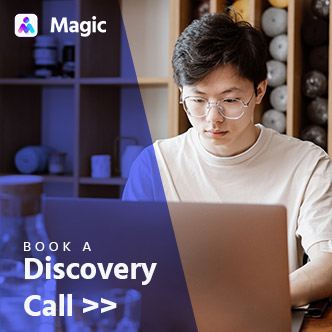 Match With a Vetted Virtual Assistant in 72 Hours!
Magic offers a frictionless way to source and qualify the right virtual assistant for your business so you can get things done fast and efficiently.