Strong business development strategies are a roadmap to achieving your long-term goals. Without a suitable development strategy, you may find it challenging to get qualified leads or could waste time and money developing relationships with people who won't convert.
A business development plan lays out your goals for expansion and growth, as well as how to accomplish them. It aims to determine, describe, and explore a business opportunity or a business that's already in progress, analyzing its economic, financial, and technical feasibility.
Benefits of a good business development strategy
Business development is the creation of long-term value for a company from its markets, customers, and business relationships. It involves identifying, attracting, and getting new customers to increase your income and business growth. To succeed, you'll need a good business development strategy. 
By developing a business strategy, your team members will know exactly what to do to achieve each short-term or long-term goal you set. A good business development strategist can help you create and execute effective strategies to help your business grow.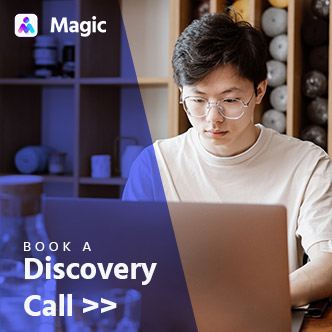 Match With a Vetted Virtual Assistant in 72 Hours!
Magic offers a frictionless way to source and qualify the right virtual assistant for your business so you can get things done fast and efficiently.
They constantly work with your account managers, marketing specialists, accounting, manufacturing, human resources, and vendor management to nurture new business partnerships and find new opportunities for growth.
Strategies To Grow Your Business
Here are four business development strategies you can use to get more customers and grow your business:
Face-to-face networking primarily aims to establish new business contacts through in-person meetings. Business networking through referrals and introductions is one way to reach the decision-makers of a business, which can be more challenging to accomplish via ads and other online marketing. Meeting them in person allows you to be properly introduced. This is often better for cultivating a good impression than a virtual meeting. Such an introduction serves as a vote of confidence in you and the business you represent. 
Networking can get the support of people who can help achieve your business goals. A networking event or conference like SXSW brings together influential speakers in various fields of music, entertainment, technology, government, journalism, health, and other fields. This is great marketing and business development, which can broaden your network of business contacts and potential clients.
Another way to grow your business, closely related to networking, is the use of referrals. While referrals create new business opportunities for you, they are passive in the sense that referrers can recommend you if their friends or business partners need your services. However, if referrers don't know the full extent of your products or services and other company offers – which they probably don't – they won't know they can refer their customers or partners to you for other company offers.
To better inform your customers about your company's offers, make sure to boost your online presence in line with all your expertise. Create specific service pages and send them to your customers. This way, they get to know all your offers and can make better and more successful recommendations to their own customers and other partners.
3.

Advertising and Sponsorships
Sponsored partnerships and paid ads are effective business development strategies as they can bring in new customers and increase sales. Create digital ads to target your prospective customers. Then, research the platforms and networks they visit often so you can start building relationships with them there.
Design a business development framework that includes ads and sponsorships that are appealing to your prospects. Also, ads should conform to the policies and rules of each platform.
You can also explore several platforms and compare which ones are more effective for your goals. Once you've determined which ones bring good results for your business, you can increase the budget for the good ones and reduce or retarget the less productive ads. 
Well-targeted ads allow your company to bring your company offers and messages in front of the right prospects at a lower cost compared to posting ads targeting a general audience.  
4.

Content Marketing and Thought Leadership
Content marketing is a necessary business development strategy for anyone who wants to establish authority and expertise in their niche. Create your blogs and infographics to show your expertise and build your authority in your niche. This way, your potential customers and referral sources trust your business, resulting in easier and more effective sales of your products and services. 
You can create a new business development to take advantage of digital marketing to initiate and build business relationships with prospective customers. See how you can automate your business development process to make your business more effective and efficient. 
As for thought leadership, look into other business development strategies to add to those under content marketing. Speaking in seminars, conferences, and other occasions where professionals get together is another strategy to demonstrate your expertise, especially if you can promptly give suggestions on how to solve a client's problem.  
Hire a Magic Business Development Manager
A business development manager looks out for possible opportunities to contribute growth to your business. They look out for trends, new prospective customers, and partnerships to expand your business. 
Magic assistants fill the role of a business development manager and other virtual customer service jobs. Depending on the qualifications you're looking for, we can match you with the right virtual assistant.
Hire a Magic assistant as your business development manager for your business. They can employ your chosen business development strategies and monitor which ones give the best results. They can then help you fine-tune your business development strategy to be specifically suitable for your business. Call us today to start hiring your business development manager.
Customize Your Virtual Team Based on Your Needs
Get a team of qualified virtual assistants through a customized hiring funnel to easily fill in work gaps.