A strong online presence is essential for any business that wants to stay competitive⁠—and nothing says 'strong online presence' like good website traffic. You can get immediate results by running paid ad campaigns, but that's an expensive approach. A more sustainable strategy is to encourage organic traffic.
Search engine optimization (SEO) is a cost-effective strategy for small businesses to boost organic growth while supplementing paid campaigns. 
Here are five benefits of SEO for small businesses
Drives high-quality traffic
SEO is a customer-centric strategy at its core. Instead of actively chasing after users—spam emails, interruptive ads, and cold calling—SEO focuses on creating and optimizing the sort of website content your target audience looks for. 
Users want access to helpful information and they want it fast. So when you're putting out content that provides the info they need, they'll be drawn to visit your website. Plus, search engines like Google will rank your pages higher on the results page. This helps you gain high-quality traffic of qualified leads without the cost of paid advertising.
Here are some basic methods for improving SEO:
Provides insight into your target audience's queries and keywords they're searching on search engines. With this, you can create a content strategy based on these search terms.
This is where you can utilize the list of keywords you've researched. This can come in the form of blog posts or long-form content, which are avenues where you can provide the best possible information to your target audience.
Improves your website's authority in your particular niche. Backlinks act as votes of confidence—the more websites link to your site, the higher your chances of ranking are for relevant search queries.
Refers to how fast your website's pages load. Aside from being a Google ranking factor, page speed is also a deciding factor of whether someone converts or not⁠—that is, successfully checking out items on their cart, subscribing to your newsletter, and clicking on a link on your blog.
Visibility plays a significant role in increasing brand awareness. You want to be recognized not just by your name and logo, but also by your products, values, and personality as a brand. In other words, people have to see you and your content. 
SEO helps you achieve that. For example, a solar panel business can incorporate a blog into their website and use that as an avenue to write quality content while optimizing keywords, meta descriptions, and title tags. Not only will this satisfies Google's ranking factors, but also helps demonstrate expertise in your niche. 
On the flip side, brand awareness also supplements SEO. As your brand becomes more recognized, users can look for your page specifically on SERPs or even search for you when looking for information. Plus, Google aims to provide reliable sites and information to users, and popular brands tend to have an advantage in that.
Match With a Vetted Virtual Assistant in 72 Hours!
Magic offers a frictionless way to source and qualify the right virtual assistant for your business so you can get things done fast and efficiently.
Although SEO has all these benefits, this doesn't mean paid marketing strategies are completely useless. As a matter of fact, SEO and pay-per-click (PPC) strategies can produce significant results when used together. One helps your website rank high on paid search results, while the other operates the same way but organically.
Here are some ways you can incorporate the two together in your strategy:
PPC campaigns provide insights into your top-performing meta descriptions you can use in your website as on-page SEO. Suppose one of your PPC ads has a higher click-through rate (CTR) than the others. You can format your meta descriptions in a similar way to achieve the same results, i.e., encourage users to click on them and increase your organic CTR.
To identify your high-performing keywords, you can use Google Search Console for SEO and Google Ads for PPC. Using the data combined from both campaigns, you can discover potentially high-performing keywords to include for each one.
With SEO increasing your website's search rankings, more users can discover and visit your web pages. This helps grow your remarketing list, which you can target with relevant keywords and ads.
Provides metrics you can track
Marketing campaigns are not foolproof investments. If not done correctly, you can end up going with an ineffective strategy for a while, especially since SEO results aren't immediate. Over time, the resources you allot to your strategies may not produce your desired returns. 
However, SEO provides insights into a host of trackable performance metrics. You can use these to determine which aspects of your marketing campaign are not working and which ones are producing your desired results.
Some SEO performance metrics you can track are:
Unlike traditional marketing campaigns, like PPC, SEO is a long-term strategy. You may not see a sudden spike in your website traffic, CTRs, or conversions. On the bright side, optimizing your website and content will help you be competitive even in the long run. But constantly putting out content is not enough. To ensure sustainable ROI, you have to adjust, make improvements, and research competition regularly. Ultimately, the key to a successful SEO strategy is a continuous effort.
Add Magic to Your SEO Campaign
Marketing campaigns can be a costly investment. But with Magic, even small businesses and startups can reap the benefits of SEO without compromising quality. Here's how Magic marketing assistants can improve your SEO campaign:
Start building your online presence with a Magic Assistant today. Just tell us what you need and we'll find the best match for you. Check out our hiring guide to learn more.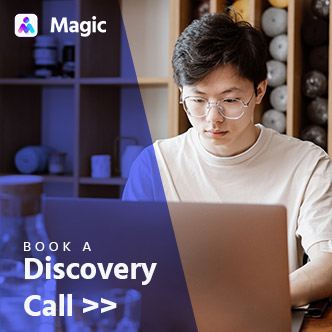 Scale your business at a fraction of the cost with a Magic Assistant. We can help you find a virtual assistant based on what you need in just 72 hours.